[caption id="attachment_6817" align="alignright" ]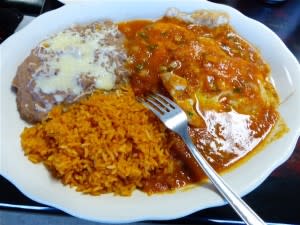 Huevos Rancheros[/caption] We all know not to judge a book by its cover but does that rule apply to a restaurant? In the case of
Mi Cabanita
the answer is yes. Our latest lunch outing took the Dining Divas south of Teal Road to Mi Cabanita, Mexican Taqueria Y Restaurante. If you frequent Yelp or other online review sites, you would know before arriving that the humble exterior and lack of "bells and whistles" décor are no indication of the outstanding food and super friendly staff that await you inside. My curiosity took me on an online translator to learn that "Taqueria Y Restaurante" means a Mexican restaurant specializing in tacos. Kay and Bev, who both had tacos, gave them rave reviews, so read on! [caption id="attachment_6816" align="alignleft" ]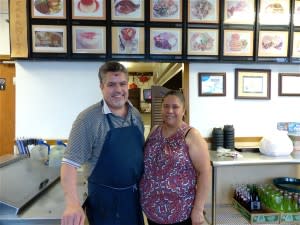 Owners[/caption] Owners Jesus and Maria Macias, our charming and friendly hosts, have been serving
authentic Mexican cuisine
from their location at 2601 Teal Road for over 10 years. With its cozy dining room, able to seat a couple dozen people, and busy take-out business, Mi Cabanita has quietly made a big impression on first time visitors and loyal regulars alike. One online reviewer wrote;
"…If you are looking for Mexican food to make your tummy happy, this IS the place! …"
Not to be upstaged, here's what the Divas have to say: Kay had a combination plate with three different tacos: pescada (fish),
lengua (beef tongue)
, and camaron (shrimp). Ranging in price from 1.79 to 2.35 each, served with cilantro, onion, and a lime wedge. Kay's review, "Very authentic and the flavor is fabulous. It distinguishes the place to have a tongue taco and it was amazingly good. Tender and well-spiced. They were all good but the lengua was my favorite." [caption id="attachment_6819" align="aligncenter" ]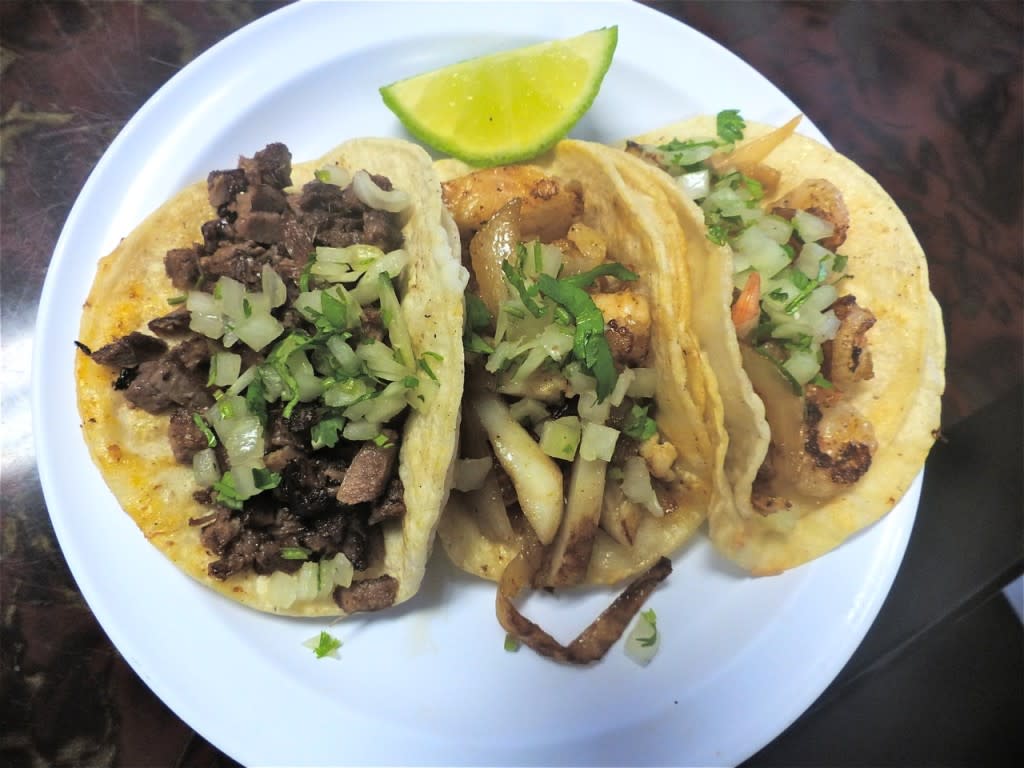 Kay's combination plate[/caption] Bev ordered carnitas (roast pork) taco for $1.89 and huevos rancheros. "The taco was great! The hot sauces were truly hot-- not diluted.
Huevos rancheros
is one of my favorite dishes and these were well done in a nice sauce. Everything tastes better in a tortilla in my book-- and so did these huevos. It was a treat. The tongue taco Kay had and my carnitas showed off the chef's cooking ability." I chose a
gordita
with cactus instead of meat, with beans, cilantro and cheese, $2.99 and horchata to drink, which tasted homemade. Everything was very good. I've never had cactus before; it was very tasty. I was pleasantly surprised with the bun. It looked like a lot of bread in the photo but was just a little thicker than a tortilla, grilled crispy, which made it delicious.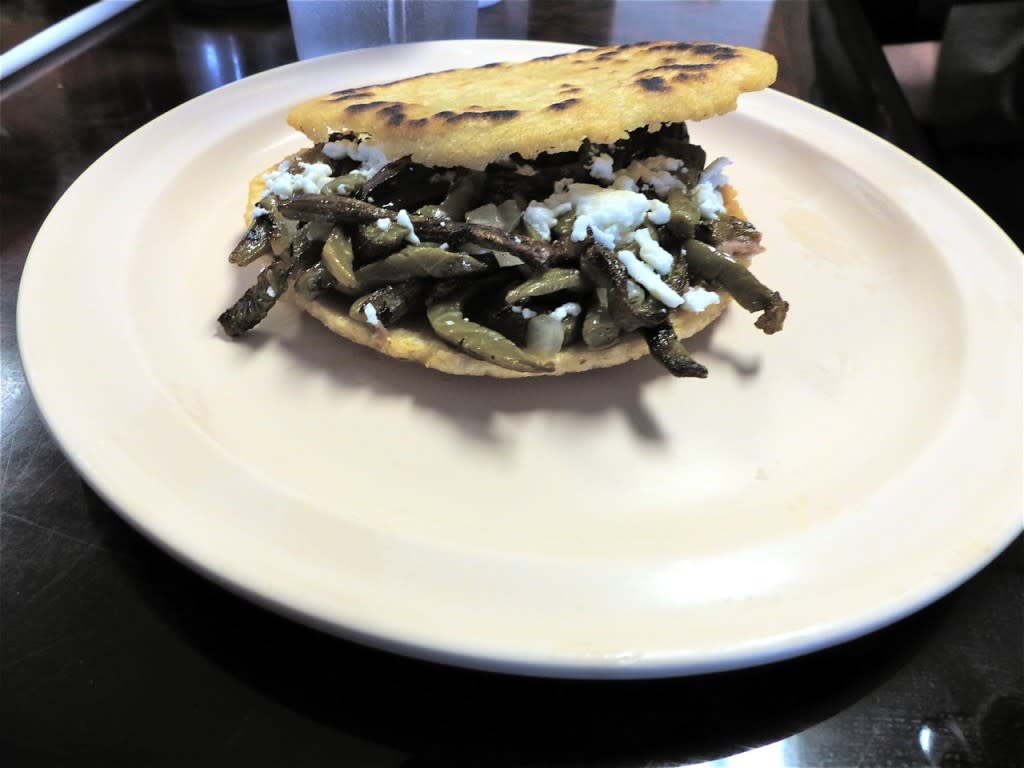 Jo had
tacos dorados de papa
, fried potato tacos served with cabbage, onion, tomato sauce and special hot sauce for $5.89. "It was good. I loved the potato in a crispy tortilla with the sauces on it. The filling was mild and carried the hot sauces well." Everyone agreed, all three sauces were great (one came specifically with Jo's tacos. Mi Cabanita Mexican Taqueria Y Restaurante has a generous menu selection with prices ranging from $1.79 tacos to $13.75 dinners and includes a kids menu. But true to its name, "specializing in tacos", your filling choices are impressive and include diced steak, steamed or ground beef, Mexican sausage, grilled or roast pork, pork head, chicken, beef tongue, potato, and tripe. [caption id="attachment_6818" align="alignright" ]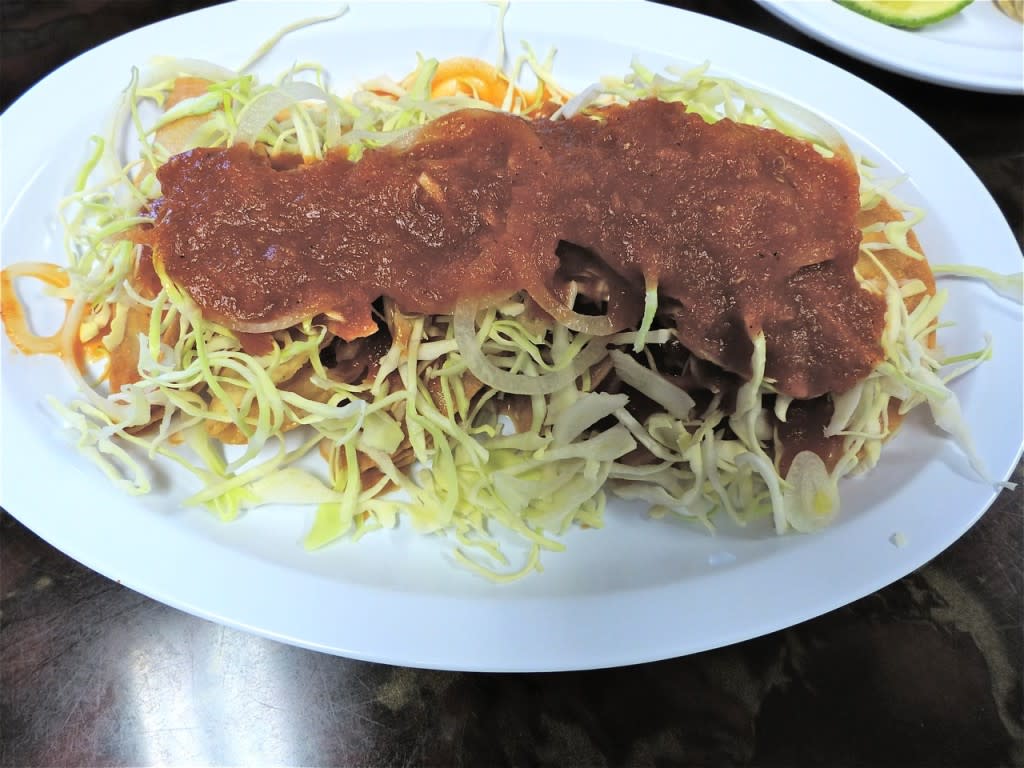 Jo's Meal - tacos dorados de papa[/caption] "It was a five napkin meal for me," said Kay referring to her three taco lunch. Translated I think she meant, "Muy bueno!!" As a footnote to our lunch; I returned for dinner a couple days later to order the
flan
because they were already out the day we ate lunch. I went with my husband Jerry who ordered the grilled pork dinner served with rice, beans, lettuce, tomato and guacamole on a tortilla. Of course it was just as great, and Jerry thanked me at least three or four times for asking him to go. He made me think of another of the online reviews I saw because it was so honest and simple, just like Mi Cabanita's outward appearance …
"Visit. You won't regret it."
Next up, Town and Gown Bistro Kay Conner, photographer, seafood superstar Margy Deverall, author of Lafayette articles, dedicated vegetarian Beverly Shaw, author of West Lafayette articles, bring on the beef (or chicken or pork) Jo Wade, founder of this food blog, very veggie