[caption id="attachment_4522" align="alignright" ]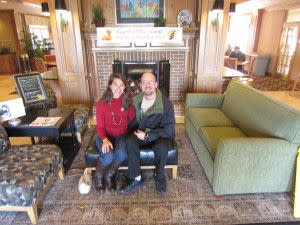 Our stay at Homewood Suites![/caption] Winners of our Romantic Getaway 2013 Contest shared their wonderful experience to our area.  Enjoy Kim's blog about their stay! Steve and I used our Romantic Getaway to Lafayette/West Lafayette package last week and had a wonderful time!  We arrived in the Purdue area late morning on Monday.  We started with delicious lunches including a cheeseburger meal and a pork tenderloin meal at Triple XXX complete with a root beer and a root beer float.  We're both Purdue grads so we spent most of the day walking around campus, including visiting the various places we lived individually on campus when we were dating and our Married Student Housing apartment building.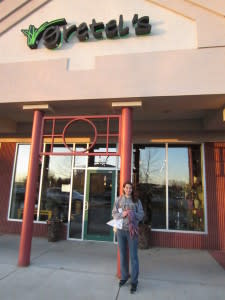 Late afternoon we drove over to Gretel's Fine Gifts where we used our gift certificate to get a beautiful purple scarf for me and some caramels for us to share.  Afterwards we had an early dinner at Bruno's Big O's Sports Room, compliments of their contribution to the package.  Steve had a pepperoni, sausage, and mushroom pizza and I had fettuccine alfredo with shrimp.  We had early tickets to go see a movie across the street so we ordered dessert to go.  They nicely packaged up our cheesecakes, complete with forks and napkins, for us to enjoy later at our hotel. After our movie, we headed to Homewood Suites for our complimentary stay.  The living/kitchen area and separate bedroom with bathroom were beautiful!  The staff paid great attention to detail; the suite included many special touches and was exceptionally clean.  After sleeping in Tuesday morning, we enjoyed a full breakfast buffet in the lovely dining and lounge area, complete with a fireplace. [caption id="attachment_4524" align="alignright" ]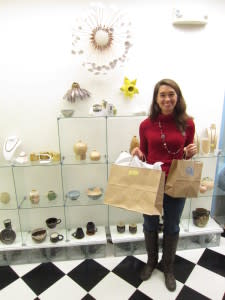 Grateful Heart Shopping![/caption] Tuesday we spent the day walking on some of the paths along the Wabash River, across the Pedestrian Bridge, and through downtown Lafayette.  We had fun using our gift certificates picking out goodies at various stores along Main Street.  At Artists' Own, we picked out a picture for our kitchen that we'll frame.  We found a lifelike ceramic leaf and coordinating ceramic side dishes at Grateful Heart Pottery that we're going to use for a candle display.  Since we're both chocolate lovers, our favorite stop was Kathy's Homemade Kandies and Chocolate Lounge.  Steve went for a tried and true love, getting 3/4 pound of chocolate turtles.  I wanted to try all their goodies so I got a box of assorted truffles and other homemade chocolates.  Everything we've tried has been delicious! [caption id="attachment_4525" align="alignright" ]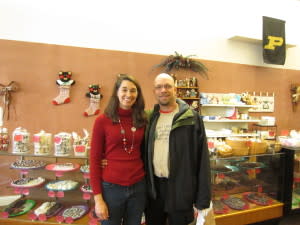 Kathy's Kandies Visit![/caption] There were so many goodies in our prize package that we couldn't use them all in one stay.  We're planning to go to Prophetstown State Park next spring.  We're hoping to bring our kids along for a Purdue visit soon and will use our Dog n Suds Drive-In gift certificates, the rest of our Triple XXX gift card, and our Arni's gift certificate on that trip. We're also going to e-mail a picture to L.E. Originals to be made into a unique Photo Bead Necklace.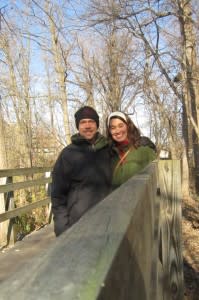 At one point, as we were walking along, I asked Steve where he wanted to go next and he said, "I don't care.  I just like spending time with you."  I think I truly have a romantic husband!   I thank everyone that contributed so much for giving us a chance to spend time alone with each other getting to do so many things that don't fit into our regular schedule!