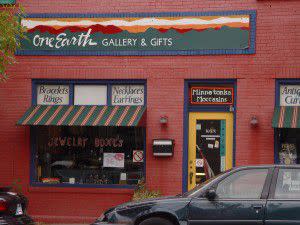 2 Great Cities, 1 Great University, so many great "authentic art" shops! 
One Earth Gallery
, located downtown Lafayette, not only offers authentic American treasures, but the chance to admire handmade
American Indian art
.   Shoppers have the opportunity to purchase specialty items such as natural botanicals right from the earth and Zuni fetishes which are hand carved of a wide variety of stone, shell antler and more. There is something special about One Earth Gallery.  My first stop in this shop, I was immediately greeted by the owner who was friendly and very enthusiastic about his authentic American Indian art.  There is a rich history in
Native American Basktry
which has evolved through the years from the interaction between Euro-Americans and Native Americans.  The baskets he showcases in his shop are true pieces of art.  (I personally grew up in a family who created baskets for 4-H, and the baskets in this shop are so diverse and intricate, that it puts our baskets to shame.)  These baskets are statement pieces, and there is one I have had my eye on that would be the perfect centerpiece to add to my dining room table. One Earth Gallery is also rich in products such as
coffee
, pottery, and jewelry.  The coffee is organic, fair trade (small farmer), and shade grown.  All of the jewelry is handmade with natural materials by Native American jewelers and the pottery is also handmade the old way by
Native American potters
.  If you are looking for traditional and authentic, this shop is the place to visit!
One Earth Gallery is not to be missed on your next visit to our area.  For more information about this shop and more in Lafayette-West Lafayette, Indiana, visit our website at
www.HomeOfPurdue.com