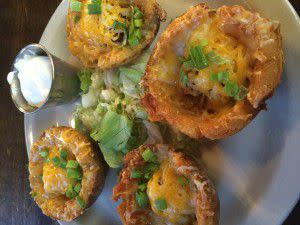 O'Bryan's Nine Irish Brothers Traditional Irish Pub serves up traditional Irish pub fare in a lively, tavern setting. With locations in both Lafayette and West Lafayette (West Lafayette being the original), everyone has a chance to sample of of their delicious, hearty food. In addition to the charming wooden interior, with most of the decor coming straight from Ireland, handpicked by the owners, the restaurant also features outdoor patio seating. The thought of enjoying a glass of Guinness in the open-air lures in many passerby. The mood at Nine Irish is always high-energy. Servers (some dressed in kilts) will make sure your cup is always to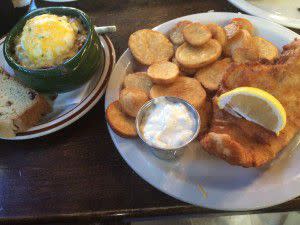 pped off with your favorite frosty beverage or amber-colored whiskey. Nine Irish has a wide selection of beer, whiskey, wines and draughts. Some of these beverages, like Guinness are deviously added to some of the lip-smacking menu items, such as the Guinness Stew. The stew is a combination of slow-simmered beef, Angus pot-roast and of course, a dash of Guinness Stew. My personal favorite menu item is the warm, crispy, battered fish, served with a side of pub chips, and a cup of lobster bisque. The bisque makes for a decadent, rich appetizer. I highly recommend this dish if you're looking for a great place to get fish n' chips. Every dish at Nine Irish has an unique flavor combination that artfully combines the recipes of old with some modern inspirations. Nine Irish proudly serves several Irish-American classics like, Bobby's Corned Beef and Cabbage. This plentiful portion of slow-cooked, melt-in-your mouth corned beef and steamed cabbage is heaped over a mess of champ-mashed potatoes. Whatever you decide to try at Nine Irish Brothers is sure to please your palate. A warm, full-belly of delicious Irish-American fare is a guarantee when you visit O'Bryan's Nine Irish Pub.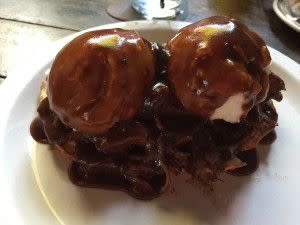 For those of you who are wondering where the name comes from too... it's an interesting story. The family is originally from Cork (hence the Irish theme) and Jerry O'Bryan, the principal owner of Nine Irish Brothers is the youngest of nine boys. He also has 5 sisters and honors them with an inscription above the bar that says: "& Five Irish Sisters". To read more about the family visit their website: http://www.nineirishbrothers.com/family-history Ashley, Group Tours and Meeting Manager for Visit Lafayette-West Lafayette, shared this blog.