The Cheeseburger may be the most famous American food symbol there is. Cheeseburgers are to Americans like Pasta is to Italians. The official beginning of the cheeseburger is unknown, but we do know the cheeseburger will always be an American favorite. You can experience the taste of the great American Cheeseburger right here in Lafayette, Indiana.
National Cheeseburger Day
is today, September 18th and what better way to celebrate than heading over to
DT Kirby's
in Downtown Lafayette. [caption id="attachment_9850" align="aligncenter" ]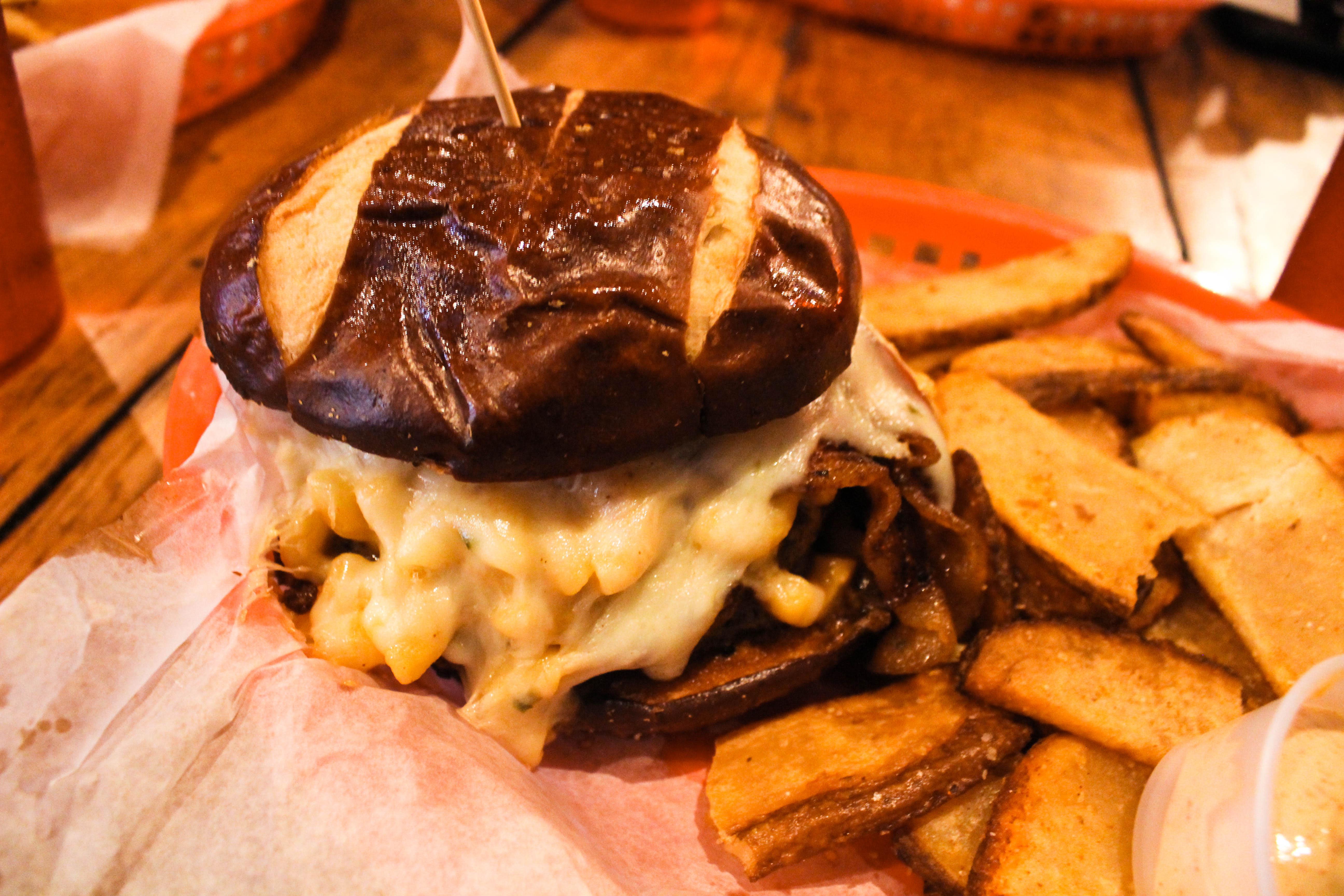 The Mac 'N Nap[/caption] DT Kirby's has a one of a kind menu you won't be able to find anywhere else. The Mac 'N Nap burger is my personal favorite. The Mac 'N Nap is a burger with mac and cheese on a pretzel bun. This meal is the best option when you can't decide between a mac and cheese meal or a nice juicy burger. The pretzel bun completes the whole burger. The Mac 'N Nap is simply the best of both worlds. The Mac and Cheese piled on top of the thick and juicy burger is the kind of mess that you will be completely okay with. It's an incredible tasting burger that gives cheeseburger a whole new meaning. [caption id="attachment_9848" align="aligncenter" ]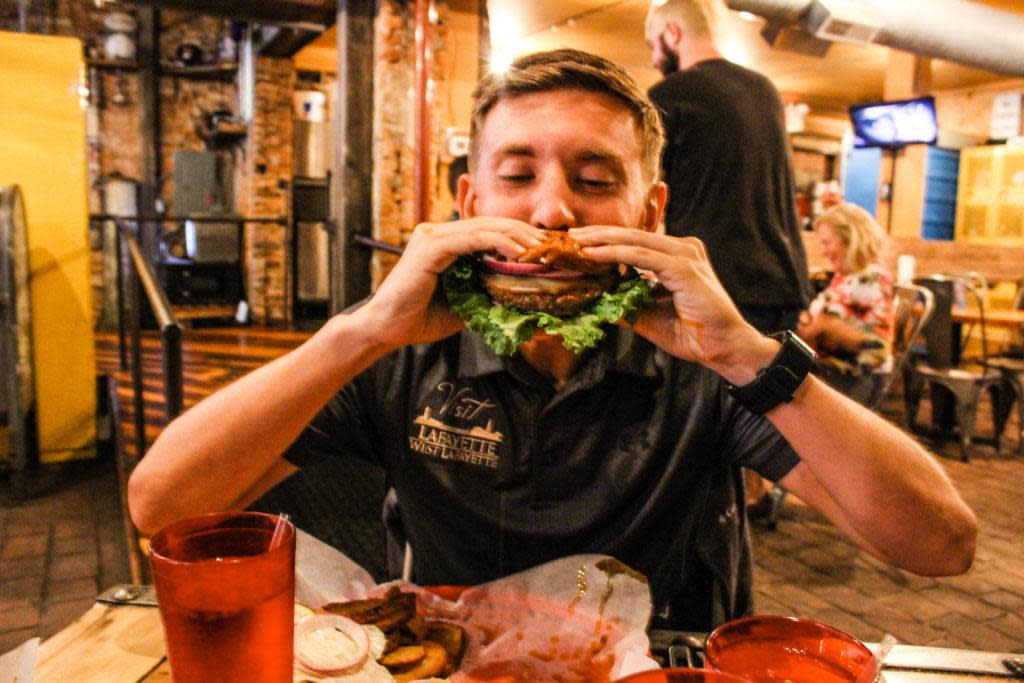 Corey enjoying his Prime Burger[/caption] So, what if you're not a big burger person? DT Kirby's offers much more than burgers. You can choose from a selection of sandwiches, salads, and their famous hot dogs. They also offer a full service bar. DT Kirby's can cater to anyone's eating (or drinking) needs. [caption id="attachment_9862" align="aligncenter" ]
A look at the bar[/caption] DT Kirby's offers a unique environment for their guests that keeps their regulars coming back time and time again. There are many "rules" at DT Kirby's including no ketchup for your burgers and no take home boxes. Don't try to ask for a knife, because at DT Kirby's, they think real men don't cut need to cut their burger in half. The rules are listed right there on the menu and some are posted throughout the store. If you're looking for a sign upon arriving at DT Kirby's, you won't find one. At DT Kirby's they believe their customers should be able to find them without a big sign out in front of the store. The restrooms even have a very different feel to them (I won't spoil the surprise for you). In addition to all of that, If you're a Chicago Cubs, fan you'll absolutely love the Cubs decor throughout DT Kirby's. [caption id="attachment_9851" align="aligncenter" ]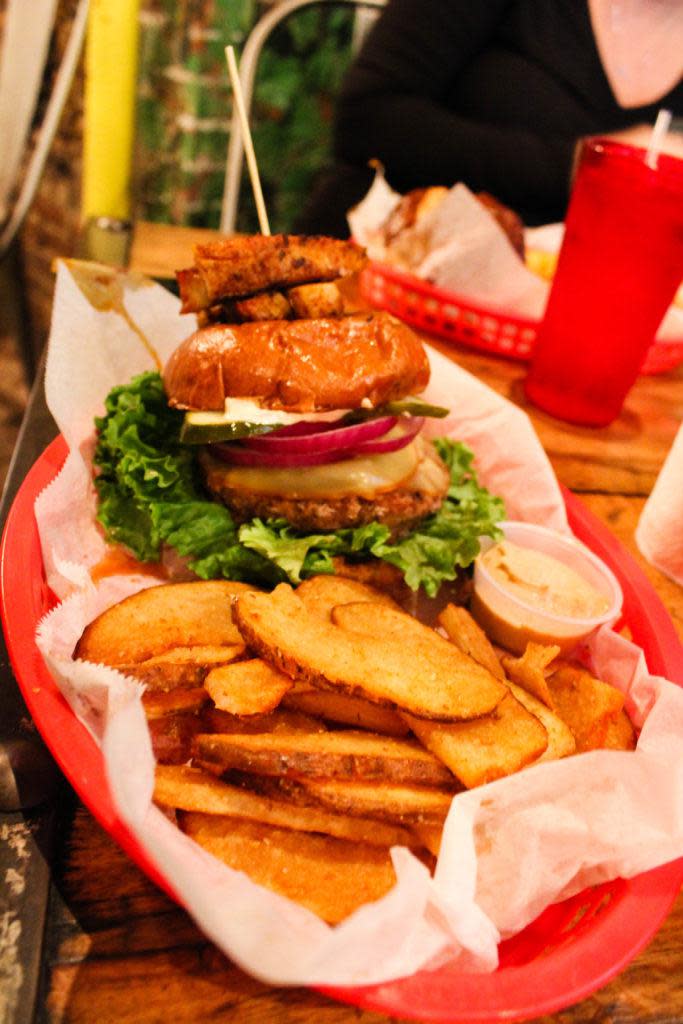 Prime Burger[/caption] Celebrate
National Cheeseburger Day
the right way! Head to DT Kirby's at 644 Main Street in Lafayette for the biggest, most tasty, and picture worthy burger you've ever had. Emily, Purdue University Student and Visit Lafayette-West Lafayette Intern, shares this blog.
Save
Save