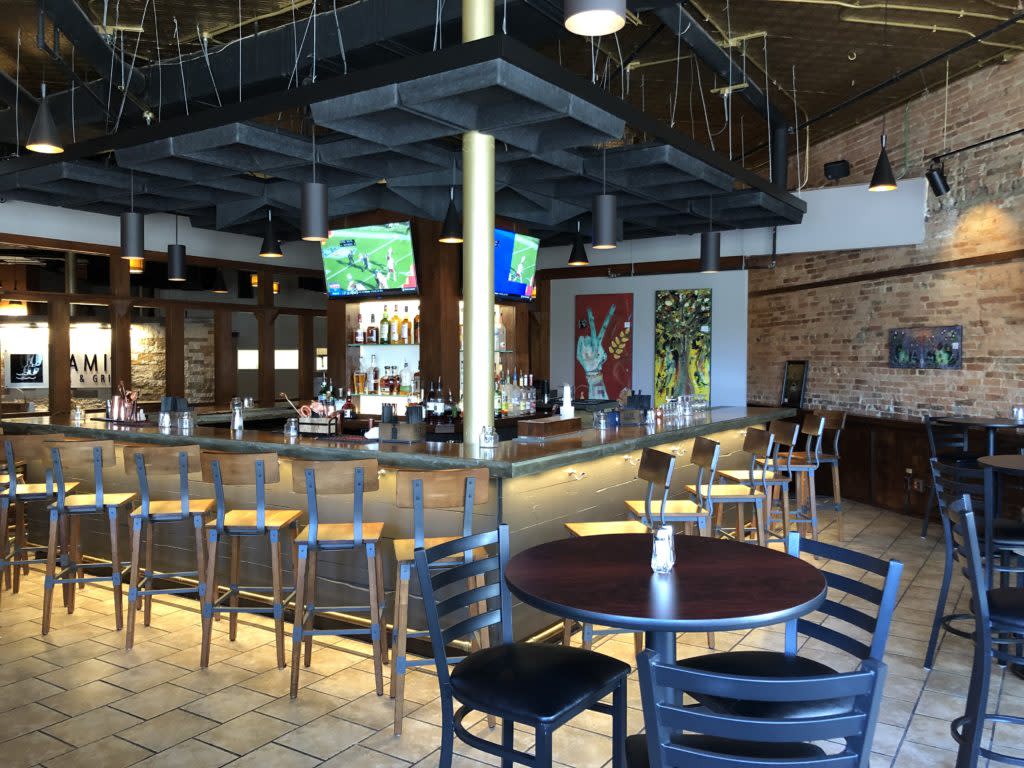 Happening Now!  Planning a stay in Lafayette-West Lafayette, Indiana, area? Whether you are looking for delicious dining, interesting attractions and shops, enticing events or home away from home lodging—a getaway to Lafayette-West Lafayette, Indiana, is sure to satisfy. Right now the talk around town is about one fabulous, new restaurant, Nami's Bar & Grill, that just opened in the heart of our downtown. Serving American fare and also "pop up" sushi during lunch hours, this new dining experience is sure to satisfy! Nami's also offers handcrafted classic and original cocktails and select craft beers!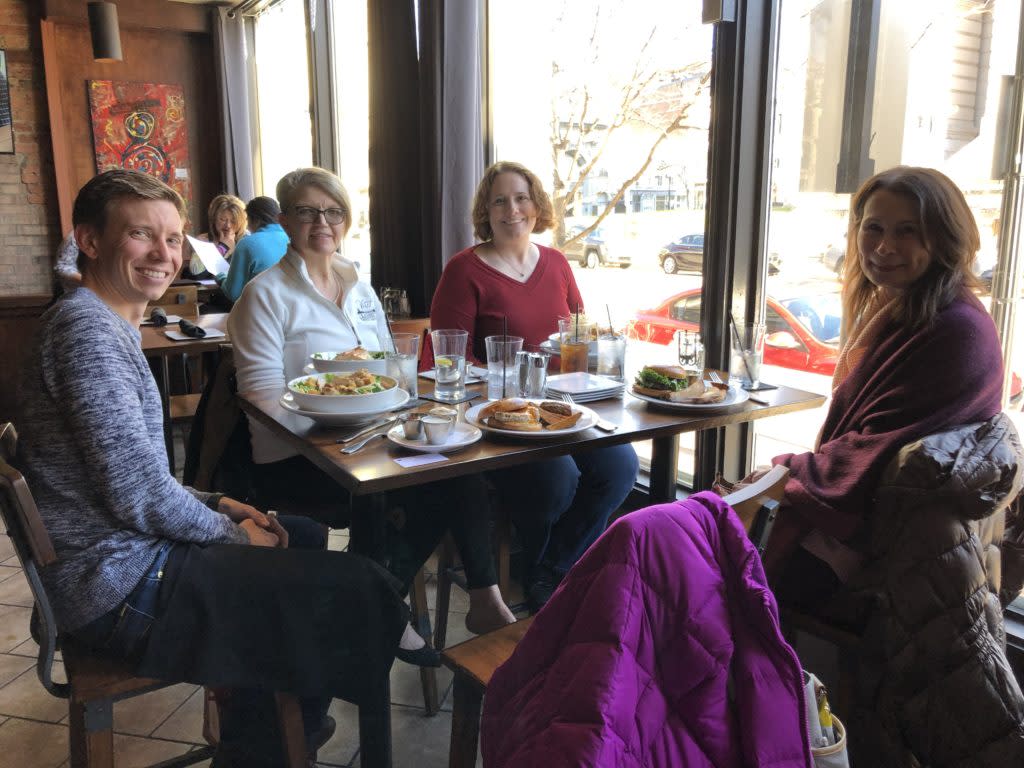 Our staff loves to try out new restaurants and we were so excited to explore the flavors and enjoy the ambiance of Nami's. When we arrived, we were greeted by a friendly hostess who led us to our table that overlooked our lovely courthouse. We had the perfect seats in the house to enjoy the outdoor beauty as well as the beautiful bar in the center of the restaurant. The tall ceilings and artwork along the walls create a comfortable and warm place to visit.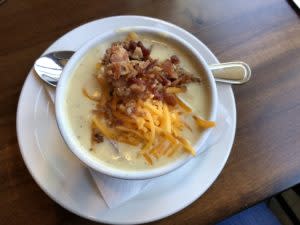 Now onto the food, (the best part!). I ordered the chicken sandwich with French fries and their special soup of the day, loaded potato soup. The soup was amazing! It had cut up red potatoes perfectly cooked within it as well as tons of bacon and cheese. It was one of the best potato soups I have ever eaten. My chicken sandwich was also amazing! Truthfully, I get nervous ordering chicken as so many times it is dry. This sandwich was the opposite of dry as the chicken was so juicy and flavorful. I added sharp cheddar cheese which added fabulous flavor as well. I can be picky with my bun, and it was fresh and light. The fries were large hand-cut potatoes sprinkled with salt and very tasty as well. I don't think I have had a fry quite like it and it was great. I recommend their homemade ranch dressing to dip the fries or really anything in.  FABULOUS!!!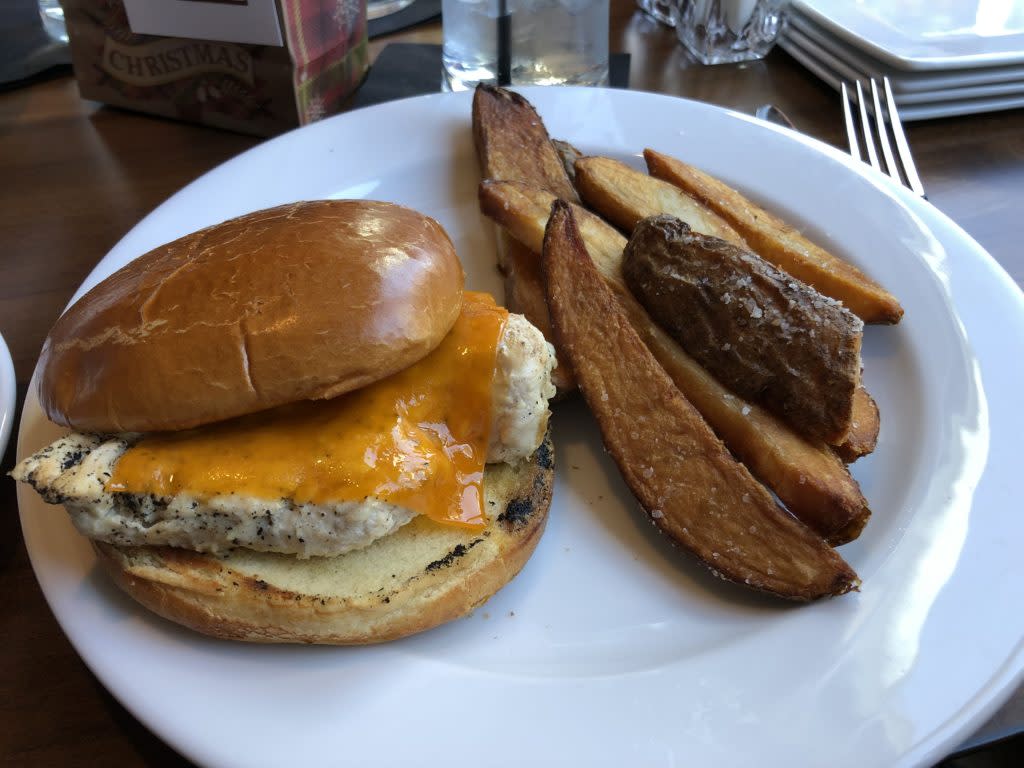 Lisa, our Vice-President shares, "I love a good burger and was not disappointed by the Reserve Burger at Nami's.  This beef burger was yummy and cooked perfectly to my taste. I chose the house made fries over the house chips. The fries were thick potatoes wedges with a mild seasoning and were amazing. I love a good martini and am looking forward to going back to try a martini when off the office clock! They are doing $6 martini nights on Thursdays." "The Asian Salad was presented so beautifully! It was a very large salad, I couldn't eat it all," shares Ashley, VLWL Director of Sales. "Good mix of flavors and textures from crispy cabbage, creamy avocado, sweet mandarin oranges, crispy noodles, sesame seeds and grilled shrimp. The soy ginger dressing was excellent, with a bit of a kick. It was a bit spicy for me with my mouth burning for a bit when done, but I still really enjoyed it. I'd recommend getting the dressing on the side though, so you can use as much or as little as you like." We are all excited to head back to Nami's and take our spouses out to dinner. Their dinner menu includes filet, crab cakes, lobster tail, pastas and more. If their dinner is even half as good as their lunch, it will be a wonderful dining experience! Make sure to add Nami's Bar & Grill to your next dining out adventure. You will be delighted!! [caption id="attachment_11525" align="alignright" ]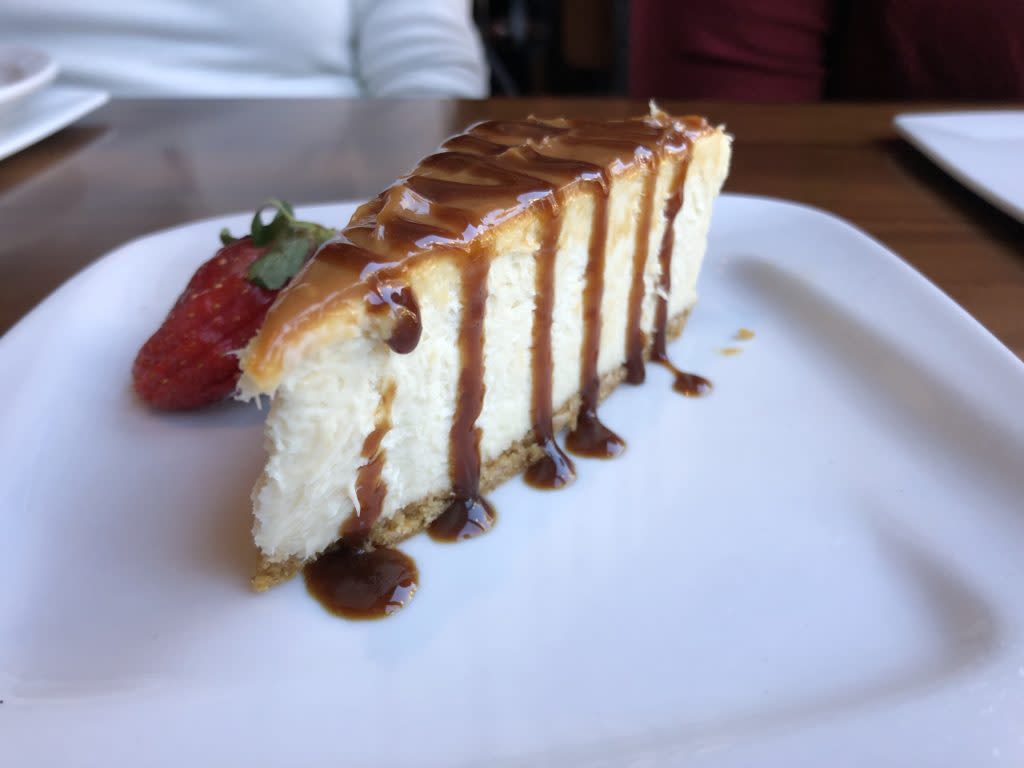 Oh and did we mention they have fabulous desserts?! Caramel salted cheesecake![/caption] For more information about this restaurant and others in Lafayette-West Lafayette, Indiana, check out our website at HomeOfPurdue.com.