[caption id="attachment_5094" align="alignleft" ]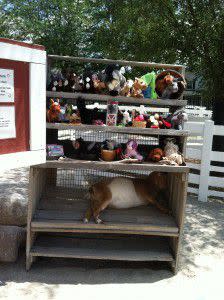 Sleeping Goat at Columbian Park Farm![/caption] Visitor Information Specialist, Kaley, shares her tour of the Lafayette-West Lafayette area. Kaley writes: With this being my first year in the Lafayette area as a Purdue student, I was extremely curious as to what I could find here. Moving to a new area was pretty intimidating at first, but the longer I am here, the more I find how quaint and exciting
Lafayette
and West Lafayette truly are. I recently toured the Lafayette area and was amazed at the vast history and excitement this area holds.
I started my journey at Columbian Park, and wow, was it a sight! I have driven past this area many times, but I never did I wrap my mind around just how large it was. The playground was filled with so much fun equipment and there were so many nice areas to lay a blanket out and enjoy a delicious picnic.  However, the playground and open areas are only a small portion of the park. I was fascinated to see that the park extends even further to a zoo with free admission. The animals are very friendly, and I enjoyed the hands-on experience with some farm animals. It's hard to beat the cuteness of a baby goat, and it was entertaining being able to feed and play with the young goats. The park goes on even further into Tropicanoe Cover waterpark. As a whole, this is a great area to come and spend the day by doing a variety of exciting activities. I will definitely be visiting again soon!
[caption id="attachment_5096" align="alignleft" ]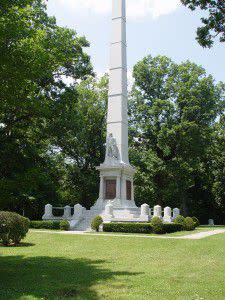 Battle Ground Monument[/caption] My next stop was Battle Ground, which is packed with not only local history, but also national history. I could feel the past come alive as I walked on the same ground where the American soldiers and Native Americans came face-to-face to begin the War of 1812. The monument is a beautiful memorial to those who lost their lives. It is crazy to think that a life changing moment for our great nation occurred just down the street from where I live.
Battle Ground
has even more than the historical site. I was able to tour the interesting museum and gain more knowledge about what happened on that fateful day and era.  I also explored around the area and discovered a beautiful creek behind the battlefield with trails to venture into the woods. Although a brutal event occurred, I would consider this place a tranquil area to learn about our nation's past as well as explore the region's nature. [caption id="attachment_5095" align="alignright" ]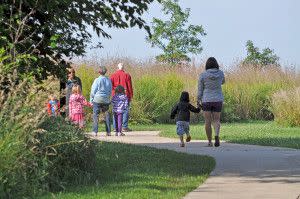 Trails at Prophetstown![/caption] Finally, I headed over to
Prophetstown State Park
, another area packed with history. When I first entered, I noticed the historic farmstead. I hope to travel back and get a hands-on experience at the farm to get a feel for how early Americans thrived through farming. After the farm, I soon passed by Prophetstown's newest addition, the aquatic center. The materials used to build the waterpark were picked out specifically to match the image of Prophetstown, and it looks absolutely spectacular! I have personally traveled down their water slides and lazy river, and it was such a blast! I plan to come back and make a trip through their trails to see beautiful sights of the natural habitat and the Wabash River. After sightseeing through the Lafayette-West Lafayette area, I realized how priceless this place truly is. With so much to do for all types of occasions, there is no way for me to ever feel bored. I plan to explore even more thoroughly throughout these great cities and gain irreplaceable experiences throughout the way.