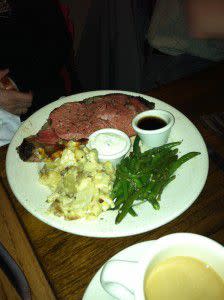 Happening Now!  Planning a stay in Lafayette-West Lafayette, Indiana area? Whether you are looking for delicious dining, interesting attractions and shops, enticing events or home away from home lodging—a getaway to Lafayette-West Lafayette, Indiana is sure to satisfy. Right now the locals are talking about
Mountain Jacks
, a fine dining restaurant featuring delicious steak, seafood and spirits. When I think of Mountain Jacks, the first thing to come to mind is family and tradition.  This cozy restaurant is a holiday family tradition for my husband's family farm.  Each year to celebrate a year of hard labor and work, my In-Laws take every member of their working farm out to eat at Mountain Jacks.  It is a night where we gather to rejoice in their
private dining room
with lots of food and good cheer! We start the evening munching on the Mountain Jack 
sampler
which includes crab stuffed mushrooms, potato skins,  and hot & spicy shrimp.  Not to be left out is their calamari fritti, which is lightly fried with sweet red peppers and onions drizzled with ancho chili aioli.  (This is my husband's favorite!)  The appetizers are filling enough, yet there are 3 courses left to go!  The next course is soup or salad.  The salad is brought out in a turn table so guests have a choice of multiple toppings.  For some odd reason I find this the most entertaining part of the evening.  It is fun to have a choice of how many little red tomatoes, cucumber slices, etc. I want added to my salad.  Most of the friends and family gathered order their
prime rib
. (Despite the fact the family farm has a large hog operation!)  But their prime rib is so tender and juicy and comes with a Ruby Port au jus and house made creamed horseradish sauce. And each entree includes 2 sides.  My mouth is watering as I type!  And lastly, but definitely a course not to be missed is their dessert.  The offerings are many, but I usually always pick their homemade
cheesecake
with a cup of fresh brewed coffee.  It is the perfect ending to a fabulous meal!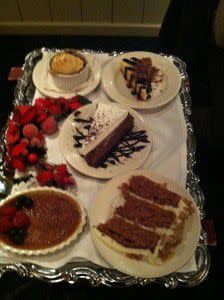 I recommend to readers to really make an evening out of going to Mountain Jacks.  Take a few hours to really enjoy the flavorful courses, wine & spirits and company. To learn more about the delicious offerings at
Mountain Jacks
and other Lafayette-West Lafayette, Indiana, 
restaurants
check out our website at
www.HomeOfPurdue.com
.