[caption id="attachment_660" align="alignright" caption="Yummy Donuts!!"]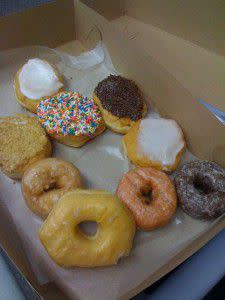 [/caption] Happening Now!  Planning a stay in Lafayette-West Lafayette, Indiana area? Whether you are looking for delicious dining, interesting attractions and shops, enticing events or home away from home lodging—a getaway to Lafayette-West Lafayette, Indiana is sure to satisfy. Right now the locals are talking about
Mary Lou Donuts,
a local donut shop offering fresh, delicious donuts that can be purchased via counter service, carry-out and/or drive-thru! Mary Lou Donuts is a Lafayette staple in the
donut
business.  They offer every donut imaginable from the bear claw to coconut crunch to cream horns.  This donut shop has been a breakfast favorite of my father's ever since I was a kid and I am sure beyond.  My dad is a salesman and travels the northern part of Indiana.  He works in the Lafayette-West Lafayette, Indiana area every other Friday.  He always makes a quick stop into Mary Lou Donuts to get his favorite donut; glazed yeast with white icing and nuts on top. A funny story comes to mind when I think of Mary Lou Donuts.  A few years ago my parents were on a pretty strict diet.  (It was probably right after New Year's!).  Donuts were not on their list of items they could eat.  (Although, I always say a person can eat anything as long as it is in moderation!).  Well, my father lost his cell phone one Friday morning.  Guess where he left it??  Mary Lou Donuts!  A waitress called my mother and my poor dad was caught!!  We always tease him about Mary Lou Donuts.  He said he just can't stay away, but he tries to stop at eating just one donut! Lafayette-West Lafayette, Indiana, offers so many
Indiana dining
opportunities!  Check out all our great
restaurants
we have to offer at
www.HomeOfPurdue.com
.