[caption id="attachment_6226" align="aligncenter" ]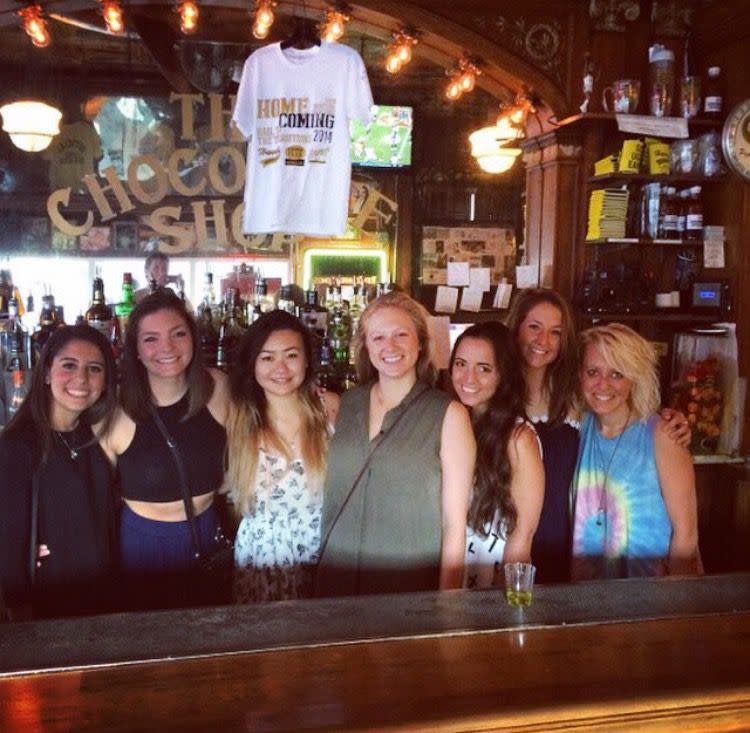 Photo taken Purdue Homecoming 2014![/caption] It's Final Four time in Lafayette-West Lafayette! Sixty-eight schools start off March dreaming of Final Four glory, but only four teams make it to college basketball's biggest weekend. Head to
Harry's Chocolate Shop
to take in the big games with co-workers, friends and fellow Purdue Alumni! Harry's! When I say Harry's Chocolate Shop what do you think? To most Purdue Alumni, Harry's Chocolate Shop it is an integral part of their college days. It is a gathering place to meet up with friends, have a burger, watch sporting events and drink beer. My husband, Marc, is a Purdue Grad and I asked him what this bar/restaurant meant to him.  He shares, "Harry's means, 
"Tradition"
and
"Purdue".
When he was in college he and his buddies would meet up at Harry's for appetizers and to relax after their busy college schedules. Marc said it was the perfect gathering spot because there was a laid back and welcoming atmosphere to Harry's that made everyone feel like they were a part of the Purdue spirit. Breakfast Club! Another Purdue tradition where students dress up in costume during home football games and Race Day of Grand Prix (mark your calendars for April 25!) Harry's is hopping with undergrads at 6am in the morning cheering on these major Boilermaker events. There are so many rumors and different stories of how Harry's got its name and mantra, "Go Ugly Early". Marc's version is Harry's used the front of being a "Chocolate Shop" during prohibition but secretly ran a bar.  The code word to enter was
"Go Ugly Early"
. Rumors are there are secret tunnels that were used to bring alcohol into the bar during this time. Is there a story you heard about how Harry's received it's name?  Please share!! This March visit Harry's and make your own traditions! Do not miss the exciting NCAA Basketball Tournament and cheer on your favorite team (BOILER UP!) For more information about this bar and others in our area, visit
www.HomeOfPurdue.com
.