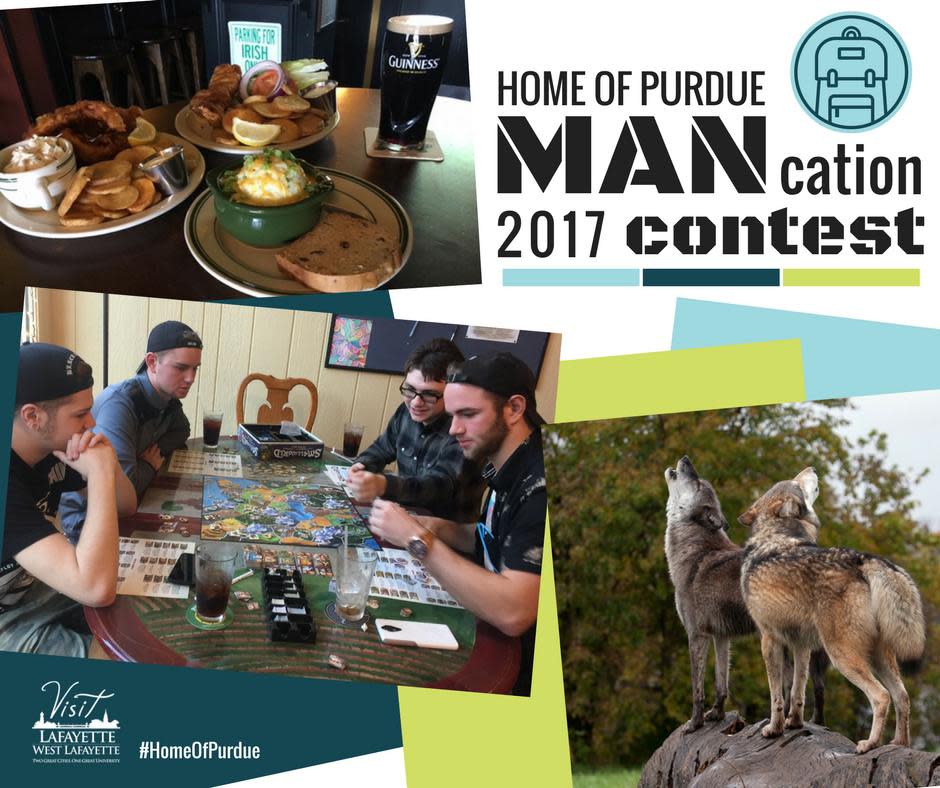 Need a break with the guys? Enter to win a weekend getaway of food, drinks, and entertainment with your buddies in this MANcation contest worth over $500! Here are some special details about the local places who have donated:
Enjoy a visit to the classy and historic Purdue Union Club Hotel, an icon to Boilermaker country since 1924.
From Velveeta loaded french fries to duck egg roles, the options are interesting at Digby's Pub. (Bonus: soon to be patio season, and Digby's has an awesome outdoor patio with an amazing view of our courthouse.)
Located halfway up Chauncey Hill, lies a Purdue University tradition. Triple XXX is one of the most historic landmark restaurants in the Lafayette-West Lafayette area. Founded in 1929, Triple XXX is known for their delicious root beer!
Chocolate truffles, cake balls, artisan chocolates; these are just a few items Kathy's Kandies bakes in her specialty candy shop, located downtown Lafayette.
To experience "Hoosier Hospitality" at its finest visit Arni's where the food is delicious and the service is exceptional.  Arni's is a staple in the Lafayette area.  This restaurant which offers pizza, sandwiches, salads and more has been serving the community since 1965.
Nine Irish Brothers is the place to visit!  It is a gathering place of friends and co-workers, family and teammates, and visitors alike, who can sit back, enjoy a pint of Guinness and eat traditional Irish fare.
East End Grill, Lafayette's newest restaurant serving modern with a twist fare ranging from chopped salads, to burgers & sandwiches and the best steaks and seafood available.
Games galore! Merlin's Beard is a new and unique attraction to the Lafayette area. With over 250 games to choose from, there is a game for everyone!
Check out Monster Mini Golf, an indoor 18-hole glow-in-the-dark golf course. Along with mini golf, there are arcade games, glow-in-the-dark air hockey table and ticket redemption games such as ice ball.  While there are monsters all around the course, none of them jump out at you!
Create traditions at Mike Aulby's Arrowhead Bowl and enjoy a night of munching on nachos, drinking a pop, and bowling. Arrowhead Bowl offers some of the best bowling lanes around and later in the evening bowlers can enjoy the Cosmic Express.
The Farm at Prophetstown is a real working farm! The livestock enjoy a beautiful, healthy farm/free range setting and crops are grown to be used to feed them throughout the year.
Indiana's newest state park, Prophetstown State Park offers hiking and biking trails and is home to The Farm.
People's Brewing Company is a hidden gem in Lafayette-West Lafayette. Guests pull up to an old loading dock, and within its space is a fun, relaxed bar where locals and visitors enjoy a fresh brew while sharing their day's stories.
It's a bird, it's a plane…its kids jumping on trampolines! Get Air is unique for its knocker balls (inflatable bumper balls) and dodge ball room.
We left one of our favorite attractions for last; Wolf Park!  Howl, laugh and watch as the wolves interact with each other.  Don't miss checking out the bison, coyotes, and foxes!
Enter to win this fabulous contest at HomeOfPurdueBlog.com.  Good luck!

Save

Save