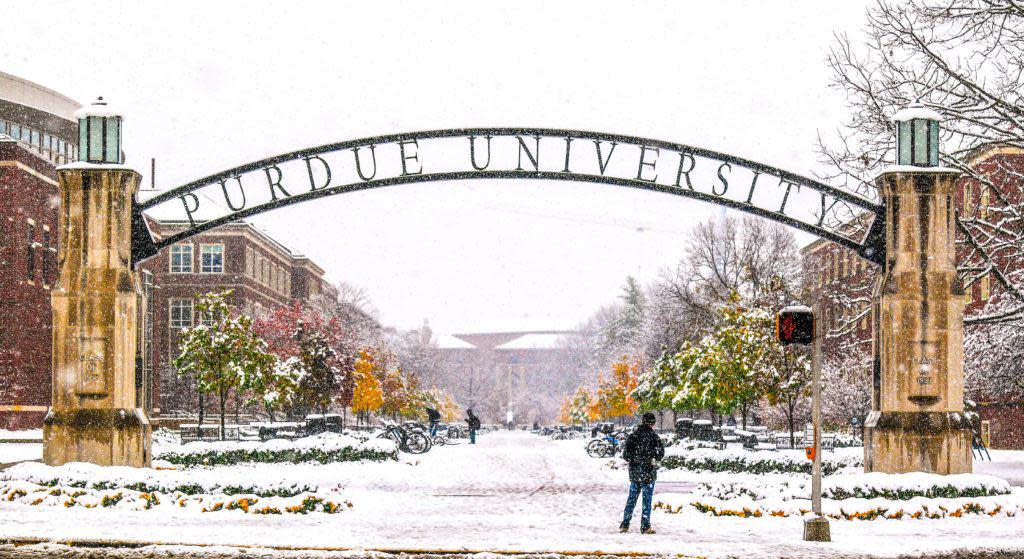 Holiday Weekend Update! Looking for a fun Indiana weekend getaway? Or do you live in this area and are looking for entertainment close by? Check out the plethora of fun, holiday events happening this upcoming weekend in or near Lafayette-West Lafayette, Indiana.
Holiday Tours (December 6-10) at the Haan Mansion Museum of Indiana Art is a special treat that you won't soon forget. A Christmas train traveling through several rooms, decorated with Dickens Villages is a favorite feature for both kids and adults.  A gingerbread-style playhouse and multiple animated figures invite kids to participate. Decorated trees, Santas, angels, nativities, Lafayette houses and Dickens villages fill the Museum and spread the Christmas spirit.
Enjoy a candy cane tour at McCord Candies!  Make your very own candy cane on December 8,9, 10.

The Holiday Makers Market is back at Wea Creek Orchard on December 8, 9, 10.  On Friday, December 8, INMM organizers Traci Bratton and Angela Taylor are giving away 50 collaborative limited edition candle crocks to the first 50 guests. Food trucks, wine tasting, and artists' demonstrations on Saturday.  Sunday bring the kids to meet Santa and do crafts. 

[caption id="attachment_10079" align="alignright" ] Purdue Christmas Tree[/caption] On Friday, December 8, Purdue Bands and Orchestras present Tuba Christmas and Holiday Cheer & All That Jazz.  This holiday favorite concert is a must see! Continuing the tradition started by Harvey Philips in 1974 to honor his teacher and mentor William Bell, who was born on Christmas Day, over 80 musicians will perform holiday favorites on low brass instruments. This concert is a campus-community partnership inviting low brass performers from the community to play alongside student musicians with euphoniums, sousaphones, and of course, tubas. Don't miss this unique holiday experience!
Bring the kids to enjoy "Breakfast with Santa" at the Purdue Memorial Union on Saturday, December 9. This is the perfect event for celebrating Christmas with children and families! Celebrate the holidays with your children by making Christmas crafts, listening to a story read by Mrs. Claus, and of course getting a picture with Santa himself! Breakfast will also be available to Purchase from Pappy's diner. Do not miss checking out the giant Purdue Christmas tree! [caption id="attachment_10082" align="aligncenter" ] Skate with Santa[/caption]
Skate with Santa will be held on December 9 from 9-11am. Santa invites you and your parents to come out for a fun-filled morning.  You will enjoy donuts, hot cocoa, and skate with the jolly old elf himself!  This will be a great photo opportunity, so make sure to bring your camera!  To really enjoy this event, it's recommended that children be of appropriate skating age and size.  Reservations are required.
Nearly 40+ artisans and antique vendors will showcase and sell their handmade crafts at the Carnahan Hall Christmas Market Artisan Crafts Show on December 9. The first 100 visitors will receive a mystery bag containing "spendable cash" (up to $25.00). Free parking. Free admission. Pottery, wood, jewelry, knit items, paintings, home decor and more. [caption id="attachment_10083" align="aligncenter" ] Dickens[/caption]
Friends of Downtown presents "A Christmas Carol by Charles Dicken's" on December 9. Enjoy a day where Downtown is transformed into Victorian England. Throughout the day, there will be live performances by choirs and entertainers, roving carolers, Holiday Farmers Market, carriage rides and of course, the Dickens and Victorian street characters announced and directed by town criers and a constable or two! Make sure you take advantage of the many "Dickens specials" by downtown restaurants and merchants.
Red was the popular color choice for Christmas decorations in the 1920's, but were electric lights or candles used on Christmas trees? Did friends exchange post cards or greeting cards? Visit the Gibson farmhouse at the Farm at Prophetstown to experience a 1920's Christmas during "Christmas Tradition" on December 10. Learn how to make traditional 1920's paper decorations and feature them on your tree!
For more information about these events and other special "happenings" in Lafayette-West Lafayette, check out our website at www.HomeOfPurdue.com.