First impressions mean a lot when meeting someone new. But how about when trying a restaurant for the first time? This month's Dining Divas visit to Almadina Mediterranean Restaurant at 820 Sagamore Parkway in Lafayette, definitely left us with a good impression.
Open under new ownership since the first of January, the former Red Lobster location has a familiar look on the outside. But open the front door and our first impression is the aroma of cumin, dill, garlic, and other spices found in our favorite Mediterranean comfort foods.
Next is the friendly welcome from Araceli, our hostess and server, who seats us in the updated dining area. Still present are some of the rustic east coast finishes. New are the colorful photographs, lighting, and decor from throughout the Middle East.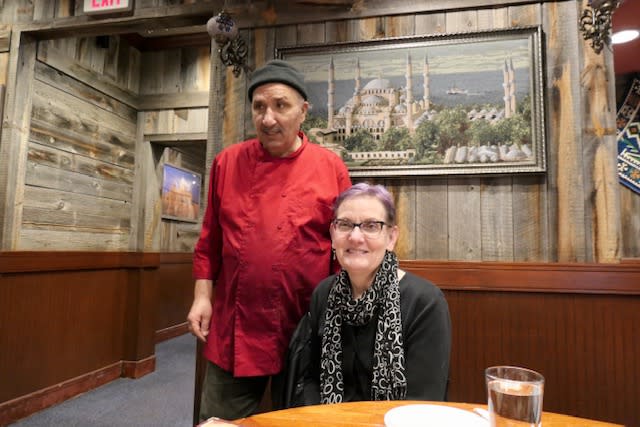 Co-owners Mohammad Abumayyaleh and Eric Arab are proud to share with us stories of growing up in Jordon and Syria and their lifelong love for cooking. We know immediately we are in for a good dining experience.
Mohammad owns three fast food restaurants in Indianapolis and admits he has been in the food business since he was 15. We ask Eric how long he has and he tells us with a grin, "I have always been cooking in the kitchen".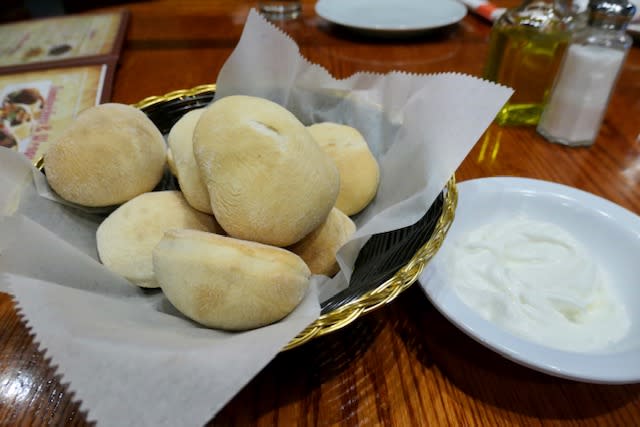 While choosing what to order, freshly made hot rolls and garlic dip arrive at our table. Word to the wise, these are worth a return trip all by themselves. Ask anyone who has tasted them and you will hear some version of, "Oh my! They are the best!"
Jo decides on Mushroom Sautéed, adding shrimp for $17.99. The dish comes with slaw and a big house salad. Between bites she says "Really good flavor. Lemon, olive oil, and herbs make the shrimp very flavorful. The salad is very fresh. Great quantity of food."
Kay orders Hummus with Topping, adding salmon for $17.99. A big plate of hummus filled with butter and lemon arrives, topped with salmon. Pleasantly surprised Kay confesses, "A combination I never would have thought to put together! Salmon with hummus! Very good". There are a few tasty green beans added for garnish, a side dish of almond rice, and crushed lentil soup.
Bev decides on Shawarma Combo for $16.99 with sides of rice and tabbouleh. The dish consists of shaved chicken and beef mildly seasoned, plus almond rice. Bev's tip of the day, "I added some hummus from Kay's dish to make a tasty combination. I recommend ordering this with a small side of hummus and pitas to make little piles of all the goodness on top."
Margy orders the Falafel wrap for $4.99. The wrap is a warm mix of falafel, tomato, and tahini sauce with a side of almond rice and crushed lentil soup. Eating her soup as if she skipped breakfast, Margy says, "I love it! The soup is more broth-like, not thick as you usually see. That with the lemon and cumin added is so good! I also like that they include fresh lemon wedges you can add to your soup, dips, or salad." 
Hummus with Salmon

Falafel Sandwich

Tabbouleh

Combination Shawarma
The dessert menu includes baklava, rice pudding, cream caramel and kenafeh but no one has room! All our orders are generous portions and require several take-out boxes to finish later. Instead of dessert we take Eric's advice and try the Turkish coffee. It comes in darling little cups but don't be fooled, it is stronger than your average coffee and flavored with cardamom. A nice finish to the meal.
Everything on the menu, including the hot rolls, is made from scratch. Before leaving we meet Yusef, one of the chefs, which was an unexpected treat. When he hears how much we enjoyed our food, the pride on his face was matched by the smiles on ours. Final impression? Very good, can't wait to go back. Hope to see you there!
Restaurant hours: Monday-Friday 10:00am-10:00pm & Saturday-Sunday 11:00am-10:00pm