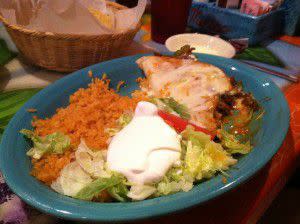 Are you burnt out on traditional American fare? Looking for a new restaurant to spice up lunch or dinner? Then we highly recommend making your way over to
Lindo Mexico
, and we mean A-S-A-P! If you're not up-to-date on your Spanish, then like me, you'll be curious as to the meaning of this restaurant's name. "Lindo" in Spanish is an adjective that loosely translates as meaning pretty, lovely, neat, or handsome. Once you walk inside Lindo Mexico you'll understand why the owners chose this name. This beautifully decorated restaurant packs color and textures into ever inch of its interior. Exotic animals, moons, suns, plants, and more are carved onto every surface. Wall, chairs, and tabletops are painted with bright blues, rich reds, and vibrant violets. There's even a running water fountain in the center of the dining room with three lovely maidens pouring water from clay pots. The music completes the mood and while you may or may not understand the lyrics you can hear passion and beauty in the voices. [caption id="attachment_4292" align="alignright" ]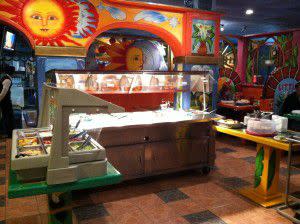 Buffet[/caption] But even without the artfully designed interior in Lindo, I would come back over and over again just for the food. The menu features many traditional
Mexican dishes
and each is as flavorful as the last. My personal favorite is the #5 combination platter with chile relleno,
cheese enchilada
, beans, and rice. The sauces in this dish taste so fresh and rich that I'm always struggling to scarf down that last bite. It is so delicious I'm willing to rupture something just to taste this delicious meal again and again. And there's been a new addition to the lunch menu: the all-you-can-eat-buffet. Not that I was ever concerned about leaving Lindo with an empty stomach but the buffet is a great, fiscally responsible way to get your full belly on! Lindo makes sure to include lots of adult beverages in their menu too that equally compliment the food for those of us in the 21-and-over club. I highly encourage anyone who's looking for an inexpensive, delicious meal to take a trip to Lindo Mexico. For around $10 you can enjoy a
blue margarita
, combination dinner, and of course all the free chips and salsa you can eat. I love dining at this restaurant and I plan to continue making my weekly visit to Lindo for some of the most delicious Mexican food I've ever tasted in Lafayette. Kristine, Visitor Information Specialist for Visit Lafayette-West Lafayette, shared this blog.