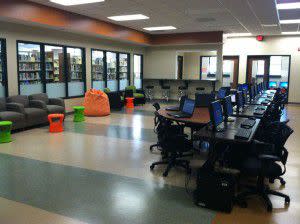 This blog is shared by my mother who is an avid reader and a weekly visitor to the
Tippecanoe County Library
, downtown Lafayette. One of my clear and enjoyable memories as a little one is of my first visit to the library with my brother Tom. Our mother said we were going on the biggest adventure of our lives! I can still remember my brother and I walking into this big building holding hands and seeing all the books. My hometown librarian, Ms. Velma, explained to my brother and I that a man named Andrew Carnegie wanted to share his
books
with the entire world. The wonder and excitement of that moment in time is still felt when I walk into the downtown Tippecanoe County Public Library. The books pull at me to open them with their promises of stories and secrets untold. The staff, with its gentle smiles and quiet whispers, creates an almost tranquil silence inviting each and everyone to tiptoe to the treasures of books on the shelves. A visit to the
downtown library
is one experience just waiting for you to enjoy the treasure of written words catching you with their magic spell and charms. I invite you to the downtown library to enjoy a gentle day filled with contentment of reading as it casts it fragile spell over you. The Tippecanoe Public Library hosts a collection of over 301,000 materials available for checkout including books,
movies
, nonfiction, materials in Spanish, CD-ROMs, audiobooks, music, magazines, and online resources.  There are 50
computers
also available for diverse uses such as Internet, word processing, and youth educational games.  The newest addition to the library is the Portal; a realization of a vision to build a flexible, technology-rich center for learning, research, training, collaboration and content production. The Portal includes the digital arts suite, audio/video-conference suite, language learning suite, family technology suite. There is something for everyone! For more information about this library and others in the area visit our website at www.HomeOfPurdue.com.