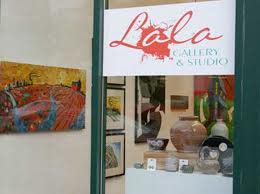 2 Great Cities, 1 Great University, Be a Tourist in Your Own Backyard!  Vacation, Relaxation, Fun; one image that comes into our heads is sand, sun and water.  Locals travel south to find their peace and quiet, while adventure, history, the arts and entertainment, and more, can be found in our own backyard.   Lafayette-West Lafayette, Indiana, is home to many great
art studios
that offer locals and visitors a chance to find their creative vein. The
Lala Gallery & Studio
 is one such art studio that inspires the creative and non-creative (that would be me!) to explore their imagination and artistic sensibilities.  Remember in grade school when the teachers taught their students the difference between right brain versus left brain?  Left-brain scholastic subjects focus on logical thinking, analysis, and accuracy. Right-brained subjects, on the other hand, focus on aesthetics, feeling, and creativity.  I would classify myself as left-brained with the desire to be more right-brained!  Ok, I know that sounds odd, but I have no skill when it comes to drawing or creating pottery and such.  But I have the patience and aspiration to learn.  The Lala Gallery is an
art studio
that offers the opportunity to learn how to make handmade products such as poetry chimes, garden markers, vases, mugs and more! The Lala Gallery & Studio offers visitors a chance to view local and regional artists working in a variety of mediums. 
Special exhibits
run all year long.   Also, during this holiday time, make Lala your one stop shop Dec 13 - 23, during the second annual
Holiday Trunk Show
!  Lala has handpicked gifts perfect for you and your loved ones!  A wide variety of local and regional artists will showcase their wares during this 10 day sale. The showcase will include paintings, handmade jewelry, modern housewares, clothing, accessories and more! To learn more about the Lala Gallery & Studio and other wonderful
art galleries
in Lafayette-West Lafayette, Indiana, visit our website at
www.HomeOfPurdue.com
.