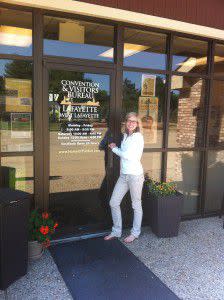 2 Great Cities, 1 Great University "Midwest Hospitality".  To experience "Midwest Hospitality" at its finest, visit our
Lafayette-West Lafayette Visitors Center
for directions, brochures and recommendations to local area attractions, festivals, restaurants, hotels, etc.! Did you know Lafayette-West Lafayette has a visitors center right off of Interstate 65 and State Highway 26, that is not only full of local
brochures
, but brochures for Indiana area attractions?  Located behind Cracker Barrel, this center welcomes locals and visitors to stop, visit and gather local and state information.  If you are traveling through the area and are looking for a travel break, the visitor center staff has great ideas whether you want to break for an hour or a half day.  Our visitors center is located at 301 Frontage Road, Lafayette. I work as a visitor services specialist for the 
Lafayette-West Lafayette Visitors Center.
 When guests arrive at our center, they will arrive to a smiling face that will greet and welcome them.  We strive to assist guests in answering any questions and recommending local places to visit and
site-see
.  I like to believe our center offers some of the best "Midwest Hospitality" around!  I love living not only in Lafayette-West Lafayette, but in the state of Indiana, and to showcase all the wonderful things there are to do here, makes me proud to be a Hoosier.  Whether a visitor is interested in history or
arts and entertainment
or sports, there is always something to recommend and we usually have a brochure to go along with it.  We have visitors from all over the world stop by this center, and our goal is for them to walk away smiling and happy they decided to stop! [caption id="attachment_1799" align="alignleft" caption="Visitors Center Lobby"]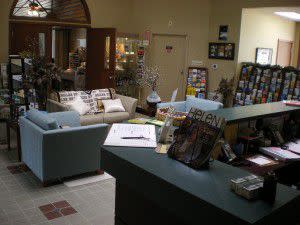 [/caption] Living in 
Lafayette-West Lafayette, Indiana
, one thing we value is customer service and appreciating the times we receive great customer care.  Midwest Hospitality is Lafayette-West Lafayette, Indiana.  We are proud to provide gracious and friendly service. For more information about our visitors center and other 
fun activities 
in the area, visit our website at 
www.HomeOfPurdue.com
.