[caption id="attachment_6036" align="aligncenter" ]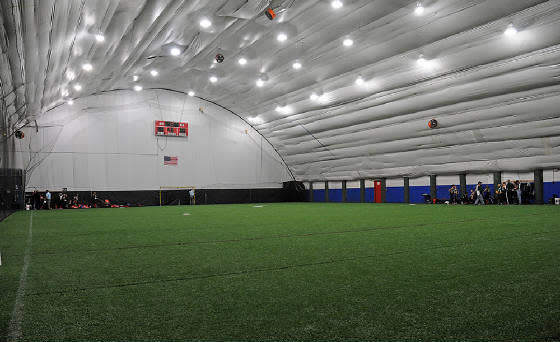 Family Sports Center[/caption] David, Purdue University student and Visit Lafayette-West Lafayette Intern, shares this blog. Soccer is easily one of the most popular sports in the world, especially in the USA, with over 3 million registrations. According to a Wall Street Journal article by Ryan Wallerson, "Registration in soccer, basketball, and football leagues have seen a dip in numbers recently." Even though the numbers have dipped, leagues are still filling up. In Lafayette and West Lafayette, the outdoor soccer leagues are extremely popular and fill up with high numbers pretty quickly. The real question is what do these numerous soccer players do when the brutal winters hit? The answer:
indoor soccer
! Lafayette-West Lafayette is home to two different elite indoor soccer facilities;
Family Sports Center
, which was previously known as the Arnett Sports Center, and the Legacy Sports Club. The Family Sports Center offers two different sessions of indoor soccer for youth, high school students and even a 35 and older group. The second of the two sessions just started on January 25
th
, 2015.
Legacy Sports Club
is in already in full swing with their second session of indoor soccer. They take about eight teams a league and they keep their number of leagues limited. Although these two prestigious venues are local, they draw from far away, as well. Both venues are home to numerous tournaments for travel teams. These tournaments are usually weekend tournaments, but have also seen weeklong events. These tournaments can be a huge boost to tourism here, in Lafayette-West Lafayette. They aid in bringing in overnight stays in hotels and trips to local restaurants. Those hotel rooms and trips to the local restaurants support the local economy and other local infrastructures that see a huge benefit from events like this.
Indoor soccer
is a great opportunity for players to keep up with their game. Even though indoor soccer can be a bit different from the game outdoors, it really forces individuals to work on the fundamental skills that are so essential in the game today. These local indoor leagues are giving players a chance to not only stay involved and work on their game, but stay active throughout the year, as well. By staying active and participating in these types of leagues we are promoting a healthy lifestyle for not only the youth, but also the adults that participate. For more information about these indoor soccer facilities and other sports market information, check out our website at
www.HomeOfPurdue.com
.