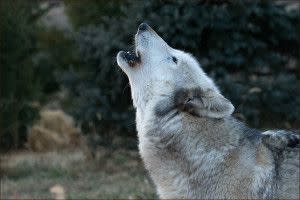 July 4 Weekend Update! Looking for a fun Indiana 
weekend getaway
? Or do you live in this area and are looking for entertainment close by? Check out the endless possibilities for fun events happening this upcoming weekend in 
Lafayette-West Lafayette, Indiana
. This Saturday, July 4, from 1-5pm, watch as each wolf, fox and coyote enjoy a summer treat at the
Watermelon Party with the Wolves
. Each animal gets his or her very own cold watermelon, stuffed with treats such as pig ears, cheese, and dog biscuits. These unique treats provide environmental enrichment, giving their critters something to roll on, stuff their noses in, paw, lick, chew, scent-mark, and defend. Looking for evening plans on the 4th? Stay at Wolf Park and "
Howl with the Wolves
".  As the sun sets and the air cools, the wolves get more active and spirited. Guests will have an opportunity to hear a more in-depth discussion of the wolf's "trademark" behavior — the howl. You will have front row seats to a sing-along as Wolf Park's expert wolf handlers enter the enclosure and interact with the main pack of wolves. Visitors will be encouraged several times during the performance to howl, and will be able to see and hear the wolves return the call. [caption id="attachment_6593" align="alignright" ]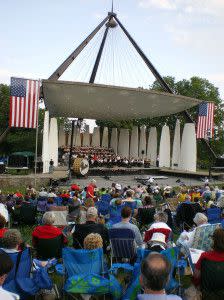 Stars and Stripes Celebration 2008[/caption] Another signature event for the 4th of July is the
Stars and Stripes Celebration
. Please note this year's event is taking place at Slayter Hill on Purdue University campus.  This annual festive fourth concert features music and entertainment from the Lafayette Citizens Band. The Indiana All-Star Show Choir will also be performing. Bright colorful fireworks will be blasted off at dusk. (The concert will end at approximately 10 pm followed by the 25- minute fireworks display.) For more information about these 
events
 and other special "happenings" in Lafayette-West Lafayette, check out our website at 
www.HomeOfPurdue.com.