[caption id="attachment_731" align="alignright" caption="John Purdue Room (Photo taken 1 week before January 17 Opening at new Marriott Hall location)"]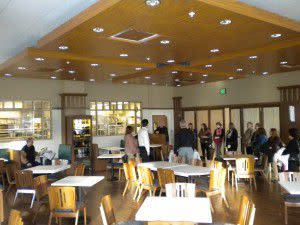 [/caption] 2 Great Cities, 1 Great University, Be a Tourist in Your Own Backyard!  Vacation, Relaxation, Fun; one image that comes into our heads is sand, sun and water.  Locals travel south to find their peace and quiet, while adventure, history, the arts and entertainment, and more, can be found in our own backyard.  
Lafayette-West Lafayette, Indiana
, is home to
Purdue University
which features a student managed, casual fine dining restaurant,
John Purdue Room Bistro
. Looking for delicious, homemade food, exemplary service and an authentic, college experience?  You can get this and more at John Purdue Room Bistro.  This restaurant is where 
Purdue students
are expected to manage, market, develop daily specials, produce, execute, and evaluate a casual fine dining experience.  For locals, visitors and students attending Purdue University, it is an opportunity to eat locally produced cuisine, dine in a brand new, state-of-the-art restaurant where diners can watch students prep and prepare the elegant entrees and enjoy dining in the center of a nationally known college,
Purdue University
. One initiative I personally enjoy about
John Purdue Room Bistro
is its involvement in sustainable agriculture.  This past year the College of Agriculture and the Department of Hospitality and Tourism Management collaborated to develop a student-run
farming initiative
.  Its menu uses these local agricultural products produced on a five acre farm managed by Purdue students.  It gives diners a true Midwest local foods experience.  And nothing beats Midwest cuisine!! John Purdue Room Bistro is located at the brand new state-of-the-art facility,
Marriott Hall
, at Purdue University.  Its official opening date in this new location is tomorrow, Tuesday, January 17, 2012.  Marriott Hall not only houses this wonderful dining room, but also a quick service dining restaurant and world renowned coffee shop,
Lavazza Expression
Coffee Shop.  Lavazza Expression offers made to order, decadent coffee and fresh, rich gelato! [caption id="attachment_734" align="alignleft" caption="Lavazza Expression  Coffee Shop Seating"]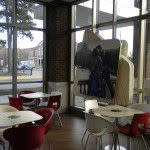 [/caption] To learn more about this restaurant and other wonderful
Indiana dining
opportunities, check out our website at
www.HomeOfPurdue.com
.