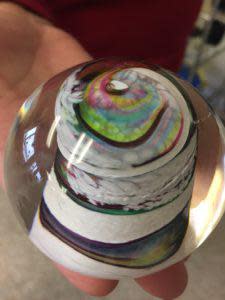 Inspired Fire is a glass studio and gallery located right here in Lafayette! When you enter Inspired Fire, it's hard not to be "blown" away by the gallery of
handmade glass items
. Flowers, vases, jewelry, and so much more! The art here is made in shop and by over 30 different local artists. So many of these beautiful pieces of art would make great gifts for a loved one, or a special treat for yourself! My fellow intern, Emily, and I had the opportunity to visit earlier last year and were absolutely spoiled by owner Sharon Owens and the rest of the staff. As soon as you enter, you're greeted by the smiling faces of people who absolutely love what they do. I learned more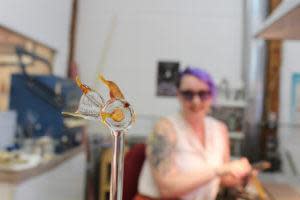 about glass blowing that day than I ever expected when Emily and I were led to the studio and given demonstrations. First, we were able to see a typical beginners' piece (a little glass fish!) made. It is amazing to see how within just a few minutes something so unique and exciting can be made! A little fish like this would make an adorable gift and booking a class to create something like this would definitely be a worthwhile experience that you and your friends or family would remember forever! Sharon Owens even took the time to give us a personal tour of the building. Besides the gallery, there is a group studio that seats up to 8 with the ability to add 4 additional torches, as well as the new addition,
the Hot Shop
, which is over 1,000 square feet and has a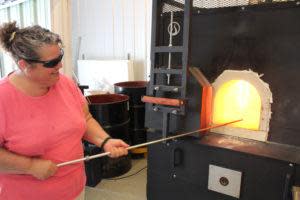 200 pound glass furnace. She showed us how glass is melted and shaped into their beautiful glass flowers in the furnace.  Sharon also gave us a demonstration of how Inspired Fire's famous glass Christmas ornaments are made. Overall, we had so much fun visiting the shop. If you're looking for somewhere truly unique to visit in Lafayette, this is the place! Visit their
website
for more information about their gallery pieces, as well as their class times. Be sure to book your spot in advance because you don't want to miss the chance to learn more about your new hobby, glass blowing! Below you can watch a clip from our trip to
Inspired Fire
. Emily got to blow her own Christmas ornament, with the help of Sharon, of course! [video m4v="4v"][/video]   This blog was shared by Visitor Information Specialist, Sam Martin!