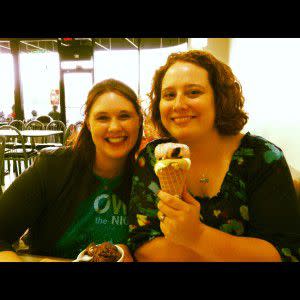 Silver Dipper is our go to dessert place. I'm not a big drinker so to me, Silver Dipper is like that neighborhood bar, where everyone knows your name. Over the years we have gotten to know the owner, Dave, pretty well. He knows my whole family, my friends and we always shoot the breeze while there. It's just a very friendly place.  I remember one night I was in there with one of my friends when she was still out in the dating world and he was giving her all sorts of advice on where to meet great guys and listening to her stories on her funny and horrible dating experiences, her list of qualities she wanted in a guy, etc. and Dave giving feedback and sharing his own funny stories (It was a slow night for Dave).  Some people tell all their problems to a bartender, we have Dave our ice cream scooper. [caption id="attachment_6268" align="alignleft" ]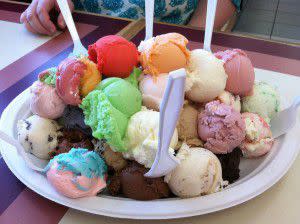 Mini Monster[/caption] Now, don't forget about the ice cream though!  I love ice cream; it's probably my favorite dessert! Silver Dipper ranks pretty high up there on my favorite ice cream list, maybe with the only thing topping it being gelato from Italy, although, Silver Dipper's Raspberry Italian Ice comes close to that too.  They have the best variety of ice cream with around 40 different flavors. I have so many favorites; it's so hard to choose! I'd have to say my very favorite is Zorreo, it's a rich, deep dark chocolate ice cream (what they call Zanzibar Chocolate) with chunks of chocolate, brownie pieces and marshmallow swirled through it! I can just taste it now!  Another favorite would be the Peanut Butter Cookie Dough. This is the best of both worlds if you are a fan of cookie dough ice cream and like peanut butter! It's your typical cookie dough ice cream with ripples of peanut butter in it. I was skeptical at first but I truly like the Peanut Butter Cookie Dough even more than the regular. If you are more of a fruity flavor sort of person, I'd recommend the Black Cherry ice cream. It's black cherry flavored but also has large chunks of black cherries in it. They also have seasonal ice creams; two I always look forward to are the Root Beer Float (I love root beer floats too but this is just as awesome!) in the summer and Egg Nog in the winter. Wish they would carry both year round, but then I'd have an even bigger decision to make when we go in!  Go for the waffle cone too, you won't be disappointed that you did!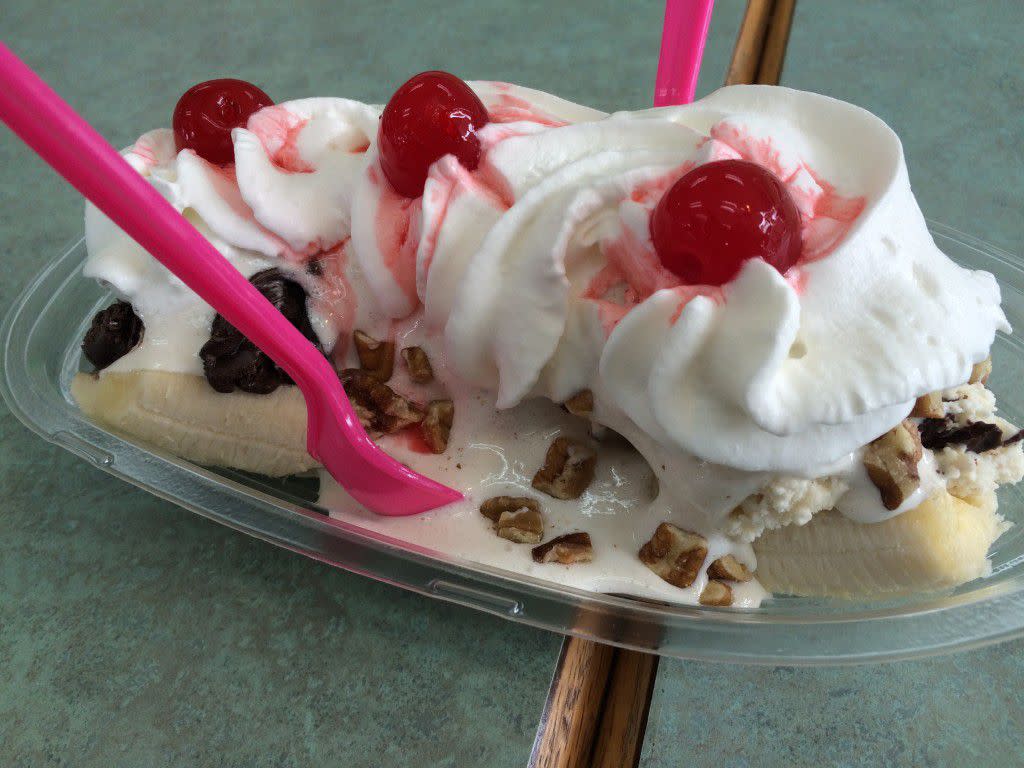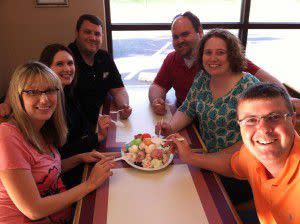 Now, if you want to sample a few or want a variety and aren't hungry enough for multiple scoops, they do offer mini scoops. Three mini scoops are the size of one regular scoop.  It's a great way to try multiple flavors and not over do it!  Or if you have the opposite problem and are super hungry or want to try them all, you can do that too with the Mini Monster! This is one mini scoop of every single flavor of ice cream in the store! I did this for my birthday a few years ago and I had 5 other friends with me and we still couldn't eat it all (we did a pretty good job though)! It was great to try some that you wouldn't try otherwise because you knew if you don't like it maybe someone else will. I hate seeing wasted ice cream! LOL!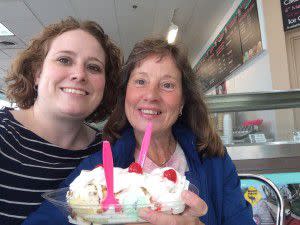 If you like to get a little fancy with your ice cream they can cover you there too! They offer shakes made with any flavor ice cream you'd like and have a wide selection of sundae toppings. My mom and I have been getting a banana split on Mother's Day every year since I was very young and Silver Dipper is now our go to spot, every Mothers Day! They also have amazing ice cream cakes! They can customize the cakes and you can have either white or chocolate cake with any flavor of ice cream you'd like on top, and then it's iced as well. My friends got one for my birthday party one year that was half Zorreo and half Peanut Butter Cookie Dough! Yum! Best of both worlds! If you love ice cream and haven't been to Silver Dipper, be sure to stop by! Be sure to take cash though! They only accept cash or checks.  Enjoy! (And leave some for me!) Group Tours & Meeting Manager, Ashley, Gregory, shared this blog.