2 Great Cities, 1 Great University "Midwest Hospitality".  To experience "Midwest Hospitality" at its finest visit 
Homewood Suites by Hilton
 in Lafayette, Indiana; where great rooms await and many amenities to explore!
[caption id="attachment_2144" align="alignright" caption="Homewood kitchen (full of great food!)"]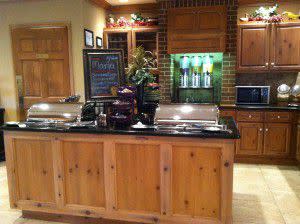 [/caption] Have you ever stayed at a Homewood Suites by Hilton?  If so, you can attest to the great
hospitality
 served at these hotels.  Our Lafayette Homewood is no exception!  As soon as you enter the establishment you are greeted by a smiling face.  To guests spending the night Monday through Thursday, the staff share there is a complimentary evening reception that features a menu that is unique every evening.  I want to highlight this is not a crackers and cheese fare, but a full course meal!  Examples of main entrees featured are chicken and dumplings,
pork carnitas
, and sesame chicken.  Each night has its own theme.  A salad bar, along with beer and wine, compliment each dinner. After dinner (or before if you want to be refreshed), guests can either relax in the
outdoor pool
or lounge on the sofa in their suites that each include a beautiful fireplace.  If guests are in the mood to enjoy the lively night-time entertainment
downtown Lafayette
or at
Purdue University
, a 24 hour hotel shuttle service awaits to take you to any destination in the Lafayette-West Lafayette area. [caption id="attachment_2145" align="alignleft" caption="Biscuits and Gravy- can you say "delicious!""]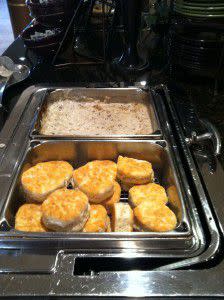 [/caption] Guests awake the following morning feeling refreshed and energized to start their days.  You can either make coffee in the
fully equipped kitchen
, or better yet head to the main lobby/dining area where a
hot breakfast
is served.  I had a meeting with the Homewood staff last week and they offered me a taste of their delicious breakfast. It was full of so many goodies that I left completely satisfied.  I started with a bowl of fresh fruit (berries, grapes and melon) that was refreshing and sweet.  Next I tried their hot oatmeal with just a touch of brown sugar, a homemade biscuit smothered in sausage gravy, scrambled eggs and perfectly cooked sausage.  I really wanted to try their homemade muffins but unfortunately I was too full.  The breakfast was scrumptious!  And what made my day even better, was the friendly service.  The staff was so nice and as I sat and watched I noticed they checked on all the diners throughout the meal and made sure everything was to their satisfaction.  I may have to make this a regular monthly breakfast meeting! [caption id="attachment_2147" align="alignright" caption="It's the little special touches that make people special and smile.  (Umbrellas to borrow if it rains.)"]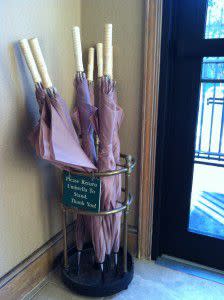 [/caption] Living in
Lafayette-West Lafayette, Indiana
, one thing we value is customer service and appreciating the times we receive great customer care.  We are proud of our local businesses, including Homewood Suites by Hilton, whom provide gracious and friendly service. For more information about this business and other
fun activities
in the area, visit our website at
www.HomeOfPurdue.com
.