[caption id="attachment_4219" align="alignright" ]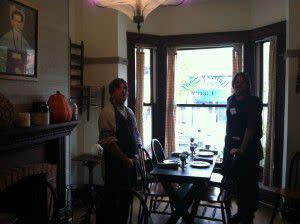 Our servers! Check out the rustic decor![/caption] Home style cooking at its finest!  Looking for a restaurant that serves homemade, delicious food? 
Buttery Shelf Eatery
is the place to visit. Mashed potatoes made from scratch, pot roast loaded with onions, carrots and beef, flaky, buttery rolls; this is just a few of the wonderful offerings at Buttery Shelf.  It is hearty food like our grandmothers made from days past, that is filling and rich. My mother and I visited Buttery Shelf Eatery recently for a ladies day out!  Upon entering this restaurant, which is housed in a historic Weigle Townhouse built in 1899 on Main Street, we were instantly greeted by the staff.  The friendly staff seated us in one of their historic style decorated rooms.  The style of the rooms sent us back in time of the early 1900s with its
antiques
and rustic decor. We always ask our waiters for a recommendation of the best food items on their menu.  Our server recommended their three of their specialties:
homemade chicken salad
, one of their specials of the day including beef roast with a side and salad, and their French onion soup.  We asked if they could make the beef roast into a beef manhattan, and they exclaimed they would be happy to.  We ordered it all to share, and it was amazing!  The homemade chicken salad was one of the best we have ever had.  The chicken was shredded with the perfect blend of mayo and seasoning.  (My plan for the future is to call ahead and order this to go so I can make into sandwiches all week at work.)  The beef in the beef manhattan was so juicy and tender it fell apart and the homemade bread, mashed potatoes and gravy was rich with flavor.  The mashed potatoes were smooth and creamy (who knows what the butter content was...I don't want to know!)  The French onion soup was loaded with onions and crunchy croutons in a dark meaty broth.  We had so much food!  They brought out a platter of breads and strawberries.  Each item was homemade!  Everything was delicious! [caption id="attachment_4220" align="alignright" ]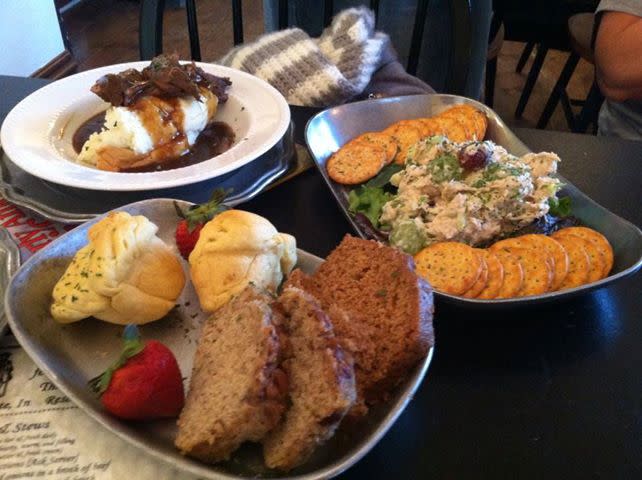 Beef Manhattan, chicken salad & homemade breads![/caption] The amazing part of our visit was each entree was $7 or less.  The amount of food one person gets for $7 is unbelievable.  The money made at this restaurant goes to
Seeds of Hope
, a food pantry and clothes closet to serve those in need of emergency food and clothing. Patrons leaving Buttery Shelf Eatery leave with happy, full bellies and the knowledge the money they just spent is going to help those in need.  It is pretty special! [caption id="attachment_4221" align="alignleft" ]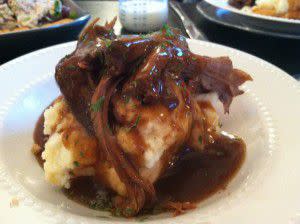 This is only 1/2 a Beef Manhattan...they split it in 1/2![/caption] Buttery Shelf Eatery is open Thursday through Saturday from 11:30-2pm.  Guests can also reserve the restaurant during non-business hours.  The restaurant needs 48 to 72 hours notice and the minimum is for 6 people. They are not normally open in the evenings, but with enough notice the staff can cook the meal specifically for the reservation. (Dinners are a little more expensive than the lunch rush. They are $12 a plate.) On your next visit to Lafayette-West Lafayette make sure you add Buttery Shelf Eatery on your dining list.  For more information about this restaurant and others in the area, please visit www.HomeOfPurdue.com.