[caption id="attachment_10184" align="aligncenter" ]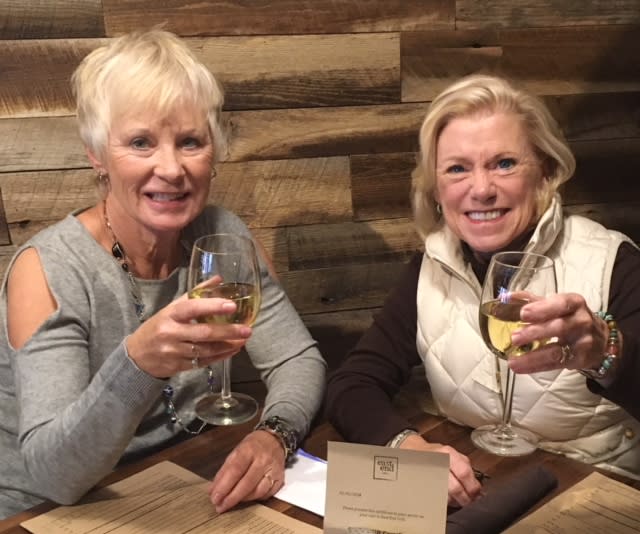 Dining at East End Grill[/caption] I like to enter contests! Just the thrill of thinking I might win a free copy of a newly released book gives me the chills! I entered the Home of Purdue Holiday Shopping and Entertainment contest, imagining how much fun it would be to win just ONE item from the extensive list of gift cards and tickets for attractions around the area! However, imagine my surprise when I received the email from Sara Erickson telling me I had won! My husband said, "that's nice." Neither of us realized the scope of the prize package...until we started to take out item after item (after item) from the package we picked up. What generous businesses in Lafayette and West Lafayette! We were awestruck and appreciative of the variety and abundance of donations. I have never been so glad to have entered a contest. Have to confess my husband was impressed...and I did a little dance, before I got down to seriously planning my visits to the various businesses! Thursday I took my friend for a lunch at
East End Grill
. We were welcomed by Scott Trzaskus and enjoyed a wonderful lunch of smoked salmon sandwich with yummy pesto!
Next we walked to
Kathies Kandies
(the scent of homemade sugar cookies in the background) where Kathie welcomed us, congratulated me (yes, lucky me!) and promptly filled a box with her delicious chocolates! My next stop was
The Design Nook
. There is so much to see there! I wandered around the beautiful displays and to say they are eye-opening is an understatement! I purchased unique ornaments for my three grandchildren. The staff was so helpful!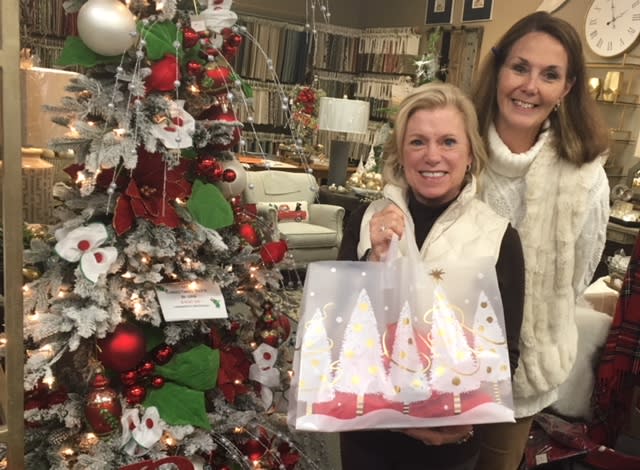 Just around the corner at
Artists' Own
, I browsed through all the hand-crafted art from our own local artists, meeting Mary Firestone and purchasing one of her leaf-pressed holiday ornaments, and a hand-made ice cream scoop for my daughter. On Friday,  I stopped in to visit Linda Elmore, and from her beautiful collection at
L.E. Originals
and found two pairs of earrings and a bracelet for a friend. This is a store I had never visited before, but will visit again soon for something for me! Beautiful hand made glass beads! (Thanks, Linda!)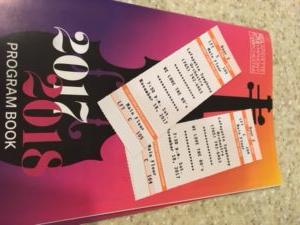 Whew! Can you believe I am not done yet? Saturday's offering was tickets from the
Lafayette Symphony Orchestra
for its presentation of We ❤️ the 80's which was so enjoyable with pieces from Pachelbel, Mozart, Haydn, Leonard Cohen, Prince, and Thriller! Thanks to Andrea Hatch for reserving our tickets, and to Sara Mummy and Nick Palmer. An unforgettable evening! My husband and I followed that with a trip to
Nine Irish Brothers
for a tasty dinner: shrimp cocktail and smoked salmon. We sat by the fireplace (lucky us!), and we visited with owners and friends, Jan and Jerry O'Bryan.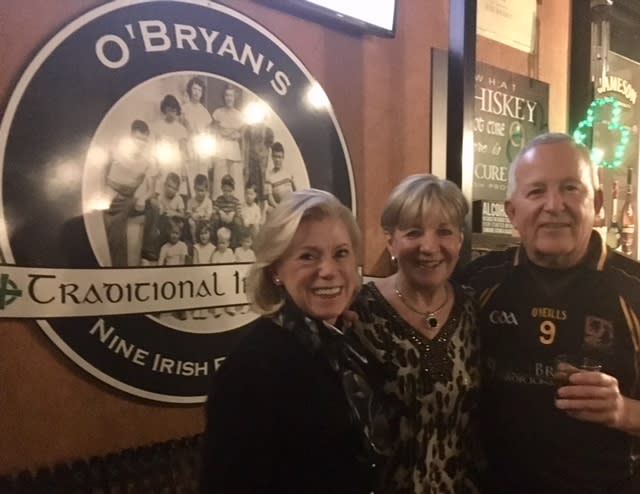 Our final excursion was Sunday morning--brunch at
Town and Gown
. We were greeted by owner Matt O'Neill. I ate the most delicious eggs Benedict with smoked salmon ( by now you know I love salmon any way I can get it) served on an open-face fresh croissant. [caption id="attachment_10190" align="alignleft" ]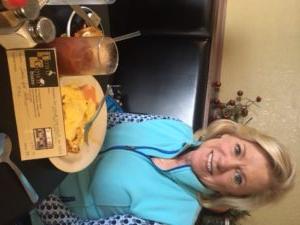 Town and Gown[/caption] Wow! You've really got to try it. Trust me!   I am saving the Riverside Center skating tickets, the Triple XXX restaurant, Monster Mini Golf, and Bruno's for when my grandkids will be here for Thanksgiving! They will be so excited to visit those new places! You will be hearing from me again about how it all goes. In the next few months I will use the gift cards to the Igloo (when it's warmer!), a night away at Homewood Suites when there is not a Purdue Football game! Thanks Karen Hirsh-Cooper for being so flexible! And perhaps, last but not least...I'll meet you at Arnis! Tomorrow it will be back to the gym and the real life of a retired school librarian, but this week of being a special guest in so many welcoming establishments let me have the thrill of feeling like a Very Important Person. I am thankful to the team at the Home of Purdue for all the work to procure those gift packages! I am lucky I got to see Lafayette, Home of Purdue, my home for 48 years, in a whole new light! West Lafayette Native and our 2017 Holiday Shopping and Entertainment Contest Winner, Lauralee, shared this blog.