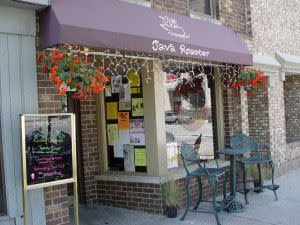 Holly Jolly Java Roaster!
Java Roaster
 has been a part of the Lafayette community since 1992 when they served their first cup of coffee. A locally owned business, Java Roaster emits a friendly atmosphere welcoming one and all to drop in for a cup-o-joe while in the downtown area. Nestled among the shops of downtown Lafayette, this coffee shop serves
fresh roasted coffee
, tea, and an assortment of carbonated beverages or smoothies. The menu offers many delectable snacks, lunches, and dinner options depending on what you're in the mood for. If it's delicious delicacies you desire, Java Roaster offers meals for breakfast, lunch, and dinner that are sure to satisfy. If you're in the mood for baked goods look no further. Enjoy a warm bagel or mouth-watering muffin to top off your
oven roasted sandwich
or crisp salad. Not sure if you want to commit to a whole meal? Order up a batch of nachos and study the architecture of the courthouse or just chat it up with some locals. Tis the season for going out into the cold in search of goodies and gifts for your loved ones and what better way to admire the shops and architecture in downtown Lafayette than with a nice hot cup of coffee or tea to warm you up? Even the most experienced
holiday shoppers
 need a moment to revitalize and refresh themselves which is why Java Roaster offers lots of comfortable sofas and plush seating on both the ground level and upstairs. Feeling particularly artistic while you sip and snack? Grab one of the notebooks lying around and leave a doodle, poem, or your favorite quote in this "community journal" for the next person to enjoy.
Java Roaster
 values theirs customers in a special way like all our locally owned restaurants, and shops do in our great downtown. Shopping and drinking your coffee downtown can be a much more unique Lafayette-West Lafayette experience!
Become a regular at Java Roaster and get to know the residents living in Lafayette and West Lafayette. The shops and eateries in our fine cities have a flair of personality all their own. Experience the unique ambiance surrounding Java Roaster while you explore our two great cities this holiday! For more information about this coffee shop and others in the area visit www.HomeOfPurdue.com. This blog was written by Visit Lafayette-West Lafayette Visitor Information Specialist, Kristine.