[caption id="attachment_10064" align="aligncenter" ]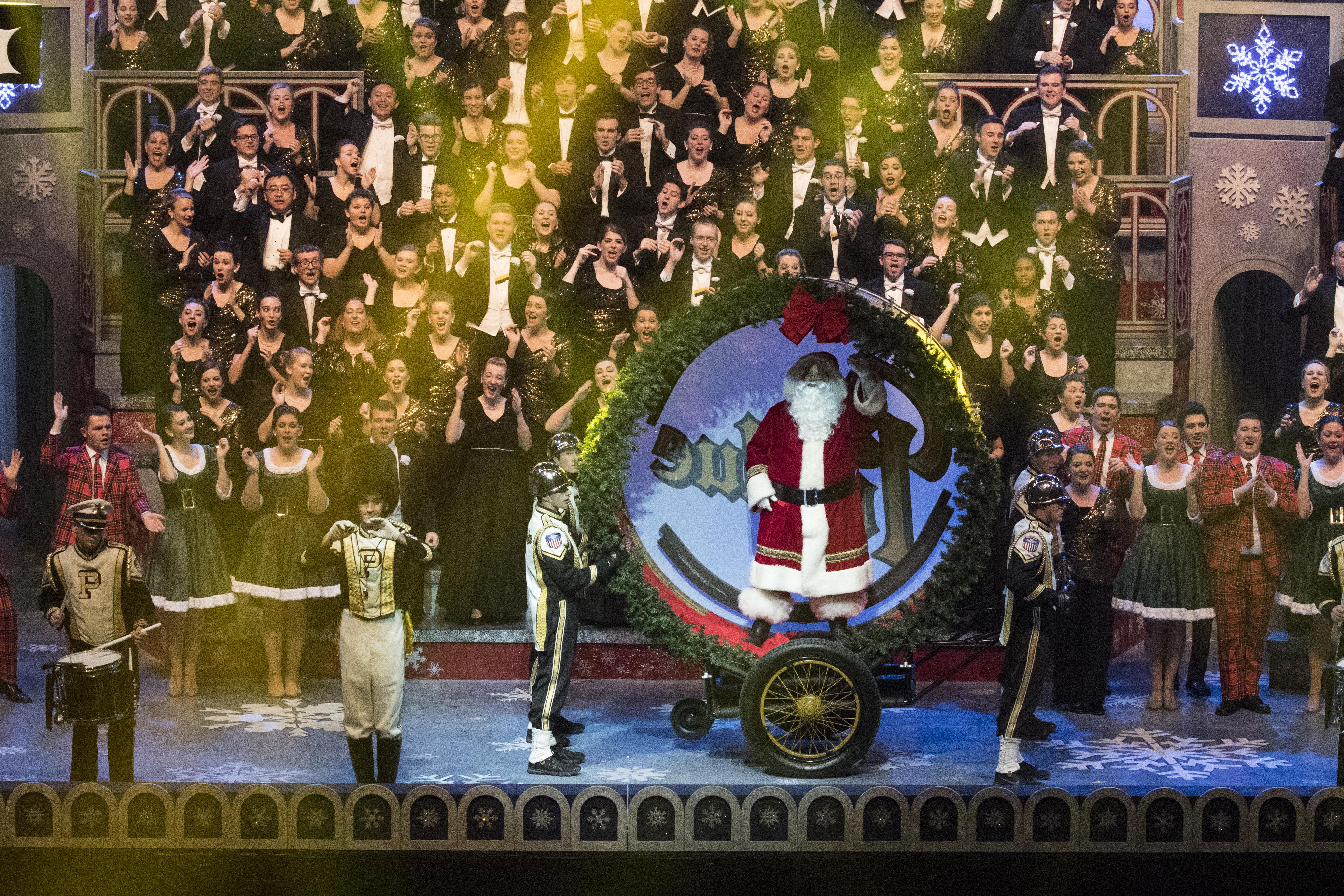 Purdue Christmas Show[/caption] Holiday Weekend Update! Looking for a fun Indiana weekend getaway? Or do you live in this area and are looking for entertainment close by? Check out the plethora of fun, holiday events happening this upcoming weekend in or near Lafayette-West Lafayette, Indiana.
On December 1 & 2, enjoy dance, glitz and toe-tapping holiday tunes, plus traditional Christmas hymns with the cathedral-like reverence of the season at the Purdue Christmas Show.
Holiday Tours at the Haan Mansion Museum of Indiana Art is a special treat that you won't soon forget. (November 28-Dec. 2) A Christmas train traveling through several rooms, decorated with Dickens Villages is a favorite feature for both kids and adults.  A gingerbread-style playhouse and multiple animated figures invite kids to participate. Decorated trees, Santas, angels, nativities, Lafayette houses and Dickens villages fill the Museum and spread the Christmas spirit.
The largest holiday parade in Indiana starts the holiday season...area bands, local floats, clowns, fire engines, police, postal workers and, of course, Santa are welcomed by the crowds on December 1. [caption id="attachment_11417" align="aligncenter" ] Christmas Parade by Dave Schmidt[/caption]
Polar Express is coming to the Long Center on December 1! Hop aboard a Long Center theater seat and catch The Polar Express!
Enjoy a candy cane tour at McCord Candies!  Make your very own candy cane on November 30 & December 1 & 2.
Learn how to make beautiful ornaments from real eggs during Egg Ornaments at the Farm event on December 1. Duck eggs raised right on the farm will be used.
The Holiday Makers Market is back at Wea Creek Orchard on November 30 & December 1 & 2. Holiday Makers Market is a collaboration of many wonderful handmade items featuring several local artists.
Sport your ugliest sweater and cruise the streets of beautiful downtown Lafayette at the area's premier 5K. Tis the Season 3.1 Ugly Sweater Walk & Run is taking place on December 1.
Come to Imagination Station for the holidays for their Holiday Lab on December 1.  There will be special stations set up to celebrate the holiday season.
Specialty popcorns, soups, maple syrup, honey, holiday items, baked goods, candy, potpourri, soaps, meat, jams/jellies, flower arrangements, and more can all be found at the Holiday Downtown Farmers Market on December 1.
Nearby in Delphi, enjoy Old Fashion Christmas at the Canal.  The special atmosphere of Christmas in the 1850s is there for all ages to enjoy. Take a guided tour of the seasonally decorated Reed Case House with its 1850s ambiance. Get tour tickets at the Canal Center. Fill your list with hand-crafted things to buy of one-of-a-kind gifts. Hum to the Christmas music in the air.  Take a moment and enjoy your hot apple treat or other food offerings—or buy home-made cookies to take home. Overall, nineteen crafters will be presenting authentic old-fashioned goods for sale.
Santa is at the Tippecanoe Mall all weekend long! On December 2 bring your pets for their "Photo with Pets" event.
Head to Linden for their Christmas 2018 Open House at the Linden Depot Museum. The museum is featuring the 1837 Nooris 4-2-0 steam engine being built for the 25th anniversary.
[caption id="attachment_11418" align="aligncenter" ]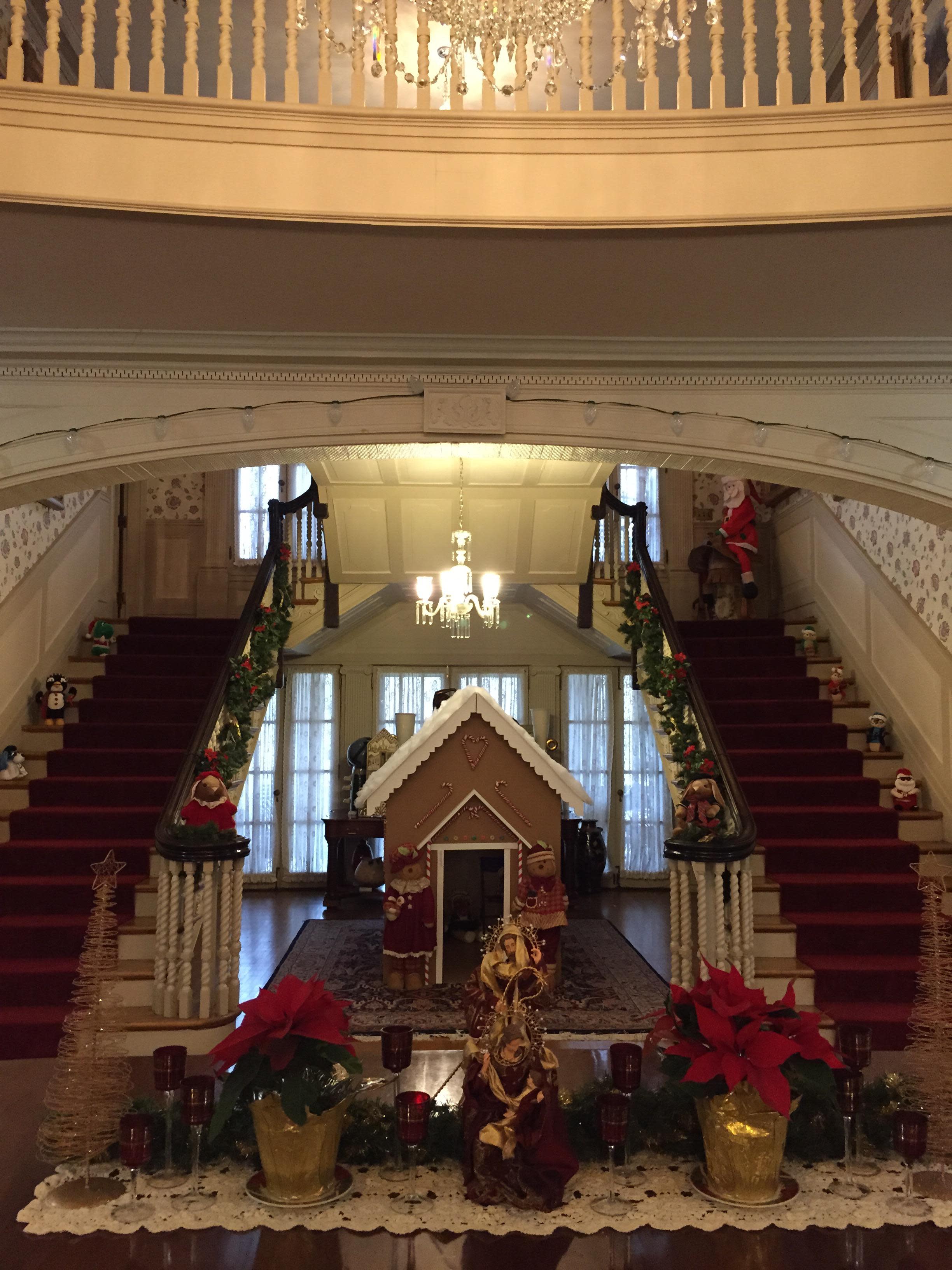 Haan Mansion[/caption] For more information about these events and other special "happenings" in Lafayette-West Lafayette, check out our website at www.HomeOfPurdue.com.