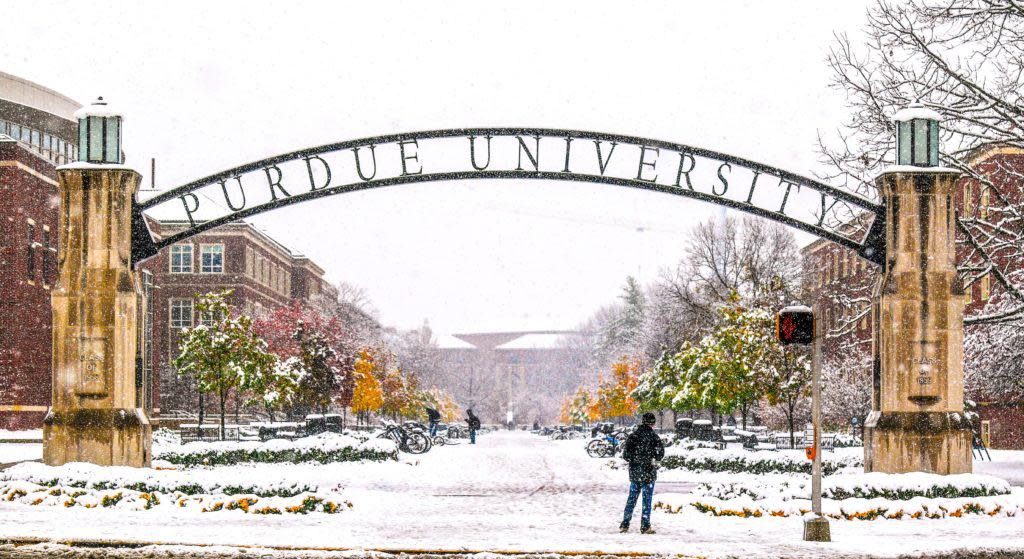 Holiday Weekend Update! Looking for a fun Indiana weekend getaway? Or do you live in this area and are looking for entertainment close by? Check out the plethora of fun, holiday events happening this upcoming weekend in or near Lafayette-West Lafayette, Indiana.
Holiday Tours at the Haan Mansion Museum of Indiana Art is a special treat that you won't soon forget. (December 5-9) A Christmas train traveling through several rooms, decorated with Dickens Villages is a favorite feature for both kids and adults.  A gingerbread-style playhouse and multiple animated figures invite kids to participate. Decorated trees, Santas, angels, nativities, Lafayette houses and Dickens villages fill the Museum and spread the Christmas spirit.
Enjoy a candy cane tour at McCord Candies!  Make your very own candy cane on December 7, 8 & 9.
A night of dance and magic is taking place on December 7 & 8 during the Purdue Contemporary Company's Winter Works.
Every year when the holiday season is near, you can expect an outstanding show from the Lafayette Jefferson Choral Department. The Holiday Show showcases all six choirs in the department. It is taking place December 7, 8 & 9.
14 life-size outdoor scenes involving a cast of hundreds bring to life the significance of the baby in the manger at Faith Church.  The "Living Nativity" will take place on December 7, 8 & 9. You can either walk or drive through the nativity.
On Saturday, December 8, Purdue Bands and Orchestras present Tuba Christmas and Holiday Cheer & All That Jazz.  This holiday favorite concert is a must see! Continuing the tradition started by Harvey Philips in 1974 to honor his teacher and mentor William Bell, who was born on Christmas Day, over 80 musicians will perform holiday favorites on low brass instruments. This concert is a campus-community partnership inviting low brass performers from the community to play alongside student musicians with euphoniums, sousaphones, and of course, tubas. Don't miss this unique holiday experience!
Bring the kids to enjoy "Breakfast with Santa" at the Purdue Memorial Union on Saturday, December 8. Breakfast with Santa is the perfect event for celebrating Christmas with children and families! Visits with Santa are free. The breakfast, sponsored by Pappy's, will occur at the same time in the Union South Ballroom.  Do not miss checking out the giant Purdue Christmas tree! [caption id="attachment_10082" align="aligncenter" ] Skate with Santa[/caption]
For more information about these events and other special "happenings" in Lafayette-West Lafayette, check out our website at www.HomeOfPurdue.com.