Holiday Weekend Update 2! Last weekend was a fabulous weekend of fun and this upcoming weekend looks to be the same!  Check out the entertaining holiday events happening this upcoming weekend in or near Lafayette-West Lafayette, Indiana. [caption id="attachment_8551" align="alignright" ]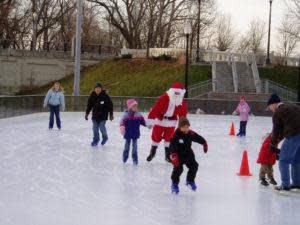 Skate with Santa[/caption]
The Civic Theatre of Greater Lafayette hosts Elf the Musical, Jr. on December 9-11, 2016.  Buddy the elf is raised at the North Pole, unaware that he is actually a human until his enormous size and poor toy-making abilities cause him to face the truth. He embarks on a journey to New York City to find his birth father and discover his true identity. Buddy is determined to win over his new family and help New York remember the true meaning of Christmas.
Purdue University Bands & Orchestras present Holiday Cheer & All That Jazz and Tuba Christmas at Loeb Playhouse on December 9.

On December 10, the Bach Chorale Singers present Family Christmas Concert and on December 11 they present Candlelight, Lessons and Carols.  These are great opportunities to celebrate the holiday season with everyone as they sing sacred and secular music in beautiful candlelit First Baptist Church.

[caption id="attachment_8552" align="alignleft" ] Purdue Gingerbread House at Purdue Memorial Union[/caption] Take a photo with Santa at Breakfast at the Purdue Memorial Union on December 10! Families are welcome to enjoy a warm breakfast catered by the Purdue Memorial Union. Children can enjoy decorating cookies, creating holiday crafts, and playing reindeer games!
Santa invites you and your parents to join in a fun-filled morning during Skate with Santa at Riverside Skating Center on December 10. Skaters will enjoy donuts, hot cocoa, and skate with the jolly old man himself.
Young and old alike will love the family-friendly Holiday Tours being hosted at Haan Mansion on December 10 and 11. You'll find Christmas trees and nativity sets in almost every room. Interactive musical characters sing and dance and invite kids to touch. A Christmas train runs through Dickens Village houses in two rooms, passing through a bathroom and a closet on the way. A gingerbread style playhouse is large enough for several children. Santas, garland, wreaths, and Lafayette houses add to the fun.
[caption id="attachment_8553" align="aligncenter" ] Haan Mansion Train[/caption]
Enjoy the beauty of the holidays during the Holiday Open House in the Gibson Farmhouse on December 10 at the Farm at Prophetstown. The house will be decorated in holiday spirit. They will have gingerbread and refreshments to share.
Nearby in Delphi, enjoy warm apple dumplings, a visit from Santa, shopping items including many hand-crafted items of fabric, metal, wool and more.  Where? Old Fashioned Christmas at Canal Park on December 10 and 11.
Join in a fun, free carriage ride with Santa at Market Square Shopping Center!  On December 11 take a ride and embrace the holiday season.

Bring the family and a camera for a fun holiday photo!

Bring your camera for a special photo! Rides are limited to the time allotted.
For more information about these events and other special "happenings" in Lafayette-West Lafayette, check out our website at www.HomeOfPurdue.com.

Save

Save