Holiday Shopping & Entertainment Contest! This contest is worth over $550! Enjoy these details about the local places who have donated.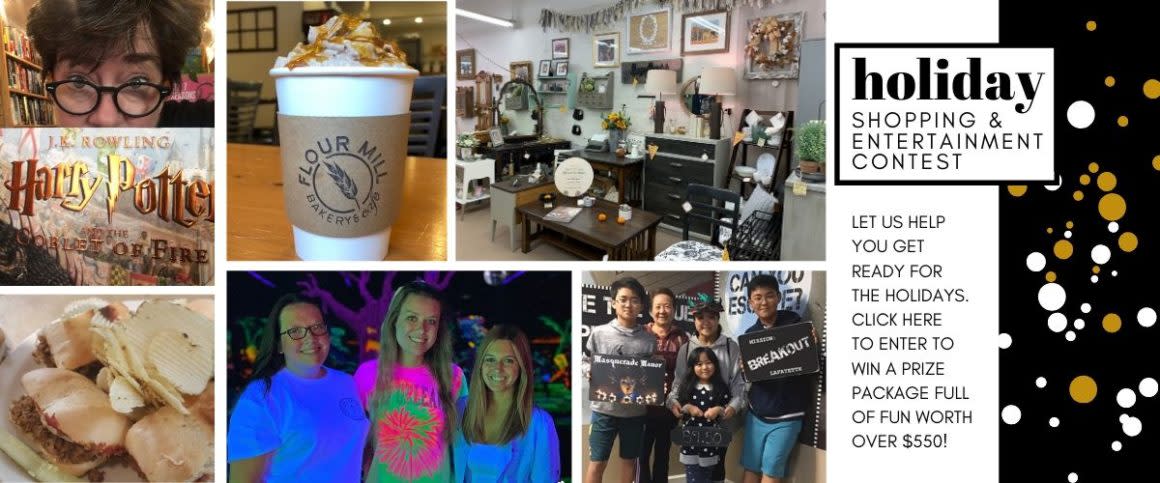 Homewood Suites by Hampton Lafayette offers pet-friendly suites featuring fully equipped kitchens and room to relax for college visits or gameday weekends. Start the day with free hot breakfast and unwind at their complimentary evening social, Monday – Thursday.
Town & Gown Bistro serves breakfast, lunch, and dinner every day until 11 p.m., and is the spot known for their brunch meals and beautiful patio setting embellished with stunning flowers for when the weather is suitable.
Local bucket list item: a visit to Triple XXX to get a root beer float, which is the size of one's head and to chow down on a local favorite burger (the Duane Purvis!), smothered in peanut butter.
The home of the Original Cheesestix! Mad Mushroom has a menu with something for everyone. Beyond their delicious pizza, there are sandwiches – calzones – grinders – paninis – pasta – salads…. and more!
A visit to the Igloo Frozen Custard - You have to try the famous fruit drink. It's an original recipe and family tradition carried on since 1932. It's a blend of orange, pineapple and lemon juices (with a lot of sugar mixed in) and is oh so yummy!
Where can you find 12 scrumptious truffles, fudge, chocolate covered nuts or fruit, crème filled chocolates, gourmet popcorn, bark, pastries, cheesecakes and more? Kathy's Kandies!
Arni's: You must order the Arni's Junior Salad; a unique rendition of a traditional salad. This delicious dish includes tender ham and turkey chunks topped with blends of cheese, sliced radishes, green onions and croutons. With any salad comes flavorsome dressings! Arni's homemade French dressing is one of the available choices as well as their famous bleu cheese, herb vinaigrette and classic ranch.
Bruno's claim to fame: Bruno Dough. This famous pizza dough, deep fried, brushed with garlic butter, sprinkled with parmesan cheese, and served with a dipping sauce (cheese, meat, marinara or garlic butter). If you have never had this yummy, carbolicious treat, you must!
Donuts, cookies, pies, soups, espresso, noodles and more! Where can all of this deliciousness be found? Flour Mill Bakery
A display case of row after row of delicious, mouth watering, cupcakes - Gigi's Cupcakes offers flavor favorites like Scarlett's Red Velvet, Chocolate Chip Cookie Dough, Miss Princess, Cotton Candy, Wedding Cake and more.
Experience 18 holes of fun filled monster mini golf along with arcade games, glow-in-the-dark air hockey table and ticket redemption games such as Ice Ball at Monster Mini Golf. 
Come and relax at L.E. Originals and Knit-A-Bit. Coffee and tea are served as well as comfy rocking chairs for those who come in and want to knit. Also shop for one of a kind, hand crafted glass art jewelry made by Linda Elmore herself!
Leaping Leopard Antiques is home to a wide array of antique furniture, architectural items, artwork, clocks, jewelry, silver and pewter, lamps and more.  There are hundreds of booth ready for exploration. 
Home to a variety of fiction genres including anything from fantasy to mystery to a large young adult section, Main Street Books has a story for anyone looking to read a good book.
Bloom, a children's clothing store located downtown Lafayette, offers the some of the cutest children's clothes around! One of a kind styles for your little ones can be found along with fun toys, accessories, shoes and more!
Civic Theatre of Greater Lafayette is one of the oldest continuously active theatre organizations in Indiana, founded in 1931 as the Lafayette Little Theatre (LLT), then reorganized and incorporated as Civic Theatre of Greater Lafayette in 1966. 
You have 60 minutes. Can you break out? Mission: Breakout is an escape game brought to life. Players are "locked" in a themed room and must work together with other players to solve clues, to work on puzzles, and to find the key to breakout before time runs out!
Tour the building that was once featured at the St. Louis Worlds Fair, Haan Museum of Indiana Art! It holds some of the most historic and valued Indiana art pieces in the state!
Enter to win this fabulous contest at HomeOfPurdueBlog.com. Good luck!