[caption id="attachment_2679" align="alignright" ]
Beauty in white![/caption] Looking for a
unique holiday gift
for a loved one this holiday season?  My mother, Della, is an avid shopper and one of her favorite shops is the Shoup House Antiques in Battle Ground, Indiana.  She shares her thoughts about this wonderful antique store in the following blog.  Della writes: I would like to introduce the
Shoup House Antiques
to you in Battle Ground, Indiana. The owner, Michelle Fields has the most wonderful shop full of antiques, gifts, and the hidden surprise of a small
upholstery shop
. Her Christmas room and outdoor enclosed porch will provide you with many hours of browsing and treasures not found anywhere else in our area. Another fun room is the kitchen filled with memories of our mother's era that welcomes you with her most eclectic taste in dishes and other household items. Michelle has an exciting collection of
vintage clothing
 including hats, jewelry and ladies hankies. Her Christmas room will take you back to a bygone time of old toys, precious boxed ornaments, and surprises for everyone. Michelle also has spring, fall and holiday open houses for visitors to experience and reminisce traditions of days gone by. Please plan your visit soon for a fun day of shopping for secret treasures.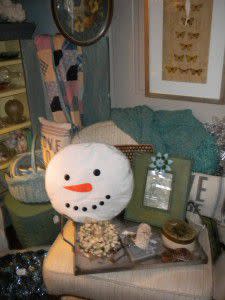 For more information about this specialty antique store and more within Lafayette-West Lafayette visit our website at
www.HomeOfPurdue.com
.