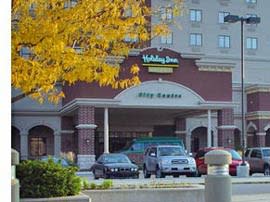 2 Great Cities, 1 Great University "Midwest Hospitality".  To experience "Midwest Hospitality" at its finest visit Holiday Inn City Centre in Lafayette, Indiana; where brides and grooms can host a spectacular wedding.
Weddings
.  This word encompasses so much more than just one day in people's lives.  It is a day of celebrating the partnership of two people who are stating before friends and family that they will honor and love each other.  This day brings families and friends together who have not had time in their busy schedules to rejoice and share in the special memories of this wedding day for years to come. The Holiday Inn City Centre is the perfect venue for hosting a wedding.  I like to call it a "
one stop shop
" venue.  Why?  There is a lot that goes into wedding planning.  The three main ingredients are the rehearsal dinner, wedding, and reception.  This can all be done at this location!  It not only has the wedding and
reception space
, but has
147 luxury guest rooms
, including 8 suites, and an on-site restaurant,
Toscana
.  With 7,500 square feet of banquet space, brides and grooms have the space to host a small or large party.  Wedding guests can dance the night away, and when the evening comes to a close, they can walk to the elevator to take them to their rooms (simplicity in itself!). Specialized staff at the
Holiday Inn City Centre
, assist brides and grooms in planning their weddings.  It can be a stressful time in people's lives, but with a little Midwestern hospitality the planning can be fun and easy.  This hotel also has special amenities that make it top notch; indoor pool and exercise room, outdoor sundeck, and in-house catering.  Best of all, it is nestled in historic downtown Lafayette where eclectic shops and local restaurants pepper the streets, and a variety of performance art and theater venues are also close by. Living in
Lafayette-West Lafayette, Indiana
, one thing we value is customer service and appreciating the times we receive great customer care.  Midwest Hospitality is Lafayette-West Lafayette, Indiana.  We are proud of our local businesses, including Holiday Inn City Centre, that provide gracious and friendly service. For more information about this business and other
fun activities
in the area, visit our website at
www.HomeOfPurdue.com
.