The holidays are upon us! So many fabulous events are taking place in Lafayette-West Lafayette to celebrate this wonderful season. Check out this list of special events that will create memories to last a lifetime! Enjoy! (Click here for Part 1!)
Purdue Christmas Tree

Decorating egg ornaments at the Farm
The Christmas Tree Lighting Ceremony at Purdue Union

Dec. 9, 2019
Location: Purdue Memorial Union Great Hall, 101 N. Grant St., West Lafayette
Witness the official start to the holiday season at the Christmas tree lighting ceremony led by university President Mitch Daniels.

Harrison High School Holiday Concert

Dec. 11, 2019
Location: Harrison High School, 5701 N. 50 W., West Lafayette
Perfomances by all concert bands. Held in HHS Graff Auditorium

Santa Claus at Walt's Pub and Grill

Dec. 12, 2019
Location: Walt's Pub and Grill, 1050 Kalberer Rd in West Lafayette
Santa Claus is coming to Walt's! Bring the kids to meet Santa, he will have small gifts to hand out to all the children! This is also our kids eat free night! Please call us to make a reservation as this is a popular event and share this out to spread the magic of Christmas.

The Greater Lafayette Civic Theatre presents The Gifts of the Magi: A Musical

Dec. 13 through 15, 2019
Location: Civic Theatre of Greater Lafayette, 313 N. 5th Street Lafayette
It is Christmas in New York, but for two young lovers, Jim and Della, the prospects are bleak, as both are out of work and penniless. But as those familiar with the famous O. Henry story are aware, their dilemma is solved when both part with their most precious possessions (she her beautiful long hair, he his heirloom pocket watch) in order to buy presents for each other, thereby creating, at least for a magical moment, an aura of warmth and giving in the cold, impersonal winter city. In addition to their story there are glimpses of various city folk going about their holiday business, and the hilarious plight of a cheerful bum named Soapy, who wants only to get arrested so he can spend the night in a cozy cell, all gracefully enhanced by tuneful songs and neatly tied together by a newsboy-narrator, Willy, who adds his own melodious contribution and informative observations to the delightful proceedings.

Jefferson High School Holiday Spectacular Shows

Dec. 13 through 15, 2019
Location: Jefferson High School, 1801 S. 18th St., Lafayette
Every year when the holiday season is near, you can expect an outstanding show from the Lafayette Jefferson Choral Department. The Holiday Show showcases all six choirs in the department. Why not join us for another great holiday tradition as 300 students raise their voices in songs of the season at the 2019 Lafayette Jefferson Holiday Spectacular? Santa and his friends will also be there to greet you, and our annual cookie walk is sure to tickle your taste buds while your students lighten your heart with many songs of the season. Come join us and renew the old traditions: the Holidays, you, and the 2019 Lafayette Jefferson Holiday Spectacular!

Carnahan Hall Christmas Gift and Craft Show

Dec. 14, 2019
Location: Carnahan Hall, 2200 Elmwood, Suite A6, Lafayette
Spread the holiday spirit with us here at Carnahan Hall! Find something special for everyone from our fabulous vendors!

Here Comes Santa Claus!

Dec. 14, 2019
Location: Richelle In A Handbasket, 2200 Elmwood Ave. A4, Lafayette

Santa is taking time out of his busy schedule to visit us here at Richelle in a Handbasket. We have an in with his elves! Spencers Childers Realtor will also be here to pass out Santa Cookies to the first 200 children and hand out free hot cocoa to fend off the cold! So make a point to come in and tell Santa what you want for Christmas, find out what list you are on and take a free Picture with him. You can even get a Free print from Camera Outfitters if you take your phone or camera over to them just across the patio! Merry Christmas!!! Can't wait to see you!

Egg Ornaments at The Farm at Prophetstown

Dec. 14, 2019
Location: The Farm at Prophetstown, 5545 Swisher Road, West Lafayette
Back by popular demand! Learn how to make beautiful ornaments from real eggs. We will use duck and chicken eggs, raised right on our farm. These ornaments make beautiful gifts. Popcorn and hot chocolate will be available for participants. Registration required.

Christmas on the Avenue

Dec. 14, 2019
Location: Sacred Grounds Reclaimed, 724 Wabash Ave., Lafayette
Please join us for our first "Christmas on the Avenue" celebration! Featuring a living nativity from 6~8, free hot chocolate and popcorn. Find that special gift from one of our local vendors.

Skate with Santa

Dec. 14, 2019 
Location: Riverside Skating Center, 100 Tapawingo Dr., West Lafayette
Santa invites you and your parents to join us for a fun-filled morning. We will enjoy donuts, hot cocoa, and skate with the jolly old elf himself. This will be a great photo opportunity, so make sure to bring your camera! To really enjoy this event, we recommend children be of skating age and size. Reservations required.

Downtown Dickens

Dec. 14, 2019
Location: Downtown Lafayette, 5th Street: Columbia to Main & Main to Ferry, Lafayette
Since 1991, parts of downtown Lafayette are briefly transformed into scenes from Victorian England in the mid-1800's, as local thespians enact scenes from Charles Dickens' "A Christmas Carol". To add to the spirit of Victorian England, there will be Free Hay Wagon rides, and the roving Dickens Carolers will also be performing scenes from "A Christmas Carol" at Duncan Hall and from 11th Street to Riehle Plaza, so you are sure to catch it wherever you go in Downtown! This is a great opportunity to shop for any of those last-minute gifts, or just to come downtown and enjoy one of the many specials that will be offered by the downtown restaurants, coffee houses, and bars!

Holidays Around the World

Dec. 14, 2019
Location: Long Center for the Performing Arts 111 N. 6th St. Lafayette
Pack your bags and join us on a musical tour of global holiday traditions! Experience the sounds of celebration from around the world and feel the warmth and joy of the holiday season.

Santa Visits Wolf Park  

Dec. 14, 2019
Location: Wolf Park, 4004 East 800 North, Battle Ground
Better watch out and better not cry cause Santa Claus is on his way! Every year, Santa stops by Wolf Park to deliver treats to all the good little canids here. Join the fun and help decorate a tree with edible ornaments for the wolves. Then, join us in the conference center to enjoy drinks and crafts, and to tell Santa what you want for Christmas. In the past, Santa has arrived by dog sled, on horseback, by convertible, and in a helicopter! Be sure to visit and see how Santa will come to Wolf Park this year.

Tippecanoe Chamber of Music Presents: Holiday Brass

Dec. 17, 2019
Location: St. John's Episcopal Church, 600 Ferry St. Lafayette
This annual program brings holiday cheer to the community. Mark your calendar for this special event.

9th Street Hill Luminaria Display

Dec. 20 – 22 and 24, 2019

Location: Ninth Street Hill Neighborhood, Lafayette
Each winter, the neighborhood association carries on a tradition that started in 1986, the lighting of the luminaria. On the weekend before Christmas and on Christmas Eve, the neighborhood lines the entire hill with over 500 luminaria (little paper bags with candles). Starting at 6:00 pm the candles are lit and generally will last well into the early morning.

Donuts with Santa

Dec. 21, 2019
Location: McAllister Recreation Center, 1915 Scott Street, Lafayette
Join Santa and his helpers for breakfast, holiday crafts and games. Write a letter to Santa and grab a picture with him before he heads back to the North Pole!

Lafayette Master Chorale Holiday Concerts

Dec. 21, 2019
Location: St. Boniface Catholic Church, 318 N. Ninth St., Lafayette
A performance of Handel's cherished oratorio returns to Lafayette for the first time in 10 years. Usher in the Christmas season by hearing the greatest choral/orchestral masterpiece in history performed by the Lafayette Master Chorale, soloists and orchestra in the acoustically thrilling St. Boniface Church. From the lyrical solos to the rousing choruses, this performance promises a unique chance to hear this monumental work and all of its splendor.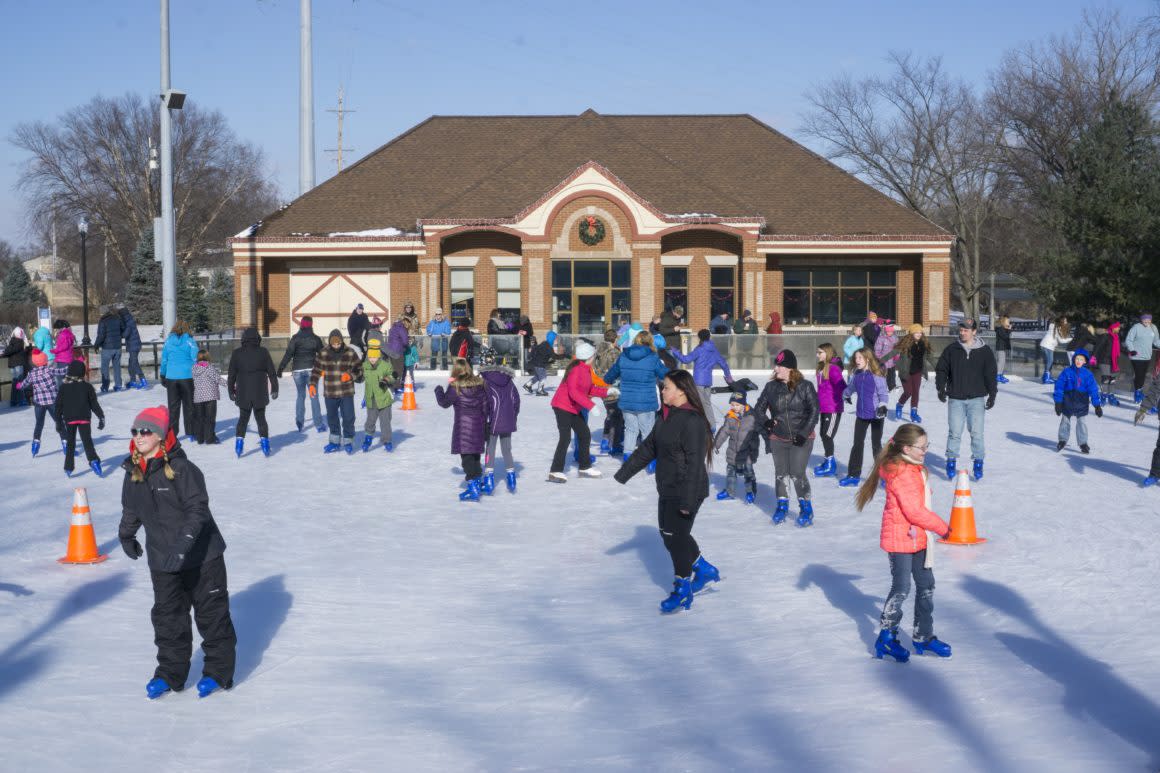 Lafayette-West Lafayette really knows how to celebrate a holiday! For a full listing of events and details, visit our website at HomeOfPurdue.com.