Visit Lafayette-West Lafayette is excited to announce our "Lafayette-West Lafayette Hello Summer Contest 2018″ to our two great cities. The competition started on Monday, June 4, 2018 and we want to share why each business that has donated to these packages is so fabulous! One great winner will win the following package worth over $550!
The Courtyard by Marriott conference center features over 5,500 square feet of meeting space, perfect for your next special event!
Arni's Pizza is best known for their savory pizza and the Arni's Junior Salad. This has been a local hotspot for many years!
Bruno's features great food, atmosphere, and fun! This local favorite celebrated their 60th Anniversary in 2015 nd is known for their infamous Bruno Dough and homemade, hand-tossed pizzas!
Where else do you get the chance to taste the world-famous Duane Purvis Peanut Butter Burger besides Triple XXX / Route 66? No where! Come and see why this diner was featured on the Food Network's Diners, Drive-Ins and Dives!
Give your tastebuds an experience like never before at Kathy's Kandies with homemade treats such as: gourmet popcorn, scrumptious truffles, and fluffy pastries!
If you're looking for a cozy hidden spot that is Instagram worthy and full of delicious food and drink, Town & Gown Bistro is your spot! Please note the pancakes are ginormous and sharing worthy.
Beverage Heaven… the Igloo Frozen Custard is known not just for their frozen custard but also their fruit drinks and flavored sodas.
Test your mini golf skills at Monster Mini Golf: 18-holes of surprises, twists, and turns! What's the catch? It's all in the dark with neon monsters around every corner!
Grab an inner-tube and laze your way through Cattail Crik at Tropicanoe Cove!
More water adventure can be had at the West Lafayette Municipal Pool, home to 3 heated pools.
The Farm at Prophetstown is a real working farm! The livestock enjoy a beautiful, healthy farm/free range setting and crops are grown to be used to feed them throughout the year.
45 minutes north of Lafayette-West Lafayette is home to one of the United States largest dairies! Find cheese, adventure, cows, hogs and more at Fair Oaks Farm.
Prophetstown State Park is located in the historic town of Battle Ground. This state park, which served as a home to Native Americans for many years, is named after The Prophet, who was brother to Native American chief, Tecumseh. As Indiana's newest state park offers hiking, biking, camping, interpretive Naturalist Services, and is home to an outdoor aquatics center!
You have 60 minutes. Can you breakout? Mission: Breakout is an escape game brought to life. Give one of their three uniquely themed rooms a try.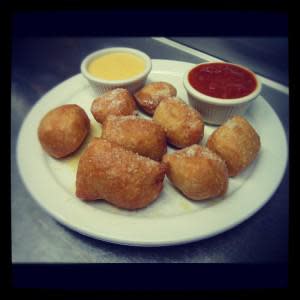 Go to HomeOfPurdueBlog.com to enter! Entries will be accepted through Monday, June 17, 2018. The winner will be announced via social media after they have been notified. And stay tuned to our next social media contest coming in August.