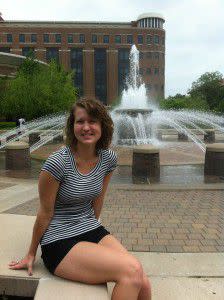 We would like to introduce Julia B. who will be a featured guest blogger from Purdue University.  Julia B. will be sharing her Lafayette-West Lafayette experiences this year! "Hello to all who read these blogs!  My name is Julia B., and I am a graduate student at Purdue that will be a guest blogger.  I grew up in West Lafayette which makes the opportunity to share my favorite things about my hometown extremely fun. My grandparents, parents, and sister all went to Purdue which makes me a third-generation Boilermaker so I hope to help those interested in Purdue find enjoyable things to do as well! On my trips around town I will focus on food, drinks and events I find myself able to take part in.  Some reoccurring characters in my blogs will be very good friends of mine and my boyfriend, Ryan.  My favorite things to do around town center around sushi and Thai food, antique shopping, video games and friendly, inviting bars.  

My blogs may center on my interests, but my intention is to bring

 all of West Lafayette and more to those who are interested in reading.  

 I look forward to sharing!"

Julia B.'s shares her visit to Bistro 501: "Whenever my family has something to celebrate, we find ourselves at Bistro 501.  Their menu changes with the season, so calling for lunch and dinner selections is the best route for information.  Their wine list is the best part of the website and a reason in itself to go to Bistro!  Bistro 501 was a recent selection for my mother and me after a late movie.  We ordered the sweet corn blueberry crème Brule, which is now my favorite summer dessert.  It is a seasonal product and may not be offered other seasons or until the chef decides to pull this recipe out again!  For a very nice evening out with someone special (like a wonderful mom!), Bistro 501 is a treat for special occasions or a beautiful lunch.  Also, this French restaurant is a perfect date night restaurant."