[caption id="attachment_3894" align="aligncenter" ]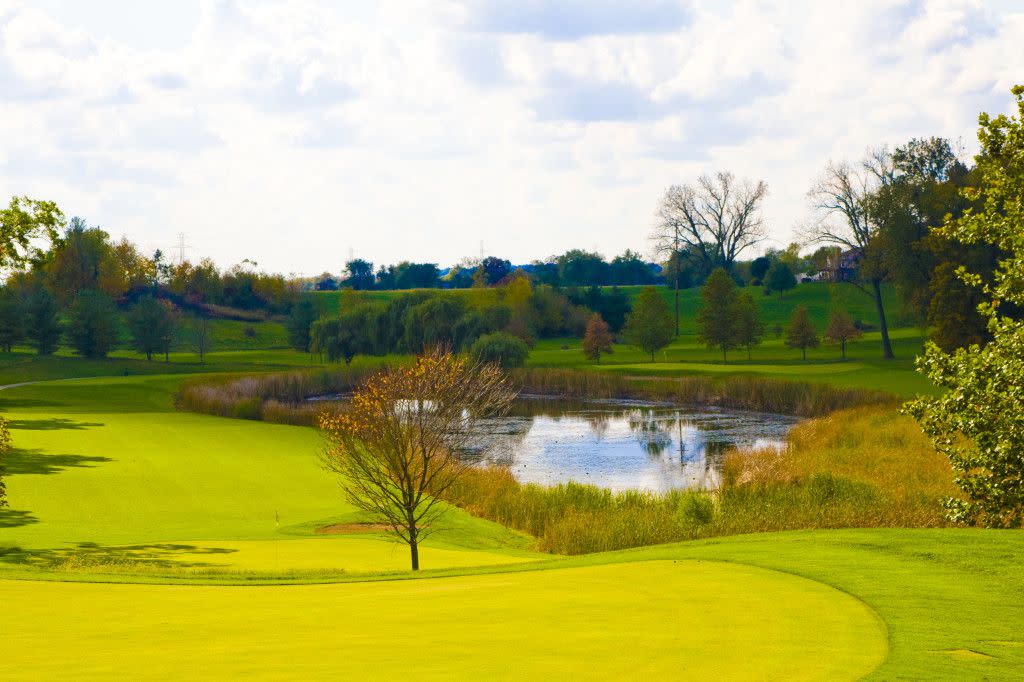 Fall Photo of Harrison Hills[/caption] When golfers are itching to get out on the rolling green hills and drive themselves insane trying to hit a tiny white ball into an almost tinier little hole with a long skinny stick, you will often hear them use terms like, links or traditional style when referring to the type of course they wish to play. The word "links" is derived from ancient Scotland and refers to an area along a coast that often includes sand dunes and few, if any, trees.   A modern day links style course usually has wide-open greens and strategically placed bunkers to simulate the coastal nature of the old Scottish courses while a traditional style course offers narrow passages through tree-lined fairways and smaller greens.  Both are challenging in different ways and offer a completely different experience.  With Harrison Hills Country Club a golfer doesn't have to choose.  With 200 rolling acres of spectacular views and 6,820 yards, the front nine is traditional while the back nine is a links style design.  It's the best of both worlds!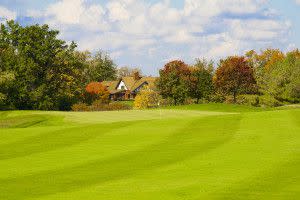 This unusual offering is due to the fact that the course, once known as one of the world's best nine hole golf courses, was designed by William Langford and tucked into beautiful rolling hills.  70 years later, after trees had matured and the course had fully developed, Tim Liddy was commissioned to expand the course into an 18-hole course and his nine holes would be on much less inspirational real estate.  He had to expand onto flat, Indiana farmland and somehow bring the front and back nine together.  And he did just that. Now, I am not a golfer, but I have learned a great deal from my golf colleagues in the sports industry and I know that every golf course has its own personality thus adding to the overall experience for the golfer.  I have been to all of the area courses and I love the environment of each one but Harrison Hills has a quality that is unique.  This course evokes a feeling of hominess and reminds me of riding along with my grandfather at his private golf club when I was a kid.  How do they do it?  This is a four and a half star Golf Digest rated, championship course but it still makes me feel right at home among the beautiful rolling hills, bent grasses and strategically placed sand bunkers.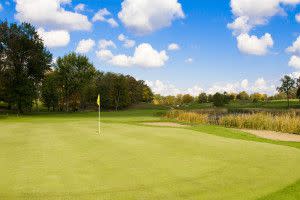 Perhaps it's the charming southern swagger of the down to earth golf pro Joel Baumgardner, or the bright smile of the young woman, who seats me at the Country Club Grill when it's time to dive into their awesome lunch buffet.  Maybe it's just because it's located in the quaint little community of Attica, Indiana.  Whatever the case, I always look forward to any excuse I can find to make a short drive out to visit my friends at Harrison Hills. When planning your trip to the course, remember that you can get tee times up to 2 weeks in advance and they do special events and weddings.  You can find scorecard information at http://www.harrisonhills.com/aboutus/scorecard/. For more information about this golf course and others in the area, please visit our website at www.HomeofPurdue.com Amanda Gordon, Sports Marketing & Recreation Manager for Visit Lafayette-West Lafayette, shared these words about Harrison Hills Golf Club.