[caption id="attachment_2629" align="alignright" ]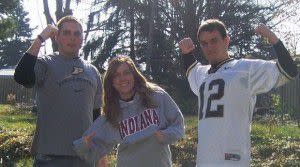 Purdue Vs. IU (Boiler Up!)[/caption] Happy Thanksgiving!  We hope everyone has a joyous Thanksgiving tomorrow, November 22, 2012. Thanksgiving in our country means a lot of things to different people, but in overall it is a day of sharing and being with friends and family.  What do you do on Thanksgiving?  What does this special holiday mean to you and your family? Thanksgiving in our family is really four days (Thursday through Sunday) of celebrating family, food and football.  On Thursday, we gather and eat a scrumptious Thanksgiving Feast with all the trimmings; turkey, mashed potatoes and gravy, cranberry salad, yams, stuffing and pumpkin pie.  It is a day of merriment as our family catches up on major events that took place in our lives this past year, while NFL football plays in the background as a few cousins hoot and holler for their teams.
Black Friday
 starts at midnight and a few of our dedicated family members head out to take on the masses to find the perfect Christmas gift.  This year I believe Tippecanoe Mall, Target, Walmart, and the shops at
Lafayette Pavilions
are on the agenda.  Yes, there is a set "agenda" in place to where all the special discounts can be found.  I give "kudos" to those cousins who brave the crowds! One of the best parts about Thanksgiving weekend is every other year our
Purdue Boilermaker Football Team
 takes on IU at Ross Ade Stadium.  This Friday, November 23, we will join all the Boilermaker fans at the "
Boiler Up at the Boiler Bridge Walk
" cheer on our football team as they cross the John T. Myers Pedestrian Bridge lead by "special marshals", a Purdue pep band, Purdue Pete, Purdue cheerleaders, and the
Boilermaker Special
. Saturday, November 24, equals game day!  The day will start early with
tailgating
fun; a grill full of smoked savory treats, a cornhole tournament, and a pep rally and concert by the "All-American" Marching Band.  Then it is the official football "kickoff" and our Purdue Boilermakers will fight to beat the Hoosiers. Thanksgiving is the busiest travel holiday in the United States, and people will be driving and flying to see loved ones.  Please feel free to stop by our
Visitors Center
on Sunday, November 24, to rest and get travel brochures and directions.  (Personally, we will recoup on Sunday after three days of constant activity.) Have a safe and fun Thanksgiving!