[caption id="attachment_5827" align="alignright" ]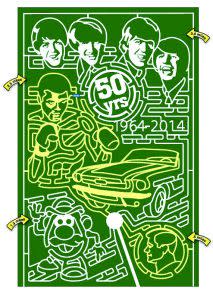 Exploration Acres 2014 Design![/caption] Happy New Year's Eve! Another year has come and gone and it has been a fun one! We want to recap some of the exciting, local newsy items that have taken place this year.
Wolf Park announced they are building a Vet Hospital on site. The Allison and Ed Franklin Health Care Center will be used for surgeries, rehabilitation, and recovery, puppy rearing, and so much more! Look for a groundbreaking ceremony in 2015!
Exploration Acres maze was based on 1964 (as the owner, Tim Fitzgerald turned 50 this year!) It was represented with a Mustang, Kennedy Half Dollar, Mr. Potato Head, the Beatles and Muhammad Ali. Families and friends enjoyed exploring and getting lost in this complicated maze full of twists and turns. [caption id="attachment_5844" align="alignleft" ] Vase is by Paul Soldner at Haan Mansion[/caption]
The
Haan Mansion Museum of Indiana Art
hosted its first special Ceramics Celebration featuring a collection of art encompassing works by both Indiana and non-Indiana artists, including pieces by some of Japan's Living National Treasures. (Picture to the right is a vase created by Paul Soldner and will be featured at the Ceramics Celebration.)
"NICHES", Northern Indiana Citizens Helping Ecosystems Survive, recently moved and is settling into their new home at Clegg Memorial Garden, located along the beautiful Wildcat Creek. Stop in, hike the trail, enjoy the local natural landmark and watch as the home is transformed into a lovely welcome center for guests.
Currently, the Courtyard by Marriott is undergoing an expansion that will include a 15,500 square foot conference facility accommodating up to 600 people for indoor/outdoor events and add up to 32 additional guest rooms (they currently have 90). This expansion is expected to open in spring of 2015.
Restoration at its finest! Wabash & Erie Canal is currently reconstructing the Burrows Loom House (they moved this house from a location near Burrows to the canal park) and it should be completed by early summer.  Their award-winning Interpretive Museum will be undergoing restoration and repair to some of the galleries this winter along with several new interactive exhibits being added.
It has been a wonderful year!! We can't wait to see what awaits in
Lafayette-West Lafayette
in 2015!  Happy New Year! Be safe and have fun this evening!