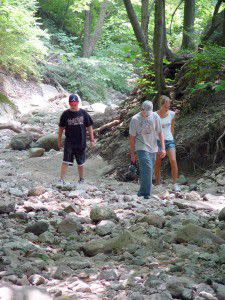 2 Great Cities, 1 Great University, so many great recreational facilities, parks and activities to choose from!  Hike the wooded trails at
Happy Hollow Park
this summer to enjoy the scenic beauty of Indiana. This summer has been a "hot" one!  My husband and I love to walk and
hike
and usually every evening we unwind after a long day by taking a walk as we share our days' adventures.   This summer's heat, though, has made it tough to keep our nightly ritual going.  Thankfully,
Happy Hollow Park
is nearby (and wooded to keep out the powerful sun) allowing us the opportunity to exercise and spend time together.  The park features a series of hiking trails which really gets the heart rate going and the energy pumping in our systems. Another fun summer adventure we started this year is playing volleyball with our friends at Happy Hollow Park.  They have
2 outdoor volleyball courts
visitors can use.  We usually bring some hotdogs to grill at one of their
4 picnic shelters
along with a cooler of soft drinks and water to stay hydrated.  We plan on taking better advantage of these amenities in the fall when it cools off more!  My husband loves baseball/softball, and he is trying to convince us we need to switch and play softball on their playing field; so far he has been outvoted by those (including myself!) who love to play volleyball.
[caption id="attachment_1909" align="alignleft" caption="Isolated Paradise"]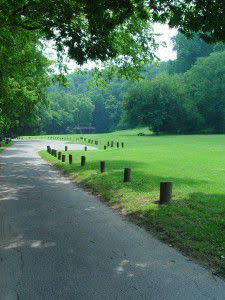 [/caption]
Happy Hollow Park
is not to be missed on your next visit to our area.  For more information about this park and other outdoor recreational spaces in Lafayette-West Lafayette, Indiana, visit our website at 
www.HomeOfPurdue.com