Let's celebrate! Artists' Own turns 20 this year! 20 years of amazing exhibits, one of a kind art pieces that make the perfect gift, and a community partner anchoring the downtown Lafayette art scene.
How did Artists' Own start? In 1999, a group of local artists pursued a dream of creating a unique shop with the goal of bringing art together to share with Lafayette. It would be a venue where they could display their work and offer it for sale to the community. The work had to be of the highest quality and hand made by local artists. The result of this dream was the Artists' Own Gallery. It opened in 2000 and artists serve in all capacities of running the gallery operation, including serving as shopkeepers. Each time you visit the gallery you will meet some of their talented artists.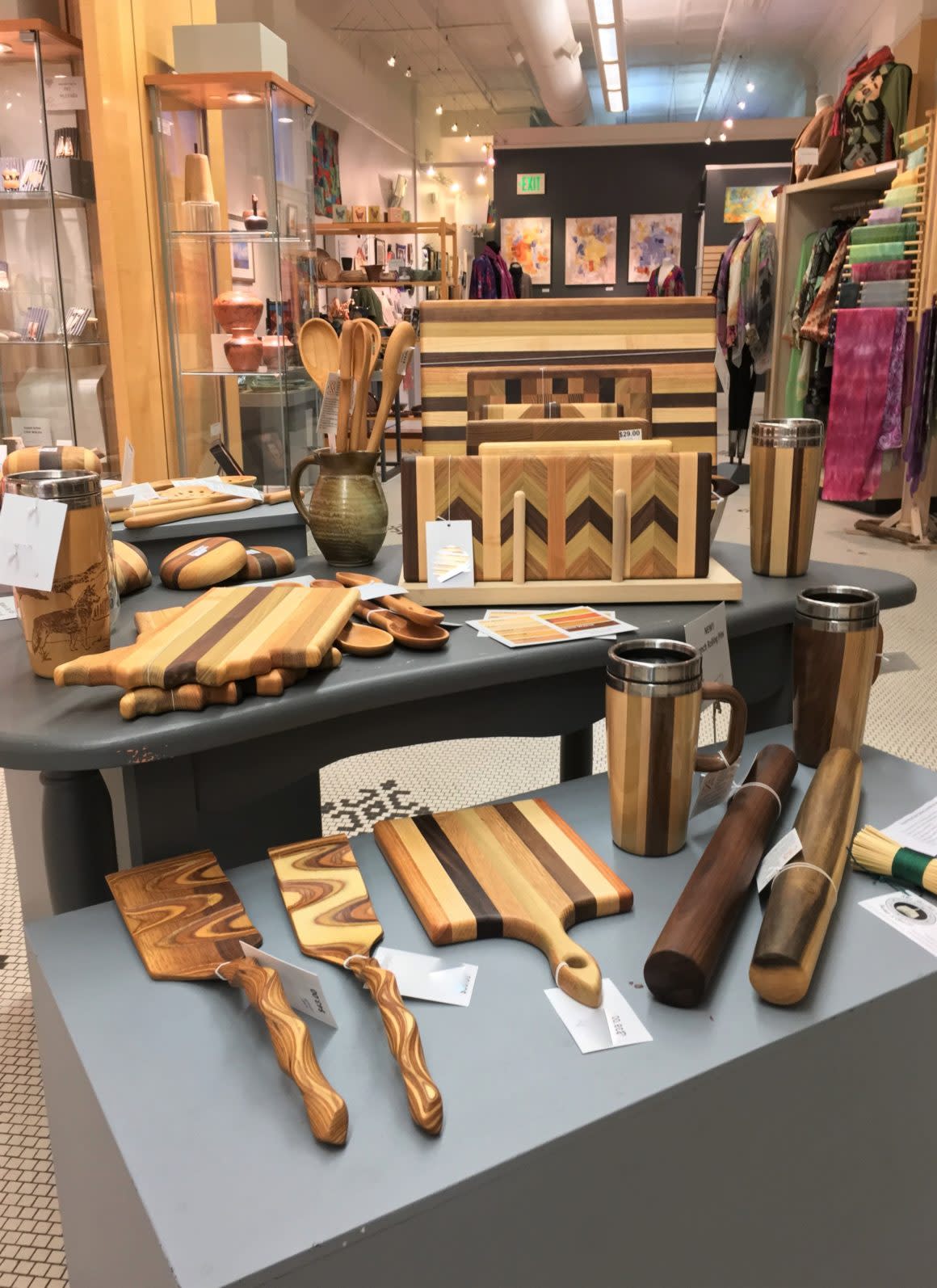 Why should you visit? Personally, I love Artists' Own! This is one of my top "go to" shops to pick out the best gifts for good friends and family. It is the shop I repeatedly tell my husband, father and father in-law to shop at for gifts for all the ladies in our family. My birthday was this week, and I was so excited my husband took my advice as he purchased the most beautiful bowl by Mary Firestone. It is now the centerpiece of our dining room table! He shared he had a hard time deciding what to buy because there were so many lovely pieces, but he went with Mary's creation as the colors highlight our home's decor.
More reasons to visit! Not only does Artists' Own have a shop to purchase gifts, but it offers an amazing art gallery with exhibits featuring a variety of different forms of art all year long. Works in the gallery include paintings, sculpture, jewelry, photography, furniture, pottery, fiber, glass, drawings, and much more. Your senses will come alive as you view these diverse and interesting pieces of art. I personally do not have the gift of creating art, but I love how art makes me feel. As soon as I step into Artists' Own my mood is uplifted!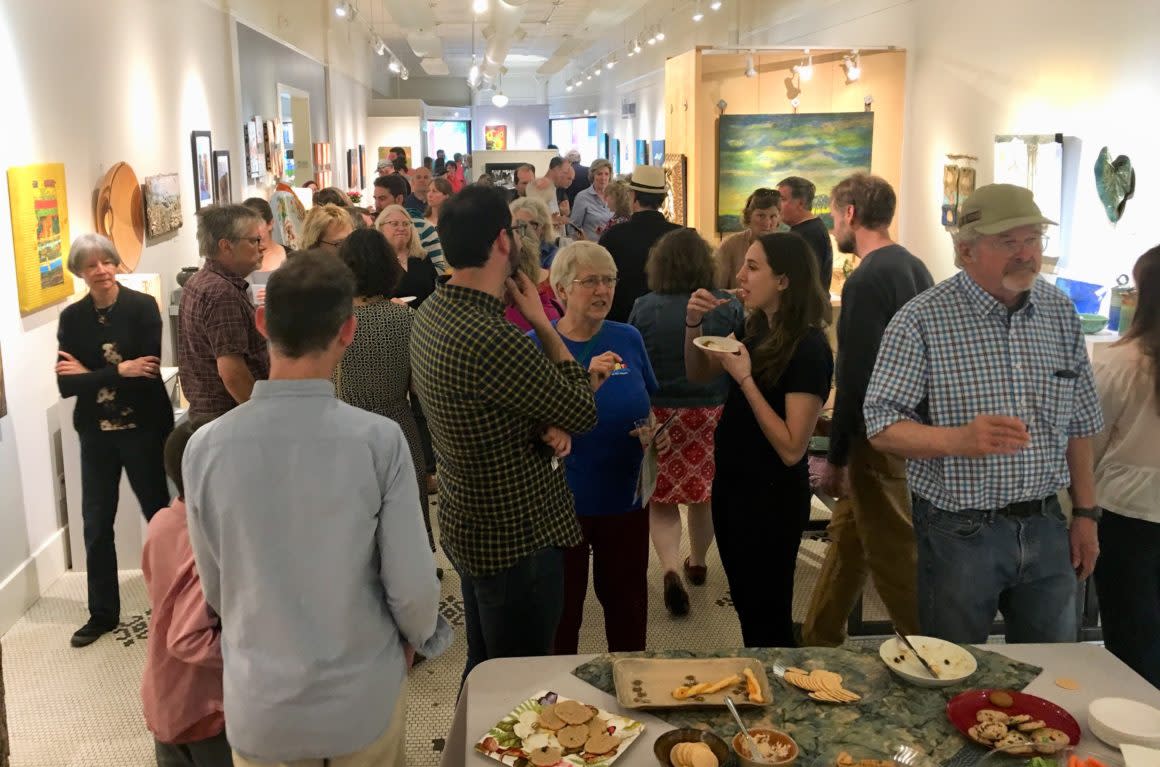 Visit their website as Artists' Own is celebrating its 20th Anniversary with a Ribbon Cutting Reception. (Due to COVID-19 date has changed a few times, so please check website first). Local officials will help the artist members and community celebrate the milestone. The current founding members will be featured at the reception. Come and celebrate with these artists this year!

Also, do not miss the Gallery Walks this year. Stroll through open galleries (including Artists' Own), enjoy live music, dining specials and more. They take place May 16 (cancelled due to COVID-19), July 17, and September 18. Local Artists' Own artist, Sonya Thomas shares, "Greater Lafayette is blessed to have an incredibly vibrant arts scene. It offers everything from galleries, theaters, an art trail, live music performances and a variety of unique museums.  My favorite: the Downtown Gallery Walks that fill the streets several times each summer - you can soak up some arts and culture and enjoy our wonderful small town charm!"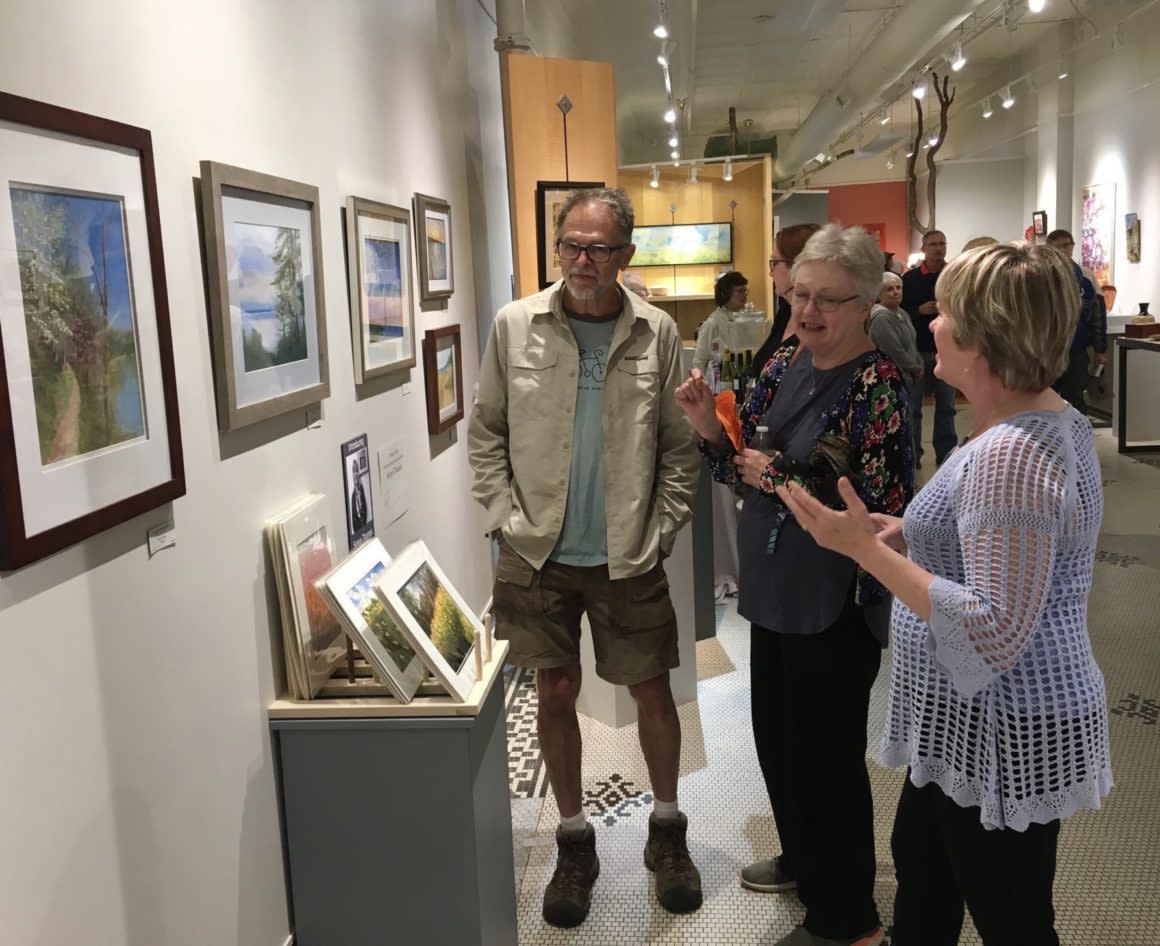 Come, visit, and explore Artists' Own and the Lafayette-West Lafayette vibrant art scene! For more information about this gallery and others in our area, visit HomeOfPurdue.com.