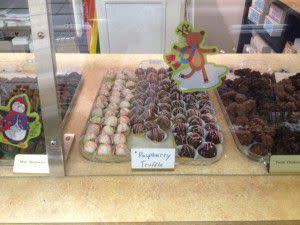 Visitor Information Specialist, Marlene, shares why Wolf's Candies is the place to go to get delicious, homemade chocolates!  Marlene writes... "When I stay with friends and family out of town, I like to give them a gift from my hometown as a thank you for their hospitality. I discovered
Wolf's Fine Chocolates
. It is the perfect place to get gifts for any occasion. They also have many delicious chocolates to take home and enjoy for yourself! When I first walked into the Sagamore Parkway location, I saw a large display case with chocolates of every variety. Two smiling employees were ready to give me suggestions and box up some of their delectable chocolates.
My favorite is their
cherry cordials
.  Yum! You can build your own box of your favorite chocolates or you can purchase a box of their already boxed and wrapped assorted chocolates. I have a family member who is diabetic, so I was ecstatic when I found out that they have sugar free chocolates available. I was able to build a box just for her and they even gift wrapped it for me. Wolf's has more than just delicious chocolates. They also make their own sassafras, hard candies, and cinnamon/ butterscotch chews. I was even able to find a nice bundle of dried apricots for my dad.  My mom loves "
Wolfies
," which are peanuts and caramel stuck together and dipped in chocolate.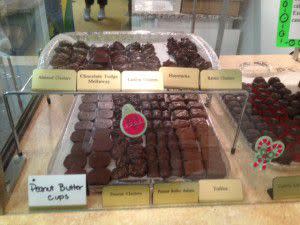 Wolf's has been around for over half a century. They have a great philosophy to buy only the finest, freshest ingredients available. They have a strict handmade process for making candy and excellent customer service. They certainly live up to their philosophy because the chocolate is mouth watering and I always have great service. I haven't been to the original location of Wolf's Fine Handmade Chocolates in Attica. I will definitely plan a trip sometime since they do tours of their candy kitchen at that location!" For more information about this chocolate shop and others in our area, visit our website at
www.HomeOfPurdue.com