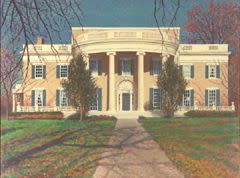 Happening Now! Right now, the talk around town is about the area's newest attraction,
Haan Mansion Museum of Indiana Art
, that is a mixture of art and history. This attraction draws everyone from art aficionados to history buffs in one setting. The pure splendor of this mansion, that is located directly south of downtown Lafayette has visitors acclaiming its beauty with awe and excitement. This past spring I visited Haan Mansion for the first time for a
special event/tour
. I truthfully had no idea where I was going but I had it on my schedule and Google mapped how to get there. Upon driving up the street where it is located, I was shocked at its massive size and brilliance. It was a rainy, crummy day to be out, but it shone bright in its brilliance. The long walkway up to the massive front door allowed me time to take in the beautiful neighborhood and really get a great look at the mansion.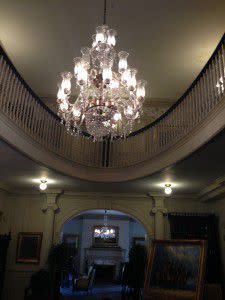 Upon walking in, the owners, Ellie and Bob Haan, greeted me along with the other tour visitors. The first thing I did was look up at the beautiful chandelier and then straight ahead into the Great Hall, which is the vocal point of the mansion. This is where a huge dining room table sits with another ginormous chandelier hung overhead and a beautiful staircase and an open air circular second floor landing. Many rooms veer off of this room. Everywhere one looks there are paintings, antique furniture and
pottery
. The mansion has three above ground floors and a full basement totaling 15,000 square feet. It also includes seven fireplaces and 4 1/2 baths. We toured the first two floors and there wasn't one empty space! [caption id="attachment_5333" align="alignleft" ]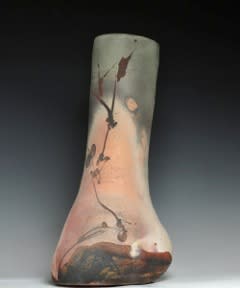 Vase is by Paul Soldner[/caption] All the walls are filed with art! Over the years the Haan's have amassed a huge collection of paintings by the most important artists that painted in Indiana. Specializing in major oils that best represent the work of an artist, over 100 artists are represented in the collection. As with any museum, not all of the paintings can be hung at the same time, and the most important works are selected for display. There are over 100 paintings hung at any one time. All of the paintings in the mansion are painted by
Indiana artists,
except the western art by Martin Grelle that the Haan's fell in love with on a trip to Phoenix. History buffs, check this out! The Mansion was originally the
State of Connecticut building
at the
1904 St. Louis World's Fair
. Connecticut chose architect Edward T. Hapgood to design the building. The state wanted their pavilion to represent a country gentleman's home, and the architect patterned the building after the 1820 Sigourney Mansion in Hartford. Many components were taken from the 1760 Hubbard-Slater Mansion in Norwich including the front entryway, various interior columns, and door capitals. The mansion was designed and built to be moved after the World's Fair. It was dismantled and moved to Lafayette, Indiana, immediately after the Fair by Mr. and Mrs.William Potter and became their personal residence, until it was sold in later years. One of the unique features of this museum is the Haan family still lives here. Bob and Ellie have opened it for special weekends and events and/or group tours to share it with those lucky enough to visit! As we toured the space one question was how do they keep it so clean, especially with tours and living in it.  There is not a speck of dust in the whole place, which is amazing! They shared they have a housekeeper who comes every week or two to dust. Impressive! [caption id="attachment_5334" align="alignright" ]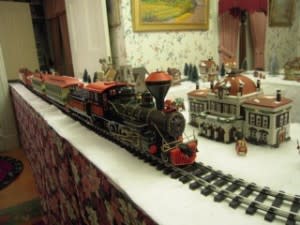 Holiday Tour! Perfect time to bring the children to check out all the toys![/caption] This fall the Haan Mansion is featuring some specialty tours. Check out their website, http://haanmuseum.org, to learn about their
Ceramics Celebration
and
Holiday Tours
. Also, unbeknownst to many, there is a highly rated
mountain bike trail
on the grounds. Will discoveries ever cease!! Whether you are looking for delicious dining, interesting attractions and shops, enticing events or home away from home lodging—a getaway to
Lafayette-West Lafayette, Indiana
, is sure to satisfy. For more information about this museum and others in the area, visit our website at
www.HomeOfPurdue.com