[caption id="attachment_9394" align="alignright" ]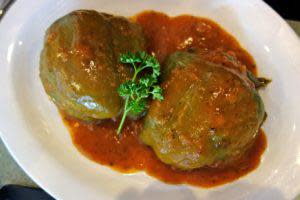 Parthenon stuffed pepper[/caption] Greece called and we answered!  The Out to Lunch Dining Divas visit the
Parthenon Greek American Grill
. Most locals remember it fondly as an anchor in the Village but it's doing just fine serving up Greek dishes out west (on 52 past Morehouse Road). We started with a theatrical display of
saganaki,
which is a lightly battered slice of kefalograviera cheese (hard to spell, easy to eat)  pan fried and set on fire right before your eyes-- on this day by the owners' themselves!  Opa!  It has a distinctive flavor and was our favorite dish of the day, plus we liked the drama of it all. Where else can you get that sort of lunchtime thrill for under $6? (Please keep highly personal replies to that question to yourself!) [caption id="attachment_9395" align="alignleft" ]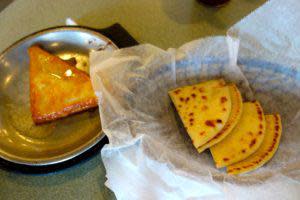 Parthenon cheese[/caption] Bev enjoyed the stuffed green pepper, filled with ground beef, rice and tomato sauce. It was saucier and more flavorful than her attempts to make this herself and the abundant portion allowed her to take some home for another meal. Jo, one of our two vegetarians, had the
falafel sandwich
and it hit the spot. She commented on its outstanding cucumber yogurt sauce which is made on the premises. Margy, our other veg-head, had the garden sandwich, a cornucopia of vegetarian delights;  a warm pita with homemade hummus, cucumber, tomato, onion, lettuce, black olive, pepperoccini, crumbled feta and homemade Greek dressing. She said she wouldn't order the generously filled sandwich on a first date since it was a handful-- but it was very tasty! (Since she's married, that first date part is unlikely.)  Both non-meat eaters were thrilled that the vegetarian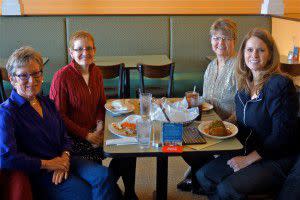 dishes were clearly marked on the menu and on the menu board. Kay, our photographer and seafood consumer, didn't have fish that day because it's available on weekends but the owners told us diners can often choose from mahi mahi, salmon and grouper. She happily settled for a
pork kebob
sandwich made of freshly cooked pork medallions seasoned with homemade marinade topped with onion, tomato, cucumber and their own cucumber yogurt sauce. She said the pork was moist and tender which isn't always the case with pork. If you live in a house divided, with some people looking for worldly eats and others insisting on American fare, this is the place for you. There are loads of intriguing dishes including dolmades mousaka, spanakopita and patstitsio, but the less adventurous among you will be thrilled with the Americano burger with a side of fries or onion rings or maybe something from the kids menu. On your way home? The place is crawling with people getting takeout and we know people who suspect they're addicted to the Parthenon's hummus. [caption id="attachment_3201" align="alignleft" ]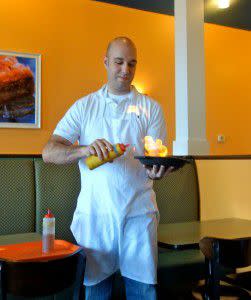 Flaming Cheese![/caption] The atmosphere is colorful, casual and comfortable.  Our food was prepared quickly and the Greek music had us happily tapping our toes. Since we didn't want to leave, we decided we should split a piece of
baklava
-- a layered Greek delight of nuts, honey, pastry, lemon, butter-- how could it be anything but wonderful? Don't tell Margy's sister but Margy says it's better than her sister's. For more information about this restaurant and others in Lafayette-West Lafayette, visit HomeOfPurdue.com.