You've probably heard of a bar crawl. It's a fun concept: hanging out with friends, trying different drinks, experiencing different bars' atmospheres. My only problem? I'm a morning person, like one of those people who goes to bed at 10 and gets up at 6 every day. I wanted to get the bar crawl experience without throwing off my sleep schedule. My solution: a coffee crawl.
Along with my studies at Purdue, I'm a part-time barista (that's my latte art behind the title!). I love trying local coffee, and Greater Lafayette has a lot of it. Rachel, my friend and co-worker, joined me in visiting seven coffee shops in one Saturday morning.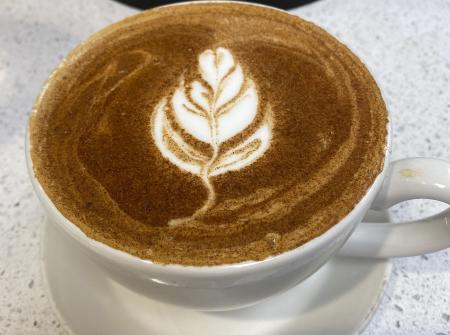 Indie Coffee Roasters: Our first stop was Indie Coffee Roasters in the Provenance apartment complex on the west side of Purdue's campus. ICR's original shop is in Carmel, Indiana, and I'm super excited that they've come to West Lafayette. They use modern under-counter equipment for their drinks, making it easy to chat with the friendly baristas. I got a pour-over coffee, Rachel got one of their on-tap cold brews, and we enjoyed the early-morning sunshine from the bar-height seating.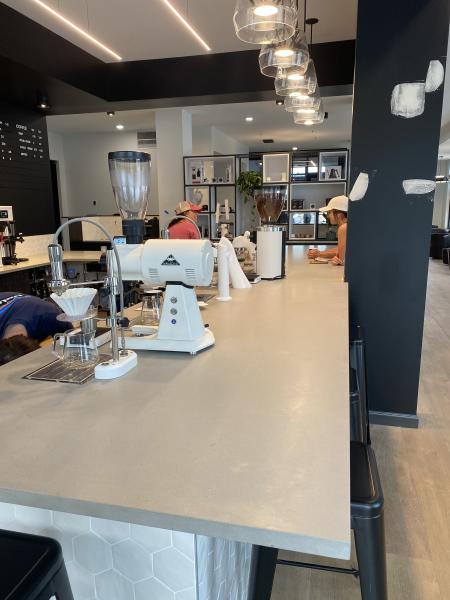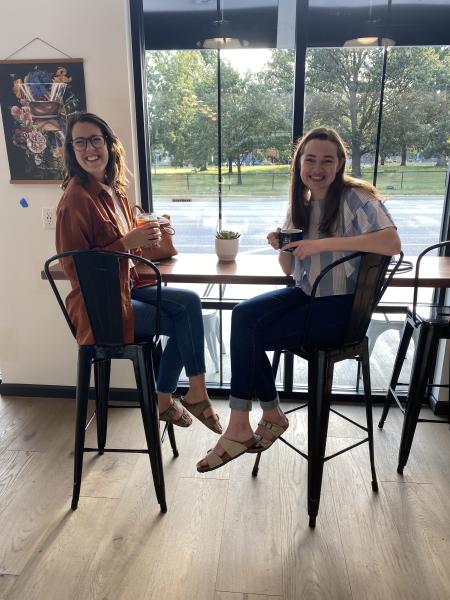 Greyhouse Coffee & Supply Co: No trip to Greater Lafayette is complete without a stop at Greyhouse. The original location at 100 Northwestern Ave. in West Lafayette, founded in 2008, has something for everyone, including coffee, tea, homemade doughnuts, and made-to-order crepes. The large shop has bar seating at the windows and tables for 2-4 or more in the main and side dining rooms. Greyhouse has additional locations inside Ripple and Company in downtown Lafayette and in Campus House in the middle of Purdue's campus that serve coffee, tea and doughnuts.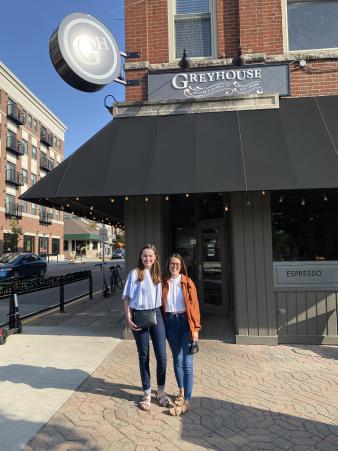 Vienna Espresso Bar & Bakery: West Lafayette's oldest coffee shop, Vienna, is next door to the original Greyhouse. I've heard people say that if Greyhouse is for Purdue undergrads, Vienna is for the grad students. Vienna serves a variety of coffee, tea, and food, and it's the place to go if you want a vegan pastry or sandwich with your drink. Vienna offers a peaceful place to study, and you can always overhear (or even join in!) an interesting conversation in the shop or at their outdoor seating.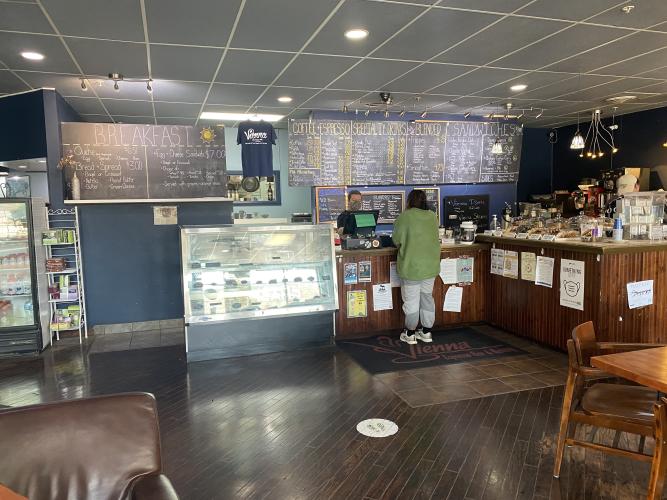 Copper Moon: Our next stop was Copper Moon, located on the first floor of the Hi Vine apartment complex in West Lafayette. Copper Moon roasts its coffee locally and serves it at their four locations in Lafayette and West Lafayette, along with light sandwiches. If you're looking for an iced drink to sip on all day, Copper Moon's a great option – its cold brews and iced lattes come in up to 32 ounces. Rachel and I took our cold brews outside and enjoyed them on the patio.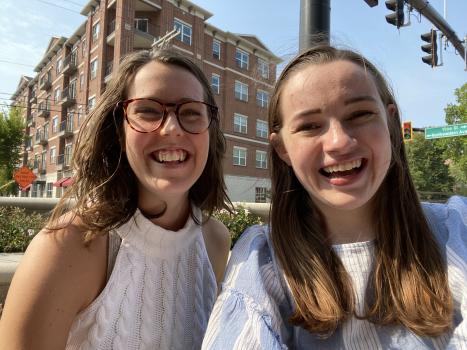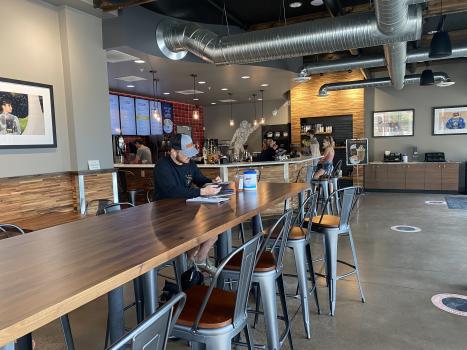 Fuel: Like Copper Moon and Greyhouse, Fuel also has locations on both sides of the river, and we stopped by their West Lafayette location. Fuel has the most varied selection of "real food" of the shops that we visited, serving quiches, sandwiches, bagels, and pastries. Fuel West has a spacious restaurant with couches, tables, and bar-height seating. It's just a short walk or drive from Ross-Ade Stadium for anyone wanting to grab a coffee before a Boilermaker football game.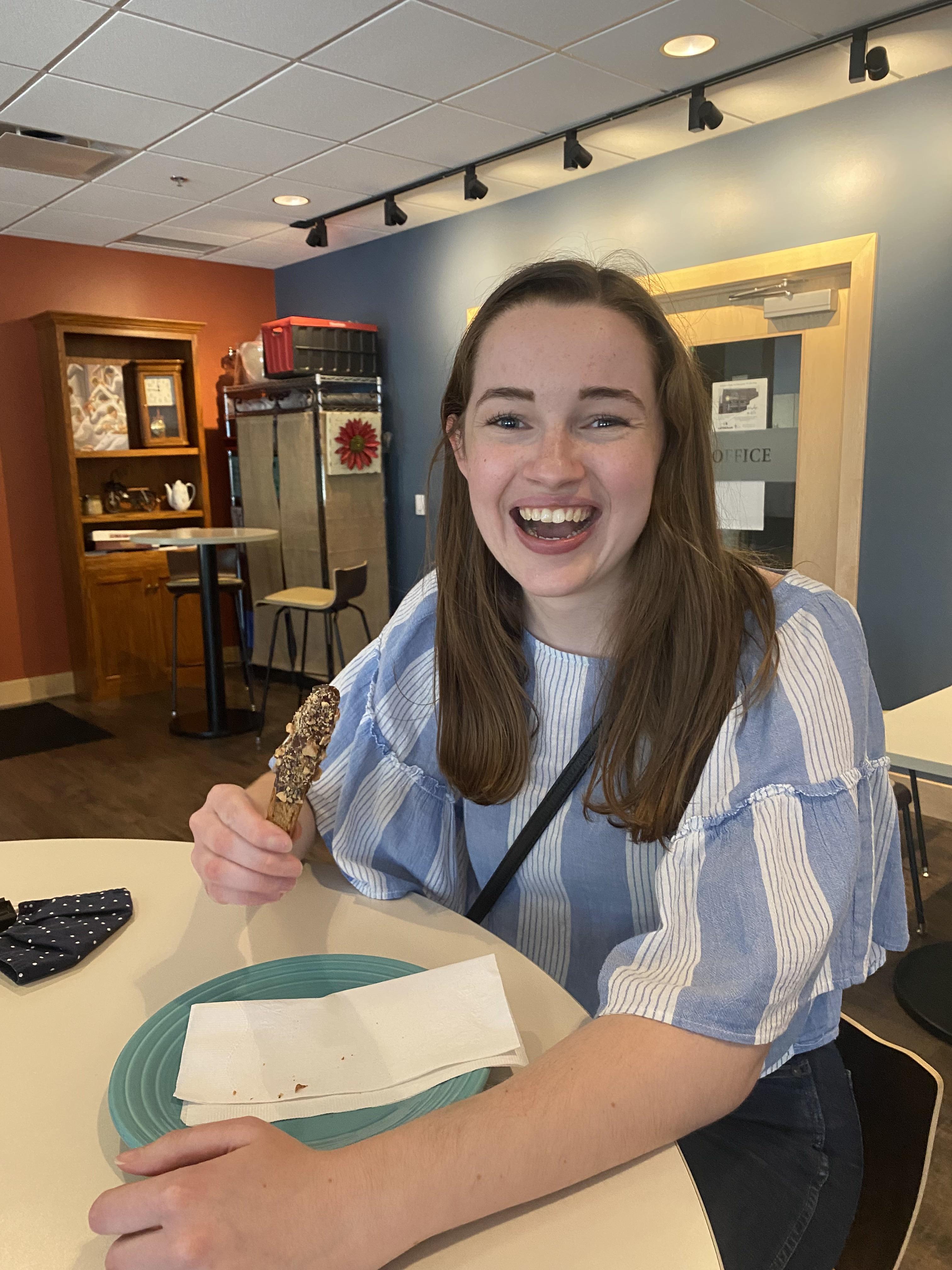 Reveille: Our next stop, Reveille Coffee Bar, took us across the river to downtown Lafayette. Reveille is a charming shop serving coffee, tea, pastries, and doughnuts from local favorites Mary Lou and Flour Mill Donuts. My pain au chocolat was delicious, and Rachel and I enjoyed the view of Main Street from Reveille's front window as well as the many plants decorating (and for sale in!) the shop.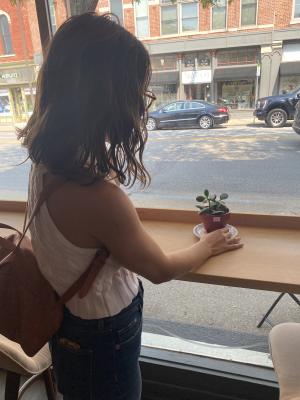 Star City Coffee: Our last stop was Star City Coffee, located a few blocks down Main Street. The simple wood counter, tables, and trim as well as the hand-painted walls give the shop an eclectic, urban feel, and Star City also has a spacious patio where customers can enjoy their food and drinks. Along with coffee, espresso, and tea, Star City also serves light lunch fare. To celebrate the end of our coffee crawl, I treated myself to an iced apple pie latte, which was surprisingly true to its namesake. The best part of our stop at Star City was running into three of our co-workers. If you've ever wondered what baristas do on our days off, now you know: we go to other coffee shops!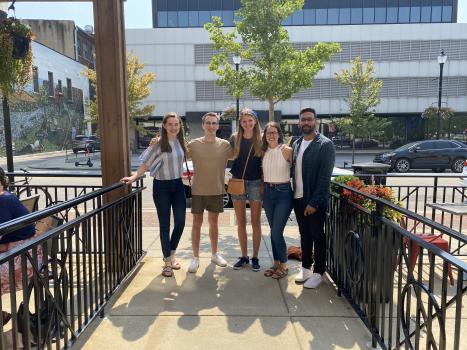 I typically don't go to more than one coffee shop at a time, but "coffee crawling" allowed me to experience different drinks and environments and have some great conversation with Rachel and our other friends. Check out even more Coffee & Tea in Lafayette/West Lafayette, and be sure to keep up with Home of Purdue for more fun experiences in our city!
Purdue University Student, Jenna Davis, shares this blog.