[caption id="attachment_8118" align="alignright" ]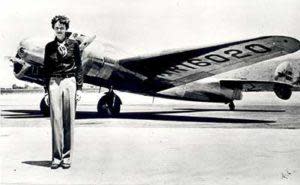 Amelia Earhart[/caption] What is the most unique, fun fact you know about Lafayette-West Lafayette? Any interesting story you know that most people do not?  Please share as we love to learn about all the one of a kind stories there are about our area. Check out the "Fun Facts" we have gathered that may be a surprise to you!
Did you know that Amelia Earhart prepared her plane for her last around the world flight at the Purdue University Airport? She was working at Purdue as a visiting career counselor for women at the time.
[caption id="attachment_8119" align="alignleft" ] Buzz Aldrin on Moon[/caption] Did you know that the first (Neil Armstrong) and the last astronaut (Eugene Cernan) on the moon were both Purdue graduates? There are also 22 other Purdue alumni who are astronauts.
Did you know that Axl Rose, (born William Bruce Rose, Jr.), an American singer-songwriter, musician and lead vocalist for the hard rock 1980s band Guns N' Roses, was born and raised in Lafayette, Indiana?
Did you know that one of the greatest clowns of all time, Emmett Kelly and his persona of "Weary Willie", choose to call Lafayette his hometown?
[caption id="attachment_8120" align="alignright" ] What is better than a bacon cheeseburger and onion rings?[/caption] Indiana's Oldest Drive-In: Since 1929, West Lafayette's Triple XXX (named for the house brand of root beer) has been serving up the best old-fashioned burgers and fries around. Featured on Guy Fieri's Food Network series Diners, Drive-Ins and Dives.
Did you know that Indiana's oldest bar is right here in Lafayette? Established in 1835 as the "Cherry Wood Bar" of the Lahr Luxury Hotel, and issued Indiana's first liquor license. The "Cherry Wood Bar" was later renamed the Knickerbocker Saloon in 1874 when the areas first player piano was introduced. The Knickerbocker boasts a guest list including; President Grant, Mark Twain, Al Capone and even Neil Armstrong (though rumored not much of a drinker).
Did you know that Kermit the Frog was named after a Purdue professor of philosophy who was a childhood friend of Jim Henson?
Did you know that Sydney Pollack, an Academy Award-winning director, producer, actor, writer and public figure, who directed and produced over 40 films was born in Lafayette, Indiana? Sydney Irwin Pollack (July 1, 1934 – May 26, 2008)
Did you know that the Wabash & Erie Canal that passed through Lafayette was the second largest canal in the world? The only one longer was the Grand Canal of China.
Did you know that Annie Ellsworth sent the first telegraph message of "What hath God wrought?" at the request of Samuel Morse and then moved to Lafayette the next year?
Again, please share or comment on any fun fact you know about our community! For more information about Lafayette-West Lafayette, please visit www.HomeOfPurdue.com.

Save

Save