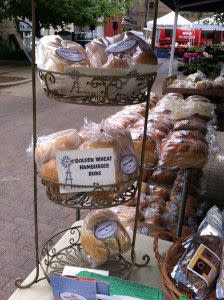 Happening Now!  Right now, the talk around town is about all the fresh and flavorful baked goods from the
Great Harvest Bread Company
.  Homemade breads, scones, cookies, fruit bars and muffins; what more could one ask for!  With an ever-changing menu of items baked every day, there is always something special to choose from this local bakery. My family has been an avid fan of the Great Harvest Bread Company for years. Ever since I was a teenager (which was years ago!), it has been a tradition to get a fruit bar (our favorite is cherry) from this bakery at the
Downtown Lafayette Farmers Market
.  The Great Harvest Bread Company is usually located somewhat in the middle of the farmers market, so we would stroll along the vendors in anticipation of this sweet treat.  The
cherry fruit bar
has a light, flaky crust and is filled with cherry goodness!  My sister comes home every summer from Phoenix, Arizona, and we have never missed a visit to this stand at the farmers market.  We usually purchase a loaf of homemade cinnamon swirl bread to take home for breakfast the next morning.  It is the best cinnamon swirl bread I have ever had.  The bread is moist and dense, and the cinnamon is light and flavorful without being overpowering.  It is perfect for breakfast or even an afternoon snack! [caption id="attachment_3621" align="alignleft" ]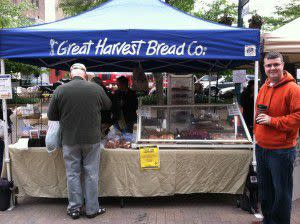 Great Harvest Bread Co. at Downtown Farmers Market[/caption] I would be remiss to not discuss the
cookies!
 Every day of the week different cookies are featured.  They are baked fresh every morning. They make two sizes, a regular size cookie (2X2 inch approx.) and a large size cookie (4X4 inch approx.).  My goal is always to have the will power to order one regular size cookie, but I never achieve that goal!  Most times I order a few of each flavor or one large cookie.  Their oatmeal chocolate chip cookies are my favorite, with the
peanut butter chocolate chunk cookie
coming in a close second.  I think the oatmeal makes the cookie so rich, plus it makes me feel like I am eating something healthier!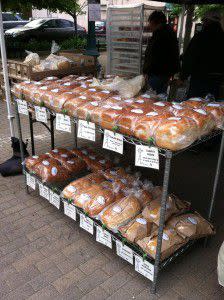 The Great Harvest Bread Company also features a "
gluten free
" menu.  With many people having a gluten allergy, I think it is great they are accommodating those who cannot have wheat and other grains.  They take special orders for gluten free products. Whether you are looking for delicious dining, interesting attractions and shops, enticing events or home away from home lodging—a getaway to 
Lafayette-West Lafayette, Indiana
, is sure to satisfy. For more information about this bakery and others in the area, visit our website at 
www.HomeOfPurdue.com