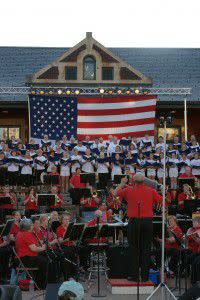 Holiday Happenings!  This Wednesday is the
Fourth of July
and we are ready in Lafayette-West Lafayette to celebrate independence and freedom in our wonderful country, the United States of America!  Locally, regionally, and nationally, our country observes this day of liberty through parades,
fireworks
and more. Visitors, in-town and out-of-town, are welcome to join the celebration in Lafayette-West Lafayette, Indiana, at the
Annual Fourth of July Stars & Stripes Celebration
 taking place at Riehle Plaza.  This festive occasion will feature a
concert
by multiple local entertainers: Lafayette Citizens Band, the Greater Lafayette Freedom Singers, the
Purdue University Summer Jazz Band
, the Indiana All-Star High School Show Choir and the Tippecanoe Ancient Fife and Drum Corps. Once the sun sets, a 25 minute
fireworks
display will be launched from the banks of the Wabash River dazzling the crowds with the beautiful array of colors!
Fourth of July
is a national holiday that is a favorite of many.  One of my dearest friends, Lindsey, has shared it is her favorite holiday of the year.  She explains it is a day where there is only excitement in the air.  People are joyous to visit with friends, cook delicious food on the grill, enjoy the summer heat, and watch amazing
fireworks
light up the sky.  It is also a day to acknowledge we live in a free country where we can be anything we want to be.  We live in a wonderful country and we should be so proud to call ourselves "Americans". For more information about this
Fourth of July
 event and other special "happenings" in Lafayette-West Lafayette, check out our website at
www.HomeOfPurdue.com