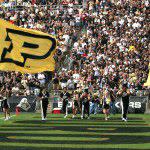 Weekend Update!  Looking for a fun weekend getaway?  Or are you a local looking for entertainment close by?  Check out the endless possibilities for fun and relaxation happening this upcoming weekend. Wow, how time flies!  This Saturday in West Lafayette is the last home
Purdue football
game.  Our boilermakers take on Iowa State.  Take part in all the festivities centered around this great sporting event throughout the weekend.  Don't miss
Boiler Up at the Boiler Bridge Walk
on Friday, November 18, as the football team will cross the bridge to the cheers of young and old!  Grill hotdogs and hamburgers before the game on Saturday at Purdue Tailgating!  Share with readers your special "tailgating" recipes! On Sunday, November 20, in Lafayette, don't miss
The Gourds: Presented by Friends of Bob Live Music.
The Gourds bring their iconoclastic country/folk/Tex-Mex/Cajun rock to the stage at the 
Lafayette Brewing Company
at 7pm.  Sit back, drink a locally crafted beer and listen to this honky tonkin' good time band! For more information about other great events taking place this weekend check out our website at
www.HomeOfPurdue.com. 
And don't forget to share your recipes!!