Take a close look at Flying High Tea's logo. It's an old timey prop plane towing a giant teabag. The name of the shop and its logo reflect passions of the owners, Twila Ortiz and Woody Moody. Twila is a self-confessed tea nerd and travel enthusiast and Woody loves aviation, thus the moniker. The combination of Flying High and High Tea was a natural. Twila does note that some have asked if Flying High Tea deals in CBD, but currently it's just tea, lots and lots of tea, and a delectable menu put together by chef Brooke Bunte. Brooke happens to be the daughter of famed WBAA veteran David Bunte and her training in France is reflected in the food she creates. Twila too spent part of her youth in France and wanted to bring her experiences in French tea shops to Lafayette. Travel posters abound in the decor along with the tea and aeronautical themes.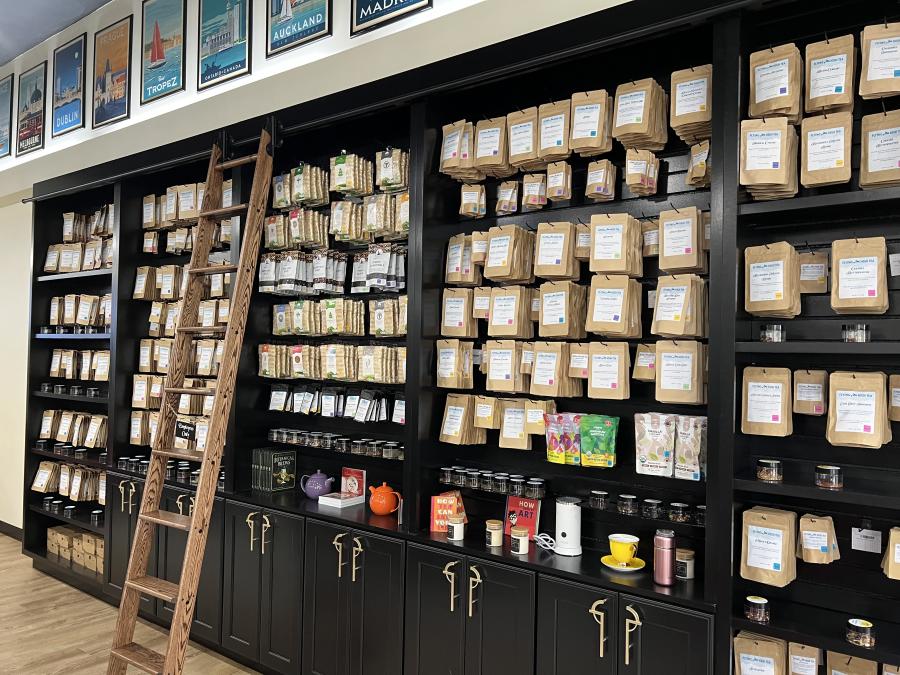 Flying High Tea is on the corner of Main St and 7th St in downtown Lafayette. A few years ago, this was the site of Carnahan Hall, and now the historic building is home to a gathering place once again. The ground floor is divided into two spaces, one with a wall of tea and comfy seating for people to sit and talk over a cup of tea. Twila says one of her favorite things is seeing strangers strike up a conversation in this area. Better than just communing with their devices. The other half is the restaurant part where you can order brunch, a prix fixe meal, or high tea. There is a tea menu and any tea they have can be ordered as a pot, a cup, or iced. Lest you think they offer ordinary teas, we ordered Peach Black, one of the many black teas, Lemon Ginger Glider, one of the greens, Cherry Almond Tart, an oolong tea, Pumpkin Pie, one of the Pu'erh teas, and Purple Tea, one of the specialty teas. We missed out on the white tea category, since there were only 5 of us Dining Divas & Dudes that day. You could try a different tea every day for several months! And if you'd rather experiment at home, the Tea Wall offers dozens and dozens of teas in small sample packs, so you don't have to buy a large amount until you know what you like. A couple of comments: Jerry said his Peach Black tea was so good, he wished he had a sore throat!? Linda said her unsweetened Cherry Almond Tart was like drinking dessert. And Kay appreciated trying the Pu'erh tea (tea that has been dried and rolled and then put through a fermentation process causing a change in color and flavor and increasing its shelf life). With the Pumpkin Pie spice added, it made the dark earthy tea very appealing. Twila is so enthusiastic and knowledgeable about tea, you can ask her anything and you will learn so much.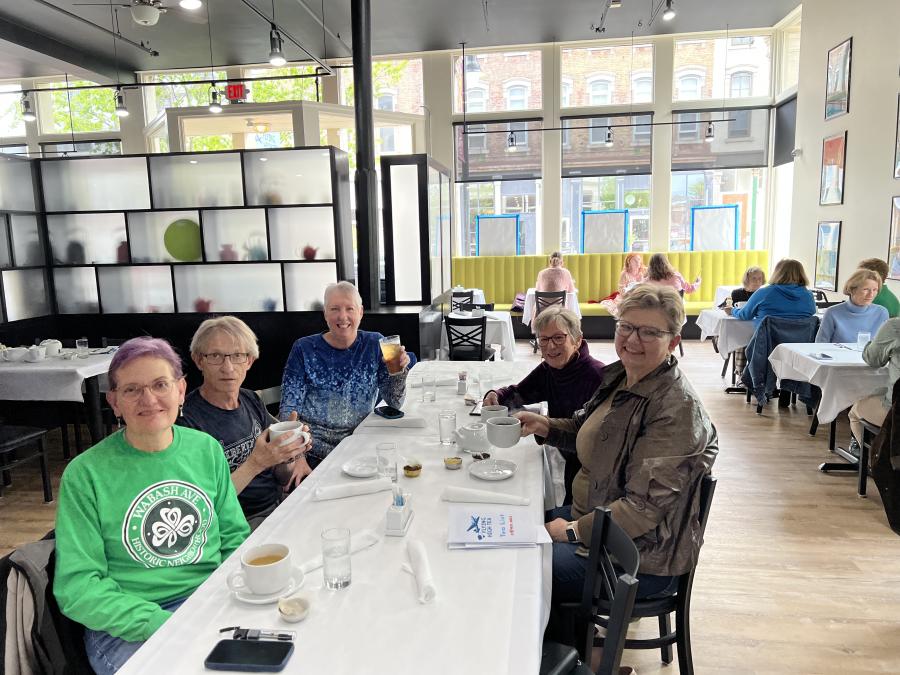 So, we also actually had some food with our tea, and Brittany, our friendly 'flight attendant' took good care of us. There are several ways to order food at Flying High Tea. There is, of course, traditional High Tea. This is a 3-tier experience with the top tier consisting of finger sandwiches; middle tier, scones and spreads; and bottom tier, desserts. Plus a pot of tea. If you're hungry, there's a Spring Prix Fixe menu (menus will change with the seasons), which includes choice of appetizer, entree, and dessert with 'bottomless iced tea' and a cup of hot tea with dessert. There is also brunch with an assortment of sandwiches, soups, salads, breakfast items, and you can  also order a la carte from the Prix Fixe menu. First of all, the presentation is amazing. Look at the photos of Margy's vegetarian feast, and Jo's soup in particular, but all of our plates were beautiful.  And delectable.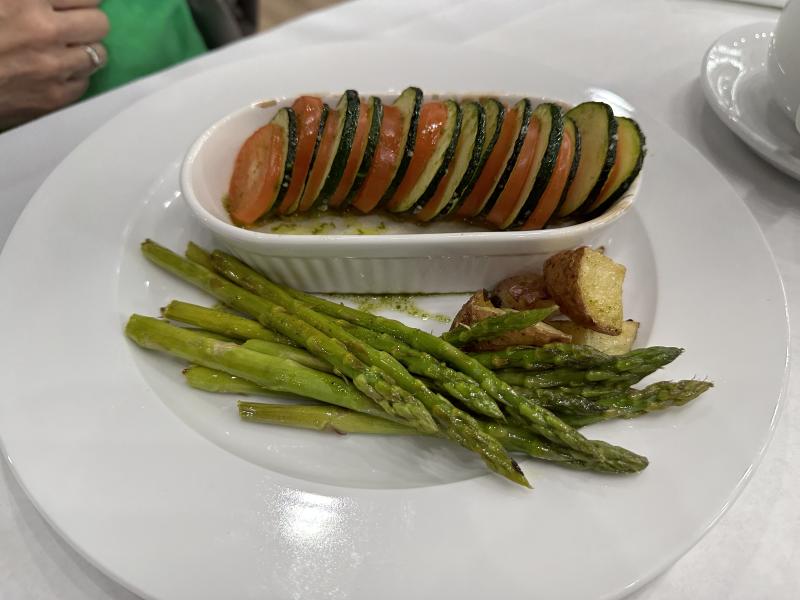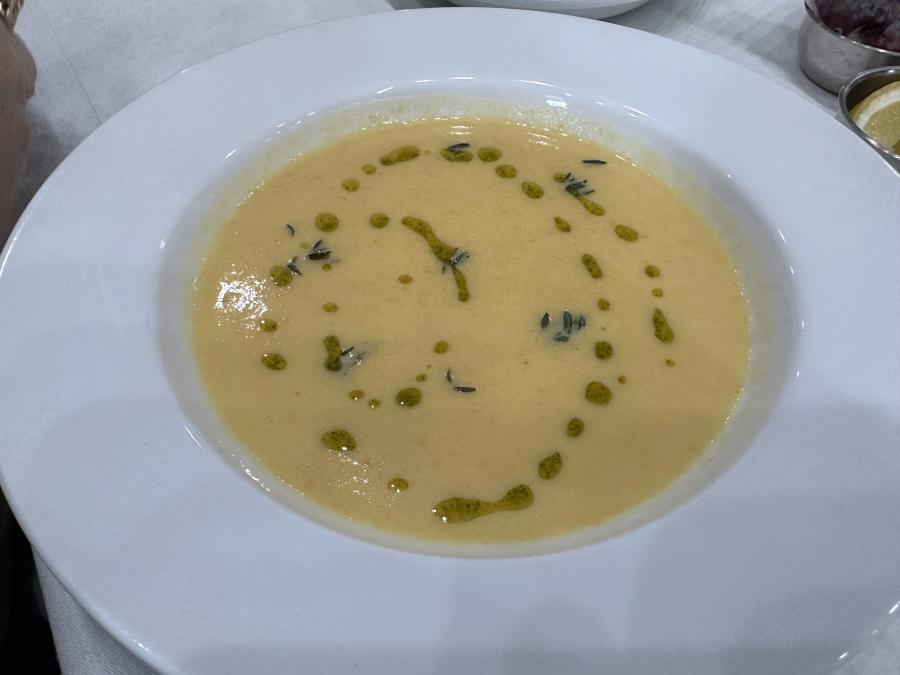 Jerry and Kay had sandwiches, the Jardin, with roasted vegetables, fresh Mozzarella, arugula, and pesto mayo, and the Chicken Cordon Bleu, ham, cheese, chicken breast with a wonderful mustard.  The baguettes used for the sandwiches were so good, we asked about them.  The bread comes from a bakery in Union City, IN.  As much as possible, they like to source locally.  On a previous visit, Kay had the Acadian, an open face Boursin and tomato sandwich on toasted everything bread, a real treat.  Linda ordered Normandy Chicken off the entrée menu.  It was stuffed with spinach, cheese, and garlic and accompanied by roast potatoes and asparagus.  She happily cleaned her plate.  For Margy, the chef adapted the Marinated Zucchini Salad to be vegan, so they are very accommodating to special requests.  Sliced zucchini, tomatoes.  Side of asparagus.  Margy said it made her feel like she was in her garden. Jo, our pickiest eater, was pleased with the Veloute du Jour, carrot on this day, a velvety creamy soup, and from the appetizer menu, Crustless Quiche.  She also had the Crème Brulee with a chocolate buttercream on the side and highly approved of both.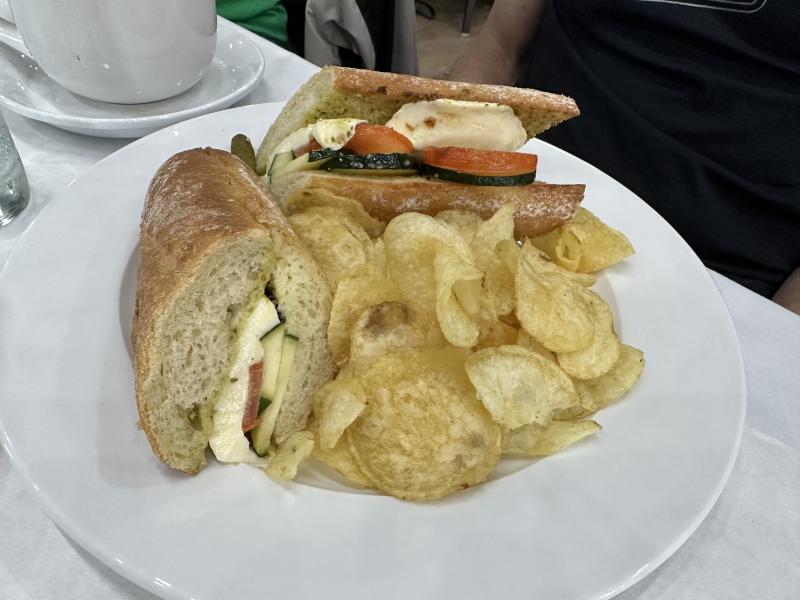 Back to tea for a minute.  The décor and theme of this restaurant are coordinated and creative.  One example, when you buy loose leaf tea, in small or large packets, you get a Tea Passport.  There are 30 cities in the Passport corresponding to places the tea comes from and each time you buy a different tea, you get a Flying High Tea logo stamped on that city.  You can collect these stamps to get a free cup of tea or with a full card, a complimentary Afternoon Tea Service.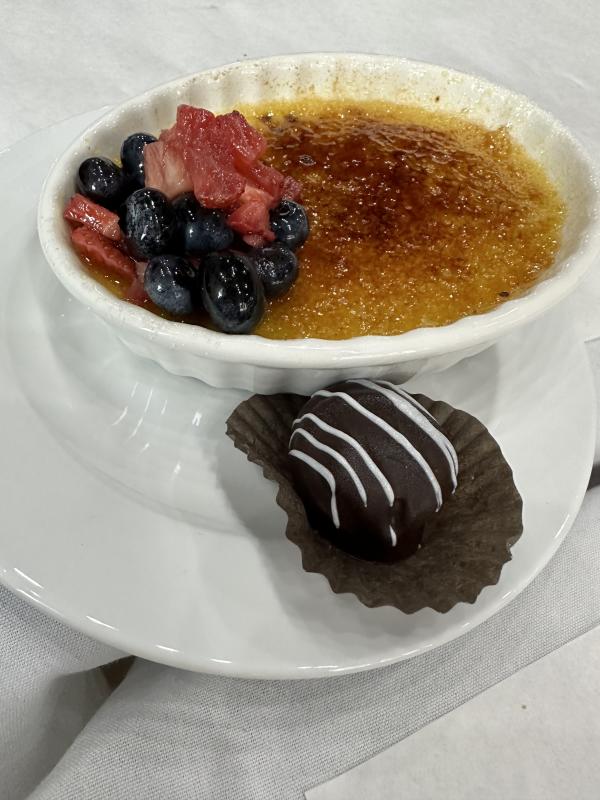 Coming soon to Flying High Tea, a new event space in back which will be the Jet Set Lounge.  An application for an alcohol license is in the works, and the new venue will have, in addition to other things, tea-based cocktails.
You would be plane smart to expand your horizons with a trip to Flying High Tea!

Discover More Great Dining in Lafayette-West Lafayette