2 Great Cities, 1 Great University, Be a Tourist in Your Own Backyard! There are so many fun attractions right here in Lafayette-West Lafayette and one attraction that is a fabulous place to take the kids is the
Five Points Fire Station Museum
.
Built in 1937, the building has been restored to its former glory and now houses a 1937 Arhnens-Fox fire truck that made runs from the station for more than 40 years. Recently, our neighbors who have a 3 year old son asked me for some suggestions on what they should do over the holidays when a few of their nieces and nephews, ages 7 to 12, visit.  One of the places I mentioned that I thought would be fun for the whole group was the Five Points Fire Station Museum.  I shared with them they should call before they went to check to make sure the
museum
would be open and/or to make an appointment for a tour, which they did. They shared the museum was a huge hit with the kids and they themselves were enthralled with the museum! Inside the museum, they were able to see what it was like to be a
firefighter
in the 1930s. The kids loved trying on firefighter coats and helmets and were in thrall of the fire trucks from decades past. Their 3 year old's eyes got so big and his grin so wide on his first site of the trucks. The small rooms where the firefighters slept amazed the older kids. My neighbors are history buffs and they said the plethora of photos, documents, newspaper clippings, run ledgers and memorabilia on display that tell the history of the fire department in Lafayette was educational and interesting.  Overall, their visit was a success for all the different ages.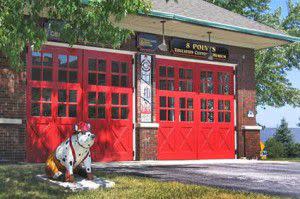 Five Points Fire Station Museum offers so many opportunities to learn about what it was like to be a fireman in the 1930s. Vacation, Relaxation, Fun; while there are many adventures else where, you can find peace and quiet, adventure, delicious food, history, the arts and entertainment, and more, in our own backyard.  For more information about this attraction and others in Lafayette-West Lafayette, Indiana, visit our website at
www.HomeOfPurdue.com